Beyond Tourism Challenge win to drive global marine conservation impact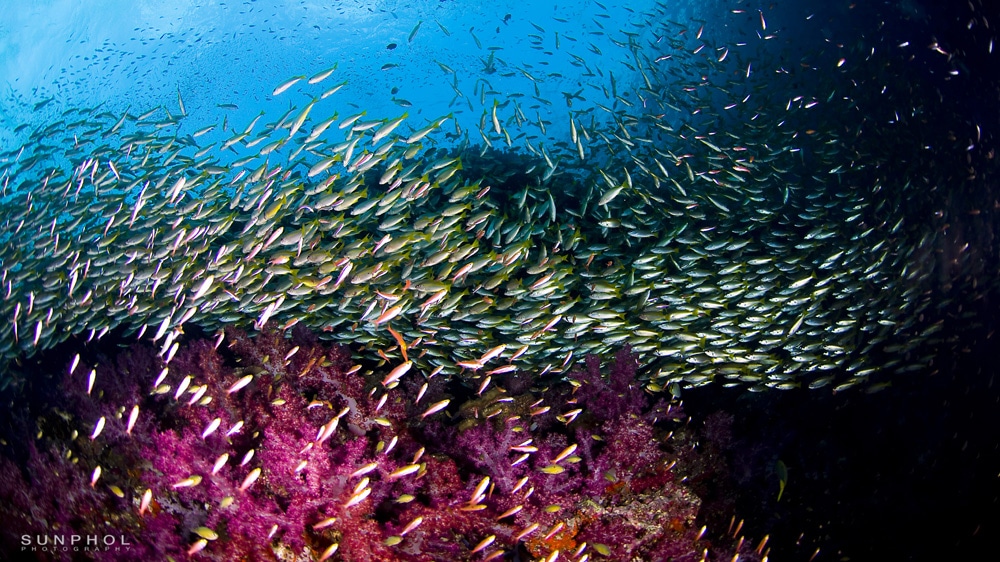 IDB support to enable Green Fins Global Hub development and launch of Green Fins Costa Rica
The Reef-World Foundation – the international coordinator of the UN Environment Programme's Green Fins initiative – is thrilled to announce its Green Fins Global Hub proposal has been selected for project design under IDB Lab's Beyond Tourism Challenge. This funding enables Reef-World to begin full development of the much-anticipated Green Fins Global Hub.
The Green Fins Global Hub is a first-of-its-kind online platform which will empower marine tourism businesses to measurably improve their sustainability efforts. The Hub will house an online support system to raise operator awareness of the potential threats their business practices pose to the environment and offer practical, proven solutions to address these. In this way, the digital global solution will encourage compliance with internationally recognised environmental standards, safeguard biodiversity and stimulate green tourism; ultimately, resulting in better protection of fragile coral reefs globally.
The Beyond Tourism project support enables Reef-World to begin the development of the Hub, which will initially be piloted by marine tourism operators in the Dominican Republic and Costa Rica. As an already established Green Fins country, the Dominican Republic team will share successes and learnings with Costa Rica, which will launch Green Fins as a result of this project support. By digitising the support it provides to reef-dependent businesses through the Hub, Reef-World will overcome traditional capacity and time constraints, reach previously inaccessible operators and upscale the overall conservation impact of its Green Fins initiative.
Chloe Harvey, Director of The Reef-World Foundation, said: "The Green Fins Global Hub has been generating excitement among dive centres around the world for some time so we're delighted that IDB Lab has recognised the huge conservation impact it will have and selected it for project design. By the end of the two-year project, we expect to have fully autonomous Green Fins assessor teams in both Costa Rica and the Dominican Republic as well as a global digital platform with the potential to reach 30,000 marine tourism operators across 100 countries and upskill around 48,000 staff. Empowering the industry to collaborate for improved sustainability is essential in influencing the consumer choices of the 171 million travellers visiting reef hotspots annually and will have a significant conservation impact. We can't wait to get started!"
This project creates a tipping point for sustainable reef tourism globally by helping the industry identify pressing environmental threats and providing proven solutions. By improving sustainability across the marine tourism industry, the Hub will protect coral reefs and related ecosystems from local stressors. Minimising local threats enables these vital ecosystems to become more resilient to global stressors, such as those associated with climate change. It also protects the local communities who rely on these precious natural resources for food stability, coastal protection, livelihoods and tourism returns.
The Beyond Tourism Challenge identified innovations in two categories: development of the tourism workforce for post-COVID recovery; and environmental sustainability. The Challenge attracted 214 applications from public and private sector candidates in 28 countries around the world with proposals ranging from waste management and safety protocols to preservation of natural capital and eco-tourism. Evaluation was conducted by IDB Group specialists – with technical expertise provided by the UNWTO – and criteria included the degree of innovation, the degree of social and environmental impact, its scalability potential, financial sustainability and viability of execution.
Reef-World's proposal was one of eight selected from Barbados, Belize, Dominican Republic, Costa Rica, Haiti, Guyana, Panama and Trinidad and Tobago. These selected applicants will become part of IDB Group's network of global innovators working in the region to reinvent the tourism industry and support its recovery efforts. The selected proposals were:
Barbados – "Better Batteries" an energy-as-a-service model to accelerate the hotel industry´s access to renewable energy. Applicant: Aceleron
Belize – "Belizing Tourism Innovation Lab" a virtual marketplace to enhance workforce development. Applicant: Lets Go Belizing Ltd.
Costa Rica – "INTO Experiential Camps & Lodges" a platform to bring together social ecotourism with land and marine conservation. Applicant: INTO Hospitality S.A.
Dominican Republic – "Green Fins Hub – Digital scaling for sustainable marine tourism". Applicants: The Reef-World Foundation and Reef Check Dominican Republic.
Guyana – "Safe Lodges Equal Safe Guests", a mobile tracing and tracking system and upskilling of tourism operators to allow for a safe reopening of ecotourism in Guyana's Northern Rupununi region. Applicants: DAI Global LLC, Guyana Tourism Authority and Wilderness Explorers
Haiti – "Caribbean Tourism Career Accelerator" a virtual programme to fast-track tourism workforce career development. Applicants: Global Startup Foundation and Cocread
Panama – "Digital Transformation of Indigenous-Led Ecotourism and Conservation" a model to foster a safe and sustainable return to eco-tourism operations by local communities. Applicants: Keteka, Global Brigades and Native Future
Trinidad and Tobago – "Creating a community-driven, sustainable cluster and brand to transform ecotourism in Nariva Swamp" using citizen science to develop Nariva as an eco-tourism attraction. Applicant: Caribbean Natural Resources Institute
The Beyond Tourism Innovation Challenge was run by the Inter-American Development Bank (IDB), through its innovation laboratory, IDB Lab, and in collaboration with the United Nations World Tourism Organization (UNWTO). 
For more information, please visit www.greenfins.net  
Cayman Bogue swim fundraiser adds sister island event for 2023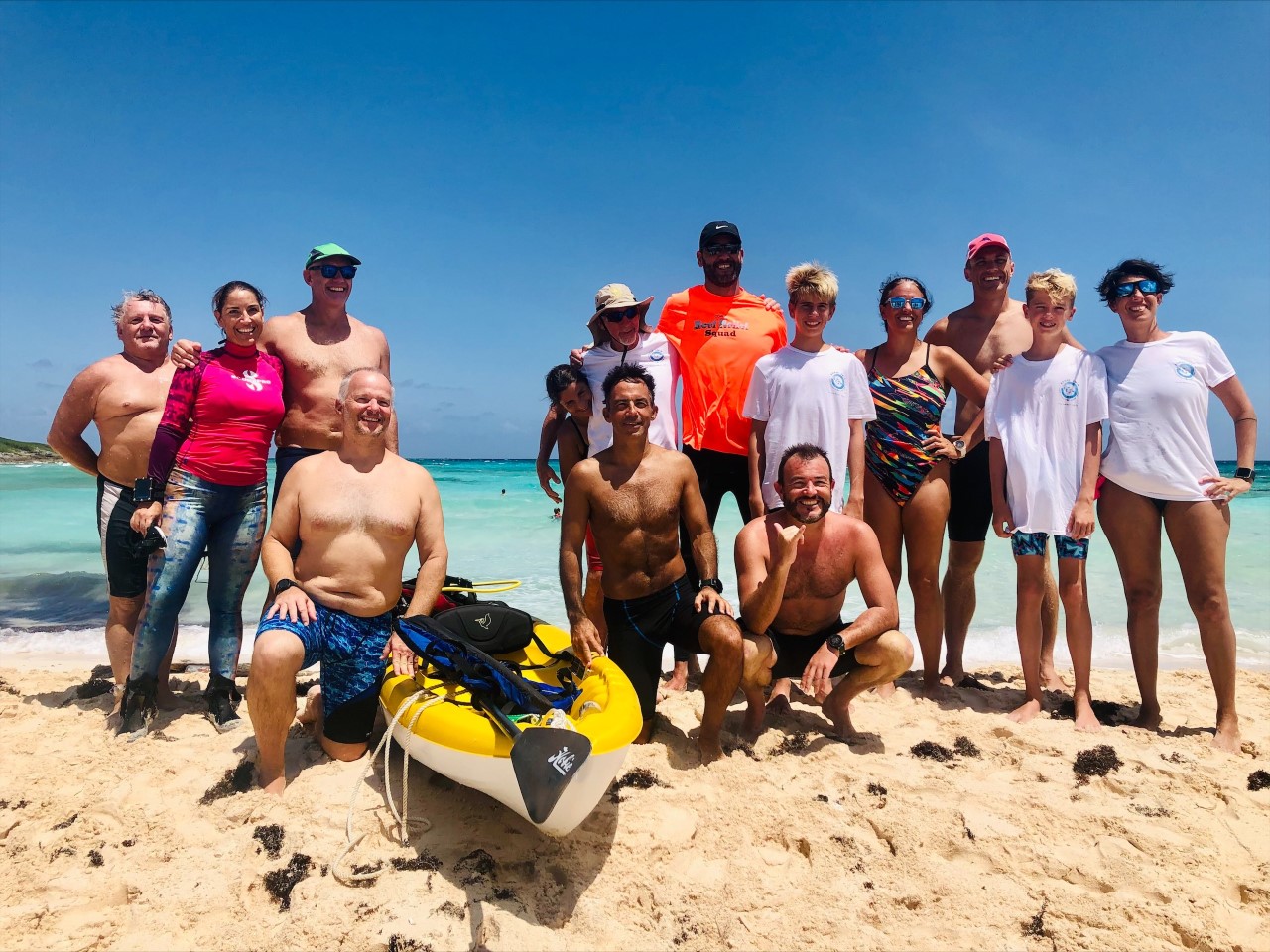 Swimmers from around the world invited to traverse 'The Bogue' in this 10K swim from Cayman Brac to Little Cayman for CCMI.
In September 2021, 16 local swimmers took on the challenge of swimming from Cayman Brac to Little Cayman, an open water swim of approximately 10 kilometres, to raise money for local non-profit the Central Caribbean Marine Institute (CCMI). After a very successful and fun initial experience, the organisers plan to make this an annual event to help bring endurance swimming events to the Sister Islands.
With such interest after the inaugural event, the 2023 Cayman Bogue Swim has increased the number of available registrations to 50 swimmers, has opened registration to swimmers both locally and abroad, will include several categories of registration, and will feature an expanded weekend of fun and activity in Little Cayman. Participants and their supporters can plan to join other Bogue swimmers for a welcome drinks/packet pick up event on the Friday evening, Bogue Bash: Band and BBQ celebration dinner on the Saturday evening, a tour of CCMI, and more. The weekend will begin Friday, 28th April 2023, with the actual swim starting at 8 am on Saturday, 29th April. The swim starts at Scott's Dock, Cayman Brac and finishes at Point of Sand on Little Cayman.
Swimmers can choose to register in the competitive 'race' category, open water swim category, or as a relay team of two or four persons. No matter the race registration category, the Cayman Bogue Swim is an opportunity for swimmers of all ages, backgrounds, and mixed ability to share in a unique physical and mental challenge that has only been completed by a small number of swimming enthusiasts.
Swimmers can register for the event at https://donate.reefresearch.org/BogueSwim2023. Registration is US $325/person, and it includes event registration, welcome pack, event shirt, event swim cap, entry to welcome drink event/packet pick-up, locally made finisher medal, entry to the Bogue Bash: Band & BBQ event, tour of CCMI, transport via boat to the start line from Little Cayman, in-water support, and include a donation to CCMI in support of their work. Flights, lodging, all other meals, and incidentals are not included in the registration fee and are the responsibility of the participant.
The organisers of The Cayman Bogue Swim once again selected CCMI as the beneficiary of event proceeds, and unlike last year, swimmers will not have to engage in significant fundraising as part of their commitment to swimming in the event. However, anyone wishing to support the participants and their efforts to swim across the Bogue are welcome to donate to the online fundraising page: https://tinyurl.com/Bogue2023.
All donations support CCMI and their work to protect and restore coral reefs in the Cayman Islands through impactful research and innovative marine education experience for students.
For more information about the swim, please visit their Facebook page: https://www.facebook.com/caymanbogue.
Halloween Special Part 2: PADI's top 7 wrecks to dive in Bermuda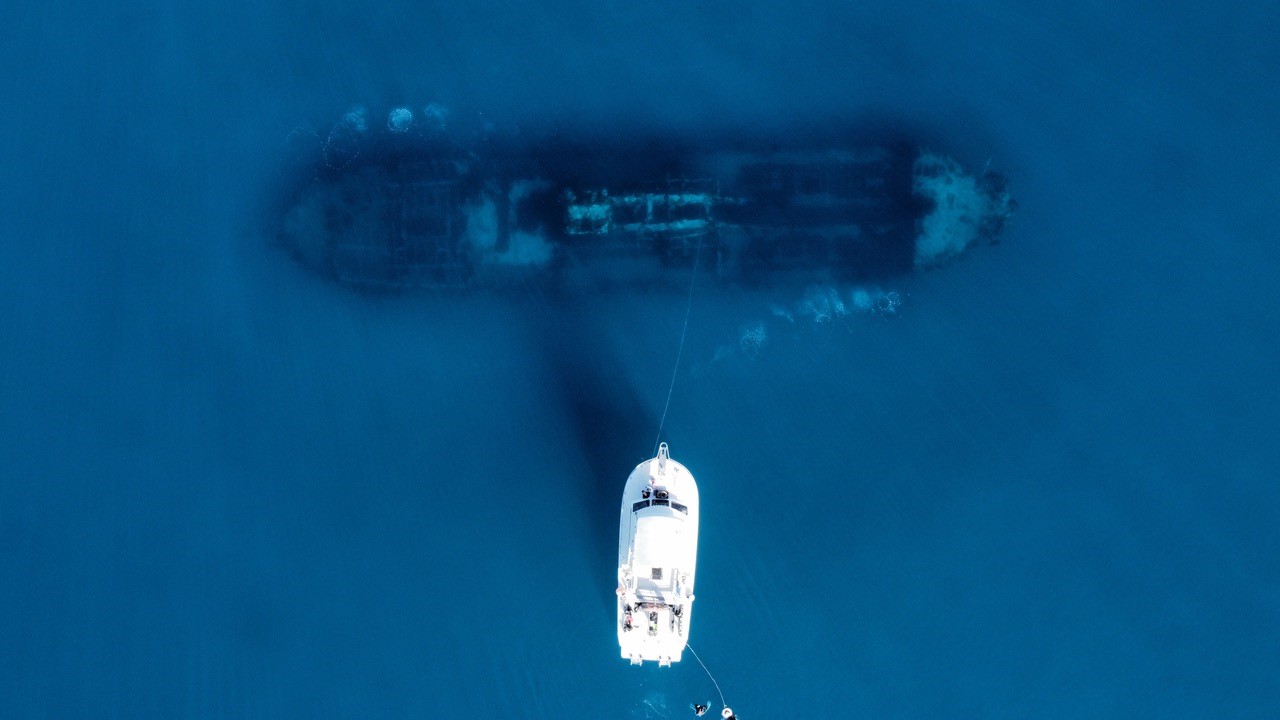 Just in time for Halloween, we're back with Part 2 of our deep dive with PADI into spooky Bermuda… 
The Mary Celestia
Also known as the Mary Celeste, this Civil War-era paddle steamer hit a coral reef and sank to her watery grave 1884. She's known as one of the oldest wrecks in the area and is well-preserved considering: divers can view both her intact paddlewheel and engine, plus her bow, stern, boilers, and anchor. Resting at 55 feet below the surface, a little piece of Mary Celestia made its way above water in 2015 after a few bottles of 150-year-old wine were discovered and delivered to sommeliers for sampling in Charleston, South Carolina.
The Cristóbal Colón
This enormous ship is the largest wreck in all of Bermuda. Coming in at a whopping 499 feet long, the Cristóbal Colón was a Spanish luxury liner that crashed into a coral reef off the north shore in 1936. With an abundance of marine life that's settled in and around the wreckage strewn across 100,000 square feet of the sea floor, she's visited by snorkelers and divers alike. Today she can be found at depths of 15 to 60 feet, but she used to peek out the surface of the water when she first sank, up until she was used for target practice in World War II.
The Iristo
Only a year after the Cristóbal Colón went down, the Iristo (also known as the Aristo) followed in 1937. The captain of the Norwegian freighter is said to have been startled by the Cristóbal Colón's wreckage, which ultimately led to the Iristo's own untimely fate. He ordered the crew to change course but the Iristo struck a submerged reef and went down too! Her wreckage remains to this day with engine, boilers, and propeller visible amongst spectacular coral.
The North Carolina
Looking for an extra spooky dive? Check out the North Carolina's ghostly "deadeyes" in rows along her deck railings – the uncanny sailing riggings look just like cartoon skulls. At depths between 25 and 45 feet, she makes for an eerie visit whether taking a shallow dive as a beginner or diving into the deep. Hailing from Liverpool, this 250-foot English iron hull sank on New Year's Day in 1880 when she ran aground southwest of Bermuda. Despite attempts to raise her, she remains in the depths of the sea sitting upright with a collapsed mid-section.
The Montana and the Constellation
Get a two-for-one dive in when you visit the Montana and the Constellation, uniquely stacked on top of each other to the northwest of Bermuda. The Montana wreck dates back to 1863 – the Civil War era blockade runner hit a shallow reef and down she went. The Constellation followed eighty years later in 1943 and some reports state that the Montana's bow took her down! The American cargo ship was carrying building materials and scotch when she went down, so divers can view stacks of cement bags and glassware when they explore these shallow waters.
The Hermes
Explore the outside or inside of Hermes, a freighter that experienced engine trouble and was abandoned by her crew. Built in 1943, the lonely ship was deserted until 1984 when she was acquired by the Bermuda Dive Association and turned into a sunken artificial reef. She's known as a highly photogenic beauty with fantastic visibility. Fully intact with her mast pointing to the surface, Hermes has come a long way from desertion as one of Bermuda's most popular dive sites.
The King George
Another lonely and ghostly ship left to sink to the bottom of the sea, the King George is a large dredger that was built for the Bermuda Government. After arriving on the island in 1911, she served a few years before being towed out to sea and left to sink in 1930 when she was no longer needed for harbor operations. Fully intact and upright, divers can circle her from end to end on the quiet ocean floor.
Ready for a Spooky Dive in Bermuda?
If you want to dive into the spooky depths of Bermuda's water, there are several different types of PADI certification to get you there.
Formal training for wreck diving is especially important for your safety as it involves special procedures, techniques, and equipment. The PADI Wreck Diver Specialty Course covers all the fundamentals and includes four scuba dives to give you practice in the open water.
Enrolling is simple: you must be at least 15 years old and have earned your PADI Adventure Diver certification or higher. PADI's wreck dive certification covers the basics, from navigating the inside and outside of a wreck to the appropriate gear you'll need for wreck diving. You'll also learn how to plan and map a wreck site along with special techniques to protect the site's integrity.
You complete your certification after four wreck dives with an instructor, and away you go! The eerie deep blue of Bermuda awaits…
Images: DIVE BERMUDA