Top 5 Caribbean Wreck Diving Destinations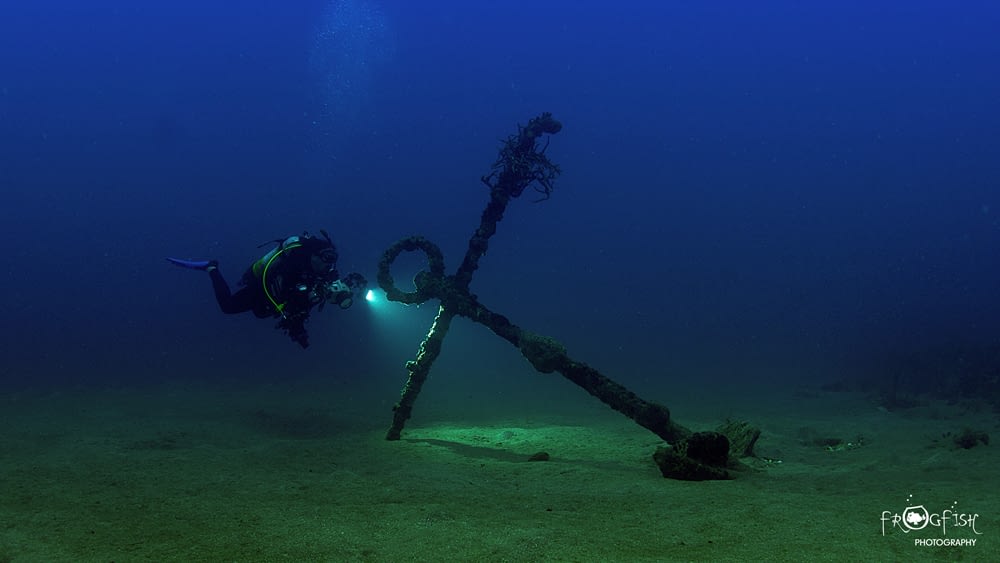 Love wreck diving? Love diving in clear blue warm water? Then here are our top 5 wreck diving destinations in the Caribbean.
The Bahamas
Want to combine some wreck diving with seeing sharks up close? Then The Bahamas is the destination for you. The islands have both ancient and modern ship wrecks to explore on most of the islands. Some sunk for filming movies, some sunk to make artificial reefs, even a crashed plane in water shallow enough to snorkel.
Stuart Cove's Dive Bahamas offer shark dives on two different wrecks that offer underwater photographers & divers to enjoy the best of both shark diving and wreck diving (and you can even do this at night!).
Still on our Bahamian Wreck Diving wish list is the SS Sapona off Bimini – a large wreck that lies part submerged which offers some amazing split-shot opportunities.
---
Barbados
The island of Barbados is popular with divers and snorkelers alike. Amazing beaches, great food and a friendly welcome are what you should expect. But it is below the waves that makes this island stand out from the crowd. Probably the most famous wreck of Barbados is the Stavronikita, a huge and fairly deep wreck that takes several dives to fully explore. Its structure is now covered in coral growth and plenty of marine life has made this artificial reef its home.
But our favourite wreck diving location on the island has to be Carlisle Bay, where several wreck have been sunk in a rough circle for both divers and snorkelers to explore. Turtles are plentiful in the bay and if you drift off the wrecks and onto the reefs you are sure to spot seahorses too. The wreck of the Bajan Queen offers divers the chance to explore inside a wreck, in shallow water, which is a real highlight. Carlisle Bay also makes a great night dive!
---
Cayman Islands
The most famous wreck in the Cayman Islands has to be the Kittiwake. This wreck used to stand upright but a powerful storm has since knocked it on its side. It is a big ship, sunk deliberately to make an artificial reef on a sandy seabed. It can take several dives to fully explore both the outside and inside the wreck. It is always an impressive dive.
However, sometimes it is the smaller wrecks like the Doc Poulson that can make for a magical dive, simply because of the abundant marine life that call this wreck home. Huge sponges adorn the bow and large green morays and lobster can be found in every crevice.
---
Grenada
Grenada is probably most famous for the wreck of the Bianca C. It also boasts being the wreck diving capital of the Caribbean, with a host of wrecks suitable for beginners right up to technical divers. Divers with a lust for rust flock here each year to spend their time underwater exploring the wrecks on offer. Our favourite wrecks included a small tug boat off Carriacou, with a perfect little wheel. The wreck was perfect for taking shot both into and out of the wheelhouse.
Off the main island of Grenada, our favourite wreck was actually the Veronica L. In the daytime the wreck was covered in schools of bright fish, sometimes so dense it was hard to see the structure of the ship. At night it is even more impressive, as the orange cup corals that cover one side come out and glow under torch light. Octopus and crustaceans came out to hunt. We could have done this dive every day and been happy.
---
St Eustatius
The island of St Eustatius, or Statia as it is locally known, sits between St Kitts and Saba. You might not have heard of it, but if you love Caribbean wreck diving then you should add it to your wish list. The diving is great and unhurried on this quiet island where you may only a couple of dive boats operate.
The biggest wreck is the Charlie Brown. This wreck is very dear to our hearts as we were part of the team that sank it when we lived and worked on the island. She lies in 30m of water and can be explored both inside and out.
A series of wrecks has also been sunk near to the harbour area. These were sunk as artificial reefs, initially to encourage fish into the area to help out the local fishermen, who are not allowed to fish in the marine park that surrounds the rest of the island. However, over time, these wreck also became stunning dives. At night huge sea turtles come to sleep here and make this a very special dive indeed.
There are even ancient wrecks to explore, with most of the structure now covered in coral and only the anchors remaining. Treasure is still found on these dives, but you cannot take it home with you – unless you are lucky enough to find a blue bead.
---
Our plan for 2021 is to visit the British Virgin Islands, as we hear this is a great destination for wreck diving too – watch this space…
A Caribbean Reef Shark swims over the wreck of the Ray of Hope

Diver on the Stavronikita

Night dive on the Veronica L

Caribbean Reef Shark on the wreck of the Ray of Hope

Caribbean Conservation in Action: Coral Conservation during Covid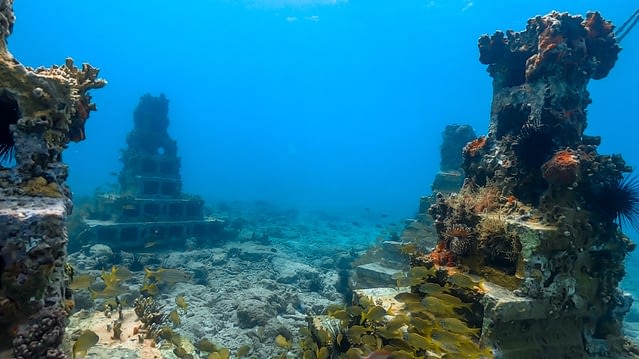 Dive Grenada started the Grand Anse Artificial Reef Project (GAARP) back in 2013 and their biggest challenge has always been time. Busy running their dive shop in Grenada seven days a week, they always felt the project was not getting the attention it needed.
The arrival of the COVID pandemic in 2020 and the cessation of tourist visitors to the island has on the upside created a great opportunity for them to be able to devote some time to developing the project.
The project is now in its eighth year and they have seen the successful growth of a plethora of marine life on the site including a wide range of corals, sponges and over 30 different species of fish. The team felt that they now had the chance to get some 'hard science' set up and running and that is exactly what they have been doing.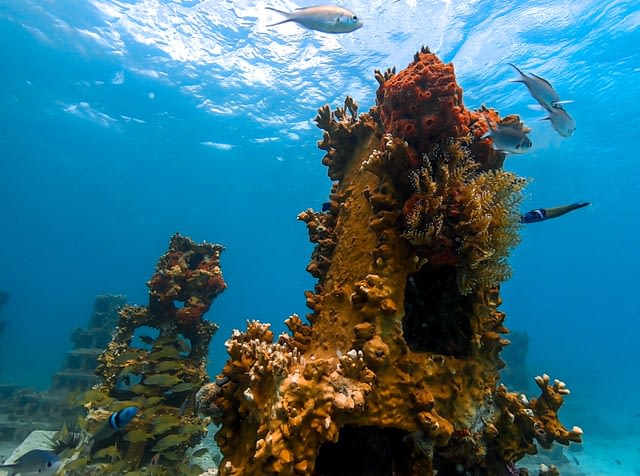 They started by simply developing an underwater identification and numbering system that would withstand the marine environment. With a locally sourced and engineered solution now installed they were ready to call in the experts.
GAARP are thrilled to now have a volunteer local scientist trained in marine biology on the team. It has been an exciting time as they have worked to develop the best surveying methodology to assess, record and monitor the marine growth development on each individual pyramid structure. He will be assisted in is work by volunteers including members of the student community from the local university.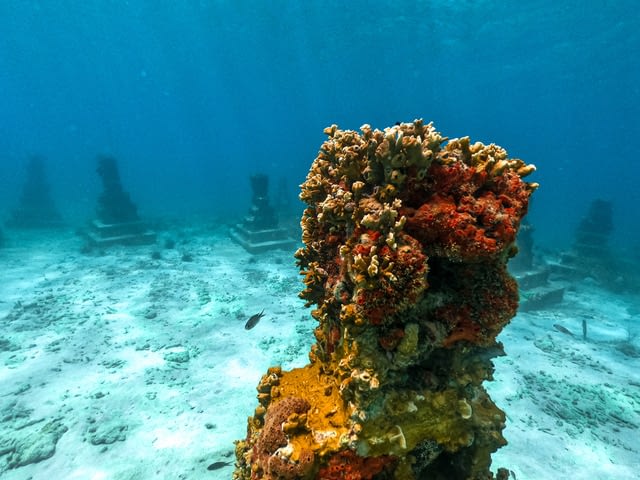 They have also used this downtime in their normal operations to reach out to like-minded environmental groups in Grenada to help them understand the issues and challenges that the marine environment is facing. Moving forward they are actively setting up collaboration partnerships with organisations and individuals to ensure that GAARP is both sustainable and meaningful to Grenada.
For more information contact Phil Saye: info@divegrenada.com or visit the GAARP Facebook page by clicking here.
A Grand Day Out in Grand Turk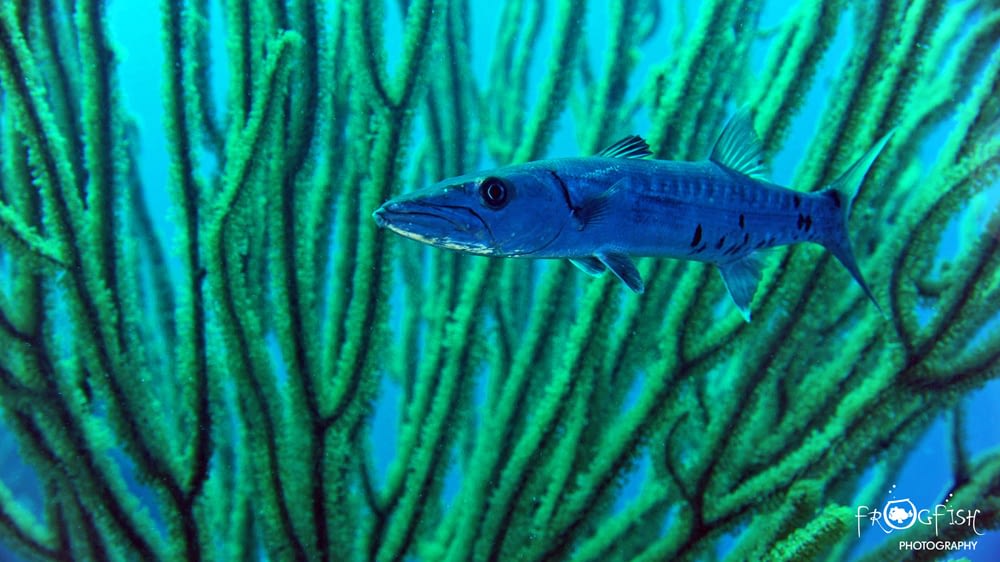 Grand Turk, one of the islands of the Turks & Caicos Islands in the Caribbean, holds a special place in our hearts. Caroline worked on her MSc thesis here and met up with Dale from Oasis Divers who helped with boat transport out to the uninhabited islands for Caroline to study the marine bird populations. Dale also managed to persuade us to learn to dive and kick-started our love for the underwater world. We returned to complete our Dive Master qualification and once again to take some time out, clear our heads and make the decision to work as underwater photographers full time.
Grand Turk offers a classic combination of white sandy beaches and turquoise blue waters. It is an idyllic Caribbean island. Beneath the waves the sandy shallows, home to numerous Southern Stingrays, lead to an incredible vertical wall that plummets to the huge depths, making this one of the best wall diving locations in the Caribbean. With Providenciales and Salt Cay just short hops away, Grand Turk makes a fantastic island hopping destination and if you go early in the year, you might even be lucky enough to encounter migrating humpback whales.