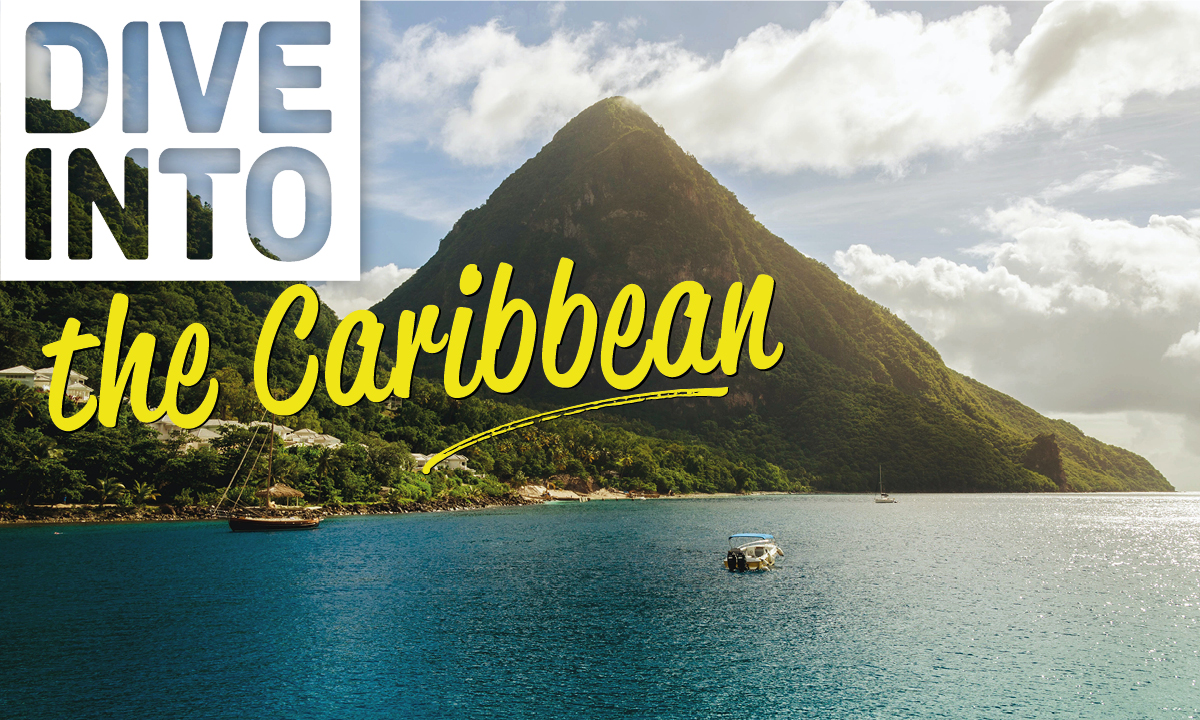 Home to so many of our favourite dive destinations, the Caribbean is packed with an amazing variety of underwater adventures and incredible topside experiences. There is so much to do and see across the colourful islands of the Caribbean! Each destination has its own characteristics and charm but the warm welcome you will receive as a visitor is guaranteed each and every time.
Read on for some of our highly recommended dive spots and enjoy your next dive travel adventure Caribbean-style…
---
All Star Liveaboards – Exuma Cays, Bahamas
Tel: + 1 954 734 7111
Email: info@allstarliveaboards.com
Web: https://allstarliveaboards.com/bahamas-liveaboard-diving/
All Star Liveaboards is celebrating 42 years of business, making them the longest running liveaboard company in the world. We've explored all corners of the Bahamas both above and below the surface.
The best dive sites we found were in the pristine waters of the Exuma Cays, one of first marine parks in the world and home to some of the healthiest reefs in the Caribbean. In the Exuma Cays, divers can enjoy vertical walls, blue hole, swift drifts like the washing machine, wrecks, and reefs with large schools of jacks, magnificent macro, and frequent shark sightings.
All Star's Bahamas fleet includes all levels of luxury from Blackbeard's Cruises dormitory-style accommodations, to the ultimate luxury liveaboard – the Aqua Cat.
"Twice the fun, Half the Cost!" Blackbeard's is just that. Divers compare it to camping at sea, but with air-conditioning. The open-air sailboat makes guests feel a closer connection to the water, the ability to disconnect and form new friendships with like-minded travellers onboard. All-inclusive for just $1,055 includes up to 19 dives, all meals, beverages and accommodations.
Guests looking for more space and amenities…. Look no further than the Cat Ppalu. This 65ft. catamaran accommodates 12 guests in 6 private cabins. Cat Ppalu is the perfect vessel for small groups or family charters. Dive, snorkel and explore uninhabited islands by kayaks or paddleboard.
For those that want the ultimate luxury liveaboard, book a trip aboard the Aqua Cat. This 102 ft. catamaran offers spacious cabins with en suite bath, large windows and ample storage. Aqua Cat also has a 28ft jet drive boat to escort guests to a variety of shore excursions, eco-adventures and water sport activities. No matter which vessel you choose, All Star Bahamas will deliver a 5-star experience.
Facebook: @allstarliveaboards  |   Instagram: @allstarliveaboards
---
Barbados Blue, Barbados
Tel: +1 246 230 3064 (WhatsApp)
Email: info@divebarbadosblue.com
Web: www.divebarbadosblue.com
Owned and operated by PADI AmbassaDiver, Andre Miller, the Barbados Blue team is ready to welcome you to share our passion for adventure, exploration and love for the underwater world.
As a PADI AWARE partner, we are dedicated to teaching ecology while doing our part to help our oceans. With a variety of eco-minded projects, we are able to get all those who enjoy our beautiful shores and 365 days of warm water diving to come find out what we're doing – and join in! We are honoured to be recipients of the PADI Global Ambassador for Conservation and the Green Star Award.
Based at the Hilton Resort in Carlisle Bay, we offer Daily Diving, Training and Groups Trips to over 30 dive sites, most of which are just minutes from the shop, keeping the trips relaxed and back in time for topside adventures or happy hour relaxation. Sea turtles, seahorses, rays, barracudas and east coast sharks are regular visitors for our divers and snorkelers in our brag worthy beautiful Barbados Blue tropical clear visibility.
To extend the adventure we have a sister dive shop, Eco Dive in Grenada, on the famous Grand Anse Beach. Between our island-hopping shops we share the claim to fame of being the southern Caribbean's first and premier PADI Freediving and Coral First Aid Centres. For the more adventurous diver, ask us about a Grenadines cruise on MV Mojito and dive your way from Barbados to Grenada on a bucket list trip of a lifetime.
Ask us how you can help save a reef or experience the bubble free bliss of freediving; we can change your life. Join us for an experience you won't forget!
Special Offer
We want to show off our Marine Park, so we will give any 10 dive package and higher a Free 2pm dive for every paid diver (50% off). For every 6th diver, we will comp the "lucky 7th" diver.
We are the only PADI Five Star Resorts that can teach the PADI Coral Reef First Aid courses and for every 6 students we shall comp the 7th student.
Facebook: @BarbadosBlue  |   Instagram: @barbados_blue
---
Buddy Dive Resort – Bonaire, Dutch Caribbean
Tel: +599 717 5080
Email: info@buddydive.com
Web: www.buddydive.com
Buddy Dive Resort is a full-service dive resort and 5 Star PADI Career Development Centre that has something to offer for every diver and leisure traveller.
The spacious studios, one, two and three-bedroom apartments have air-conditioned bedrooms, a kitchen, and every bedroom has its own bathroom, plus either a porch or balcony with views of the blue ocean or tropical garden.
The dive shop houses a full retail and equipment rental centre. Buddy Dive's professional dive team can teach all types of courses from open water to complete instructor development courses. The comfortable dive boats depart three times a day to explore those dive sites not accessible from shore. For those that want to explore the shore dive sites of shore dive paradise Bonaire, the unique two-lane Drive Thru air and nitrox filling station offers you the convenience of picking up your dive tanks daily. Additionally, Buddy Dive offers a full-service technical diving facility.
Complete with 2 restaurants, 2 swimming pools and 2 raised sand beaches, you will have everything in place to make your (dive) vacation one to remember. The resort's very own rental fleet allows you the flexibility of exploring the island at your own pace.
When booking the famous Drive & Dive package you will have everything needed for a successful week of diving: Accommodation, daily breakfast buffet, airport transfers, shore diving with unlimited air and nitrox (plus optional boat dives) and a rental vehicle.
Our Drive & Dive package includes:
7 nights in selected accommodation
7 days rental vehicle
6 days of unlimited shore diving
Free Nitrox upgrade
American style breakfast daily
Free Wifi
Airport transfers
All government taxes.
Facebook: @buddydiveresort  |   Instagram: @buddydiveresort
---
Don Foster's Dive Cayman Ltd – Grand Cayman, Cayman Islands
Tel: +1 345 938 4000
Email: dfdops@donfosters.com
Web: www.donfosters.com
Don Foster's Dive Cayman 2.0 – Eco friendly, knowledgeable & passionate!
We are prepared to receive visitors. We are taking bookings for boat diving, shore diving and Scuba lessons. Our Dive Instructors are ready to teach and our Guides ready to show you the world below the waves. Our staff have over ten years of experience diving our waters and are fully vaccinated!
DFD 2.0 is a smaller version of a grand icon of the dive industry. Our passion towards diving and the Ocean continues to grow. With a strong orientation toward Underwater Photography, we commit ourselves to search for the hard-to-find creatures and fish.
We have introduced Black Water Diving to the Cayman Islands and are the sole providers of this unique experience.
For experienced (and self-sufficient) divers, our new "Tanks4Calling" allows you to reserve tanks for shore diving from our facility, at any time.
We are oriented to provide great diving opportunities with our two dive vessels, Cayman Wall and Cayman Sky, as well as spectacular shore diving and snorkeling from our waterfront location. "Casuarina Point Reef" offers great wall & shallow dives. Adjacent to Devil's Grotto, one of most famous shore dives.
Keep learning. Keep exploring. Keep diving!
Special Offer
Exclusive 10% discounted on all dive packages and courses when you quote the code DFDSV001.
---
Dive Travel Curaçao – Curaçao, Dutch Caribbean
Tel: +5999 699 5297 (WhatsApp)
Email: reservations@divecuracao.info
Web: www.divecuracao.info
Are you thinking about your next Caribbean dive vacation?  With so many incredible world-class destinations to choose from it is understandable that you may be unsure, or even confused, where to start?  Well keep reading because diving in Curaçao should be on your list.
Why?  Because if you are looking for amazing diving accommodations, adventure, healthy and vibrant fringing coral reef systems, world class boat and shore diving plus a diverse range of underwater landscapes then visit Dive Curacao today to start discovering the endless possibilities that Curacao has to offer for your next Caribbean diving vacation getaway!
BUT where are the BEST dive resorts in Curaçao? Of course accommodation will always play a prominent role in any travel experience.  That is why Dive Travel Curacao has partnered with the BEST Curaçao Dive Resorts, Hotels and Apartments for individual divers, groups, families, and your friends.
At Dive Travel Curacao we are committed to provide our clients with a high level of service, a responsibility for dive safety, excellent value & wonderful accommodations. Let our expert Dive Travel team guide you in planning your next Caribbean dive vacation today. Contact us directly for individual curated dive vacations or customized group travel packages.
It's time to Dive Curacao! Dive in and discover amazing Sleep and Dive experience packages at the best Curaçao dive resorts today!
Whether it is LionsDive Beach Resort or Sunscape Curacao Beach Resort, these best in class dive resorts are committed to delivering you the highest-quality Curacao dive experience in combination with Ocean Encounters, the on-site dive shop.
Start thinking of packing your mask, fins, dive computer, certification card and your thirst for adventure as you consider traveling to Curacao, one of the best overall scuba diving destinations in the Caribbean and Atlantic region for 2022. WHY?  Because Curaçao is an incredible Dutch Caribbean island that is a world class scuba diving and vacation destination! We invite you to visit Dive Travel Curaçao and let us help you discover Curaçao so you can "feel it for yourself"!

Facebook: @divetravelcuracao  |   YouTube: @DiveCuracao
---
Nature Island Dive – Soufriere, Dominica
Tel: +1 767 245 6505
Email: natureislanddive@gmail.com
Web: www.natureislanddive.com
Nature Island Dive is located in Soufriere, Dominica within the Soufriere Scott's Head Marine Reserve.
We offer scuba diving, dive certification courses and snorkeling in the beautiful southwest of the Nature Island of the Caribbean, Dominica.
Our passion is the sea and we love to share it with you! Our conservation efforts include Lionfish control, reef surveys and monitoring, marine environment protection and more. We believe everyone should be able to enjoy the incredible beauty of Dominica's underwater world, so we work hard every day both to preserve it and to introduce people to it.
We are well-known for diving in small groups and for our personalised customer service. Once you hand us your gear, we take care of it for you for the rest of your stay: we set it up on the boat each day, and then we rinse, dry and store it for you until the next day.
Our team has been diving in the Marine Reserve since 1994 and we have a bucketful of expertise: fish Id, coral ID, conservation, marine protection, underwater photography and lionfish control to name a few areas.
Our on-premises cafe serves Lionfish Sandwiches, Fresh Ground Coffee and Local Fruit Smoothies. WiFi included!
Dive Package Special
How about one of the best value dive packages in the region?
10 dives per person with the amazing dive team from Nature Island Dive
7 Nights Accommodation at a fully equipped apartment within easy walking distance of the Dive Center.
We transport your gear to and from the Apartment on your first and last day of diving. Airport Transfers and Marine Park User Fees are also included.
The best diving in the Caribbean, with an amazing dive team, short boat rides and the best fresh ground coffee on the island… Are you ready?
Facebook: @natureislanddive |   Instagram: @natureislanddivers
---
Eco Dive – Grenada, Carriacou and Petit Martinique
Tel: +1 473 405 7777 (WhatsApp)
Email: info@ecodivegrenada.com
Web: www.ecodivegrenada.com

Established on the Spice Isle, Grenada in 1996, Eco Dive is locally owned and operated since 2009 by Marine Biologists Christine Finney (PADI Torchbearer Award Winner 2022) and Andre Miller (PADI AmbassaDiver).
Located on Grand Anse Beach, voted the #1 World's Best Beaches by CN Travel, Eco Dive is a full service 5-Star PADI 100% AWARE Scuba Diving and Freediving Centre offering training options in both English and French. Based at the beautiful family run Coyaba Beach Resort and the new all-inclusive Royalton Grenada, Eco Dive is ideally located for short boat trips to Grenada's best dive sites. Our services include Daily Tours in Scuba Diving, Snorkeling, PADI training and private custom charters on MV Mojito with reach to our out-islands to get off the beaten path.
Grenada offers an incredible variety of diving and we can customise packages to your requirements offering wreck diving, beautiful healthy coral reef diving, exploration of the underwater sculpture park, drift diving, summer shark diving, nice long profiles, and small professionally guided groups.
We love what we do and hope that you will join us.
Our goals are safe, fun and professional activities that increase our awareness and appreciation of the natural world. We take a lot of pride in Grenada's natural marine beauty and are proud Green Star Award recipients and supporters of the PADI AWARE and local youth scholarship programmes. We also offer research volunteer opportunities and Coral First Aid Distinctive Specialty training with our in-house Marine Biologists.
With our sister shop, Barbados Blue Watersports, we are the southern Caribbean's premier Scuba Diving and Freediving Centres.
Come visit Pure Grenada and join us for some Pure Diving!
Special Offer
Book a 10+ dive package (between May and October) in advance and get two free afternoon dives:
Afternoon 1-tank boat dive
Complimentary guided shore dive to explore the patch reefs and seagrass bed habitats in front of the dive shop.
Facebook: @EcoDiveGrenada |   Instagram: @eco_dive_grenada
---
Golden Rock Dive Center – St Eustatius (aka Statia), Dutch Caribbean
Tel: +1 307 660 8001 (WhatsApp)
Email: info@goldenrockdive.com
Web: www.goldenrockdive.com
At Golden Rock Dive Center (GRDC), we pride ourselves on being the "Small, Friendly, and Flexible" dive shop.  We specialize in small groups of divers offering quality service without the ego.  Our customers experience an authentic island get-away without mass tourism.  We offer a relaxed atmosphere where our divers get to dive the way they want, and students have the quality time with their instructors.  Our customers leave feeling like family, not just another diver on an over-crowded boat.
With over 1000 hectares of protected coral reef, we have almost as much reef environment as Bonaire and Saba combined.  Along with the authentic and safe island experiences, coming to Statia is like stepping back into the Caribbean 30 years ago.
Diving on Statia is very diversified with sites for all levels and interests.  With over 30 dives sites, most on moorings, Statia boasts several dive ecosystems:  new wrecks (including the Charles L. Brown and a night dive on The Chien Tong), historic archeological sites with anchors, blue beads, and bottles from the 1700 and 1800's, well preserved coral encrusted lava flows, and more… all under the protection of the St. Eustatius Marine Park and Reserve since 1997.
Dive Package Special
10% off dive/hotel packages when booked directly with Golden Rock Dive Center for 2 or more divers.  Prices starting at $1161USD.
Dive at GRDC and stay at either Old Gin House or the brand-new Golden Rock Resort!
For travel by July 31, 2022.  Maximum 12 pax. Contact us for more details.
Facebook: @GoldenRockDiveCenter  |   YouTube: @GoldenRockDiveCenter
---
Dive Antilles – St Vincent and the Grenadines
Tel: +1 784 527 3406
Email: info@diveantilles.com
Web: www.diveantilles.com
Come discover the gem of the Antilles. At Dive Antilles you will be treated like part of the family. We are a 5* PADI dive shop based on the beautiful Villa beach in St. Vincent.
We offer unbeatable service while making sure you have a safe and unforgettable experience. We mainly cater to small groups, making sure we can give you the best and most personal service possible. However we can also cater for larger group bookings for dive clubs on request.
St. Vincent has some of the best diving in the Caribbean, with healthy reefs, an abundance of schooling fish and a variety of dive sites which include wrecks, walls and shallow reefs. St Vincent is the perfect place for beginners and advanced divers alike; we truly have something for everyone. The Island also has a lot to offer above the water. If you enjoy secluded beaches, hikes and waterfalls then this is the place for you, so come and see it for yourself!
Special Offer
For just $630 USD we offer 5 days of 2 tank boat dives, giving you a 10% discount off our normal rate. This package can be made even better if you are bringing your own equipment, making it just $540USD! If you are also looking for a place to stay we can add on a hotel package as well. Contact us to find out more!
Facebook: @diveantilles  |   Instagram: @diveantilles
---
Tobago Dive Experience – Speyside, Tobago
Tel: +1 868 474 7904 (WhatsApp)
Email: Tobagodiveexperience@gmail.com
Web: www.tobagodiveexperience.com
Tobago is bathed by the influx of the Guyana current, which transports the nutrient-rich waters of Venezuela's Orinoco River to the reefs lying off Tobago's shores. Waiting to consume the seemingly endless supply of nutrients is an abundance of reef fish living in one of the most breathtaking ecosystems the Caribbean has to offer. Tobago is also one of the few places in the Caribbean that you can see Mantas!
Tobago Dive Experience are based in Speyside and are ready to provide for all of your diving needs, from scuba diving, snorkeling and full PADI and NAUI training!
Dive Package Special
7 night package includes round trip airport transfers, oceanfront accommodations (full kitchen, airco, WiFi), continental breakfast daily, 10 one tank boat dives, gear and all taxes. £775 Diver Rate/£345 Non Diver Rate
14 night package includes round trip airport transfers, oceanfront accommodations (full kitchen, airco, WiFi), continental breakfast daily, 20 one tank boat dives, gear and all taxes. £1500 Diver Rate/£600 Non Diver Rate
One and Two Bedroom apartments are available. Contact us for single, triple and quad occupancy. The oversized two bedroom suites are ideal for families or friends travelling together.
We specialise in small groups and offer great booking incentives for groups over 7 people.
Facebook: @tobagodiveexperience   |   Instagram: @tobagodiveexperience
---

Reefs Go Live returns for new season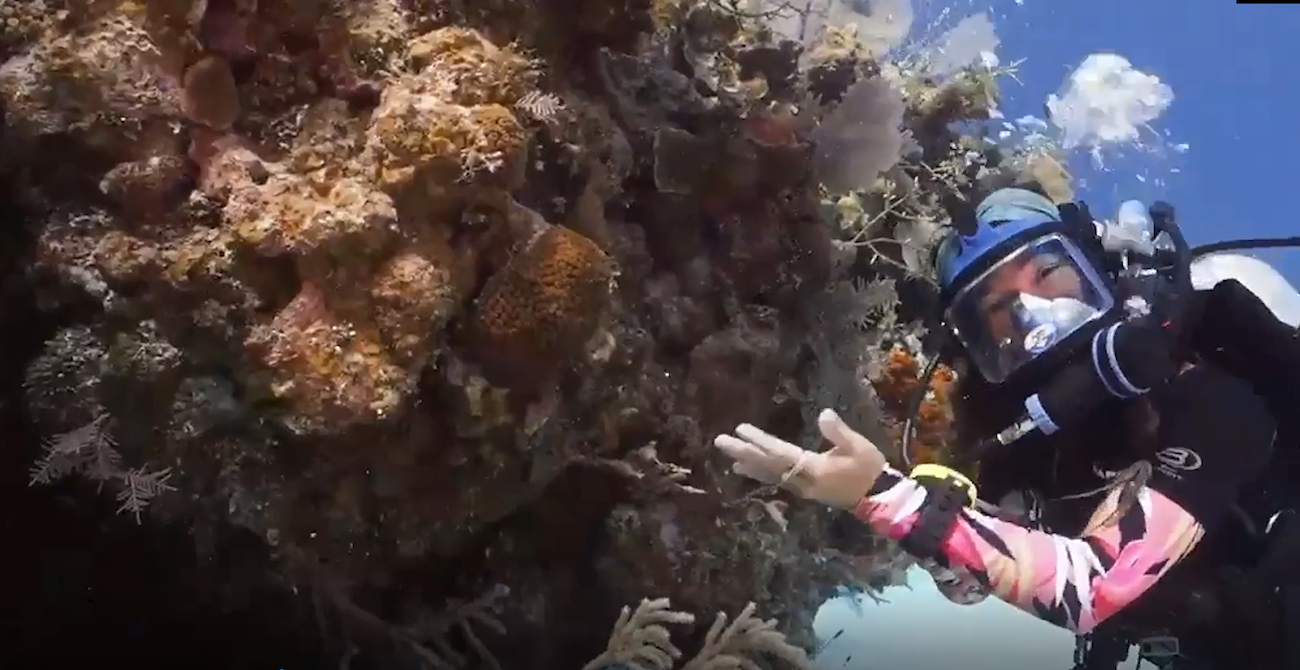 CCMI brings the ocean directly to classrooms around the world through live-stream lessons from underwater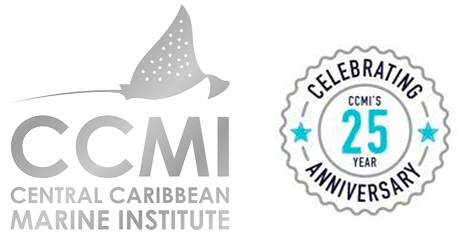 In 2018, the Central Caribbean Marine Institute (CCMI) launched Reefs Go Live, their innovative, flagship education programme that live-streams directly from underwater on the coral reefs in Little Cayman to students in classrooms around the world in real time. For the 2022 season, the four episodes of Reefs Go Live reached more than 107,000 viewers in 22 countries. CCMI's Reefs Go Live team hopes to expand their reach with four new episodes and supplemental teaching resources to help integrate the material into classroom lessons.
Science Communications & Development Manager for CCMI, Beth Chafin, is excited to be part of another year of Reefs Go Live:
"Knowing we have an audience that spans the world, our team is energised as we plan and implement our Reefs Go Live season for 2023! We feel that creating a connection to the ocean and sharing the beautiful coral reefs of Little Cayman with others, both locally and abroad, is one of the most important ways to increase support for critical, timely issues such as marine protection and sustainability. At CCMI, we are fortunate to have these stunning reefs at our doorstep; not everyone is so lucky to be this connected to coral reefs, but healthy coral reefs are vitally important to everyone on earth. Bringing the ocean into classrooms and homes through Reefs Go Live allows us to share the work we do at the Little Cayman Research Centre, facilitate real-time interactions between viewers around the world and our experts in the field, and inspire the diverse audience to take positive action for the future of coral reefs."
The first episode of 2023 will take place on Friday, 31st March at 10 am Cayman time (UTC -5h). The episode, 'Finding Hope on our Reefs', will feature what CCMI's long-term monitoring of Little Cayman's reefs shows us. The data from the annual surveys reveals important trends in reef health over time that reflect global threats and the benefits of strong local protection. Reefs Go Live hosts will explain why this annual monitoring is important and what the results tell us about the future of our coral reefs that we all depend upon. Viewers of each episode will be able to ask questions of the diver and participate in polls through the online platform to make Reefs Go Live an interactive experience.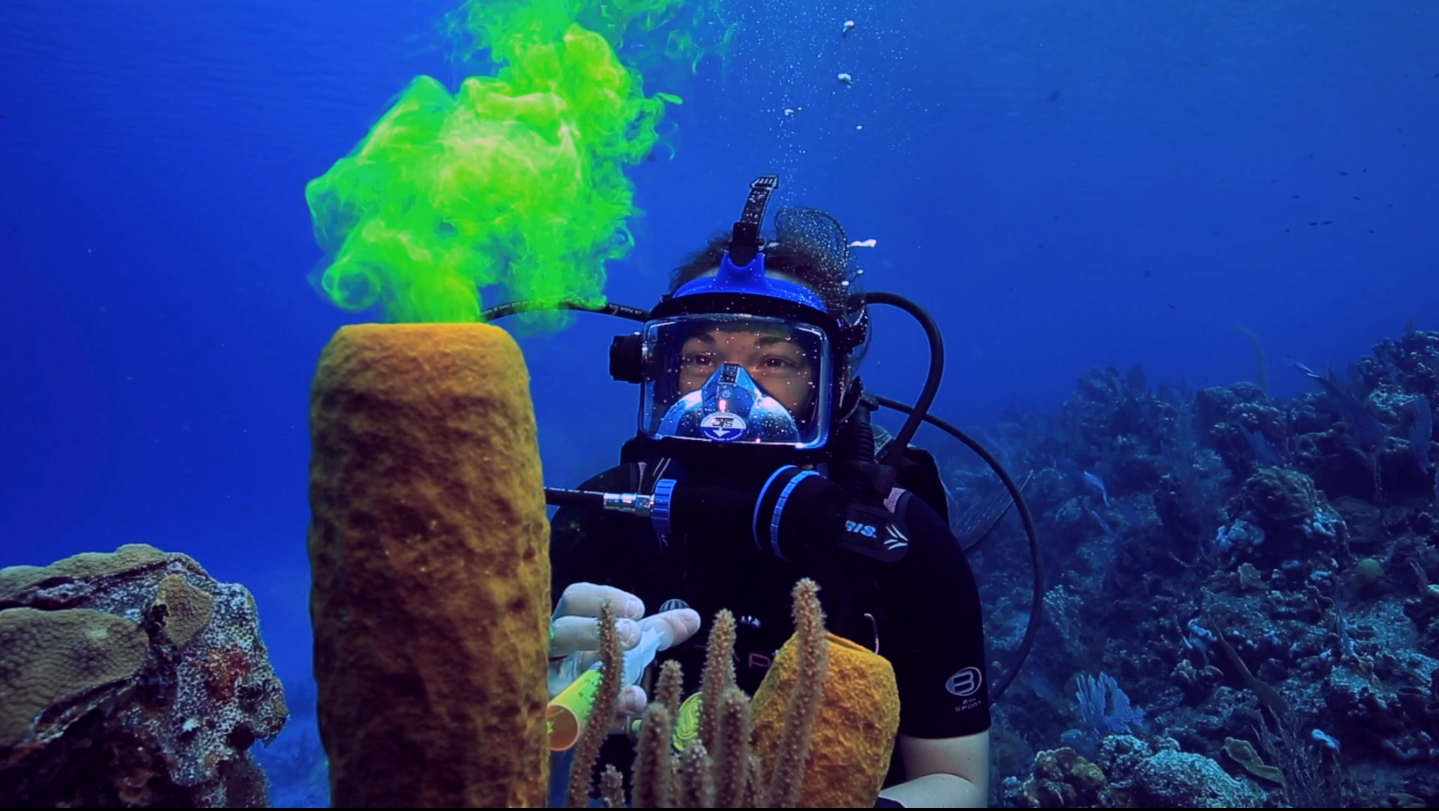 Additional episodes for this year will run at 10 am (UTC -5h) on the following dates:
Thursday, 11th May: Adaptation on Coral Reefs
Wednesday, 24th May: Reef Resiliency & Restoration
Thursday, 8th June: World Ocean Day – 25 Years of Coral Reef Research
Registration for Reefs Go Live is free and is only required once to receive access to all episodes: https://donate.reefresearch.org/rgl2023.
Reefs Go Live provides an opportunity for students from all over the world to engage with the stunning ocean environment in its most natural format. As coral reefs around the world face unprecedented pressure, generating increased engagement with these precious ecosystems creates an opportunity to promote marine sustainability in a positive and fun way.
Reefs Go Live utilises streaming technology with underwater video and audio equipment to enable real time broadcasting from Little Cayman's stunning coral reefs. Little Cayman, a Mission Blue Hope Spot, hosts one of the healthiest reef ecosystems in the Caribbean, which overall remains healthy and shows resiliency to climate change impacts. The broadcasts and education materials draw connections from CCMI's current research conducted in Little Cayman to the national science curriculum and key ocean literacy principles, making CCMI's work relevant and accessible to students and viewers of all ages, and emphasizing the relationship that we all have to coral reefs, no matter where we are.
Reefs Go Live is a free education programme that is made possible by the generosity of The Edmund F. and Virginia B. Ball Foundation. To register for the broadcasts and teaching resources, please visit: https://reefresearch.org/what-we-do/education/reefs-go-live/
Diving with… Ben Williams and Kay Van Leuven, Sunchaser Scuba, British Virgin Islands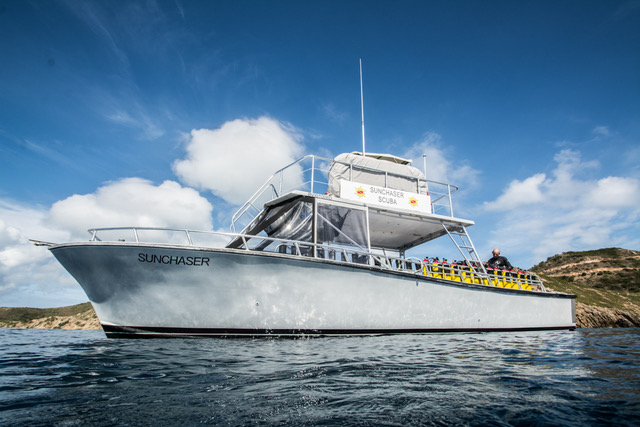 In this ongoing series, we speak to the people who run dive centres, resorts and liveaboards from around the world about their businesses and the diving they have to offer…
---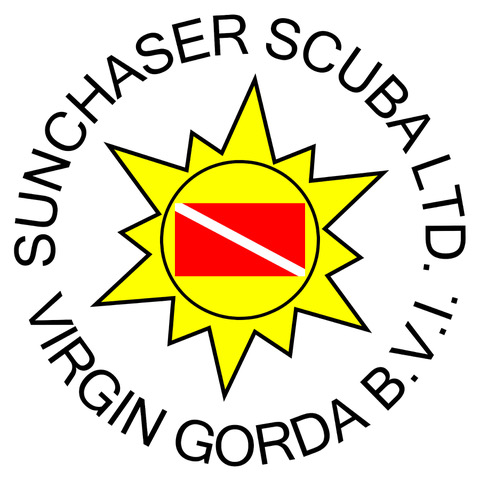 What is your name?
Ben Williams and Kay Van Leuven
What is the name of your business?
Sunchaser Scuba
What is your role within the business?
Owner/operator
How long has the business operated for?
32 years in total and we have been here since 2010, working for the previous owner, then bought the current company from him starting in 2015.
How long have you dived for, and what qualification are you?
Ben since 2003 and he is a PADI MSDT and SDI instructor
Kay since 2010 and she is a PADI MSDT and SDI instructor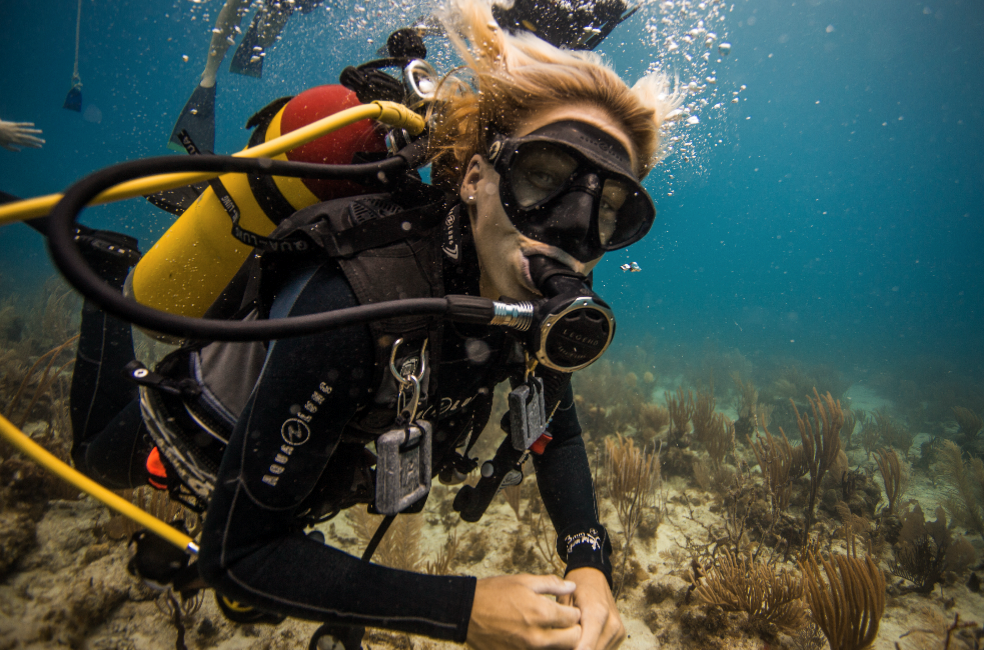 What is your favorite type of diving?
Ben loves pinnacle dives; Kay loves shallow coral dives
If you could tell people one thing about your business (or maybe more!) to make them want to visit you, what would it be?
We offer valet diving for a trip of your lifetime. Personal service is key in our business, together with small groups.
What is your favourite dive in your location and why?
Ben favorite dive is the Invisibles because of the amount of marine life; Kay favorite dive is the wreck of the Rhone, because of it's historical value, marine life and the amount of coral growth on it.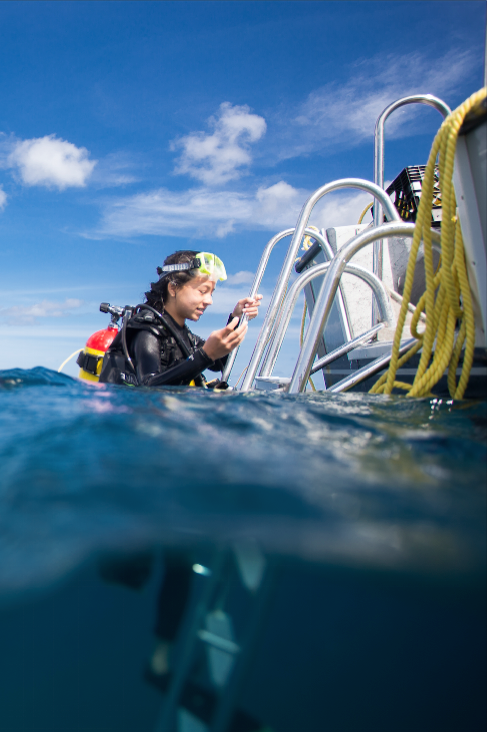 What types of diving are available in your location?
We offer reef and wreck diving, rendez vous diving with your charter boat so we can pick you up straight off your boat.
What do you find most rewarding about your current role?
Being able to dive every day and show the underwater world of the BVI
What is your favorite underwater creature?
Ben's favorite is sharks and for Kay it is dolphins.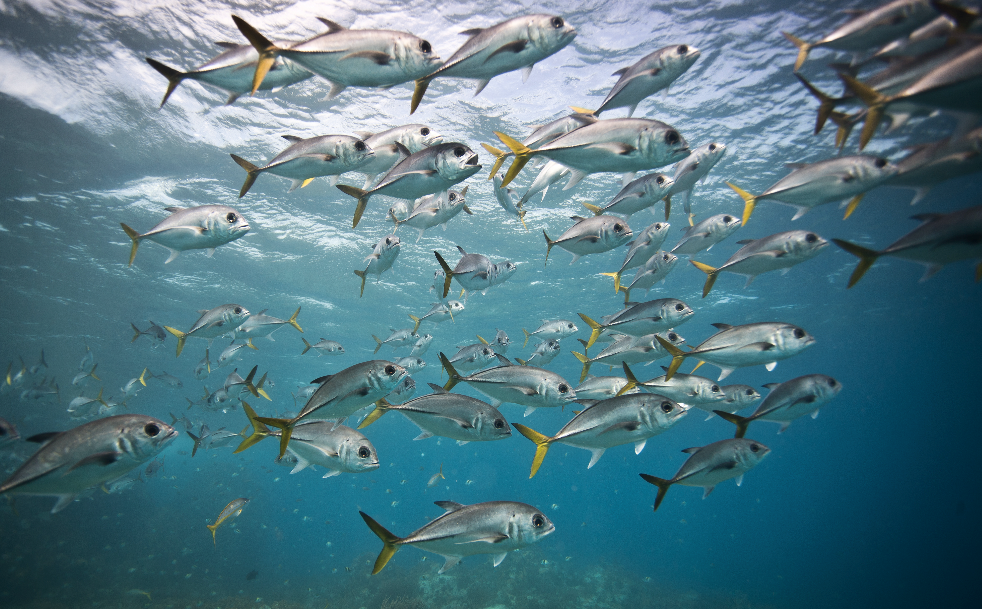 As a center what is the biggest problem you face at the moment?
Ever rising supplier prices.
Is your center involved in any environmental work?
Yes, we do treatment for STCLD, shark sightings and beach clean ups
Are there any exciting changes / developments coming up in the near future?
The hotel we work out of is still recovering from the 2017 hurricane so more places to stay will be coming along in the future. We have an amazing local non profit called Beyond The Reef in the BVI who are always making new artificial reefs.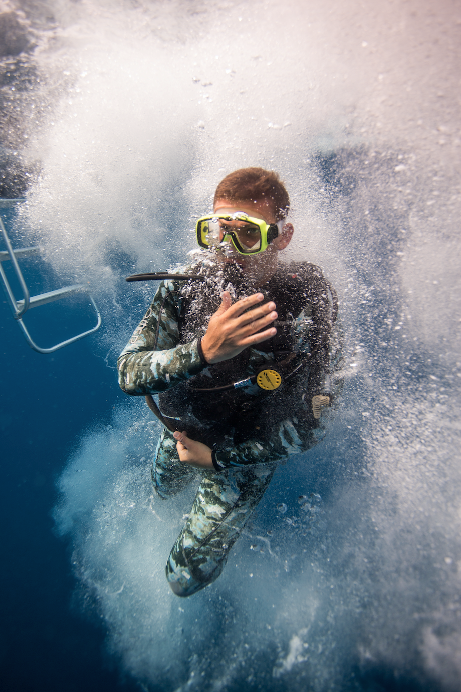 How do you see the SCUBA / Freediving / snorkeling industry overall? What changes would you make?
We feel it is a great industry and it is very rewarding being able to teach people to dive and therefore increase awareness. One of the biggest changes that would be great to change is to be able to make things cheaper so it is more accessible to our local kids/divers and therefore increase the number of divers in our local community.
Finally, what would you say to our visitors to promote the diving you have to offer?
The BVI is very underrated and untouched, making it a great destination for both novice and
experienced divers.
Where can our visitors find out more about your business? 
www.sunchaserscuba.com
info@sunchaserscuba.com
+12833442766
https://www.instagram.com/sunchaser_scuba/
https://www.facebook.com/sunchaserscuba/