Scuba Diving in Mexico: Diving with Pro Dive International from the Occidental Cozumel Hotel (Watch Video)
In this exclusive video for Scubaverse and Dive Travel Adventures, join Richard and Hayley from Black Manta Photography for a day in the life at the stunning Occidental Cozumel Hotel with the amazing team at Pro Dive International in Mexico.
The hotel has a Spanish Hacienda feel about it and is stunning in every way, but what sets it apart is the quality diving from the on-site dive centre. Wrecks, turtles, and sharks are what this stunning location is all about!
You will be able to read about Richard and Hayley's trip to Mexico when they share their stunning photos in a forthcoming issue of Dive Travel Adventures Magazine soon!
---
Visit Pro Dive International to find out more!
For more from Richard and Hayley visit www.blackmantaphotography.com.
Sea Turtles rescued in Grenada during clean up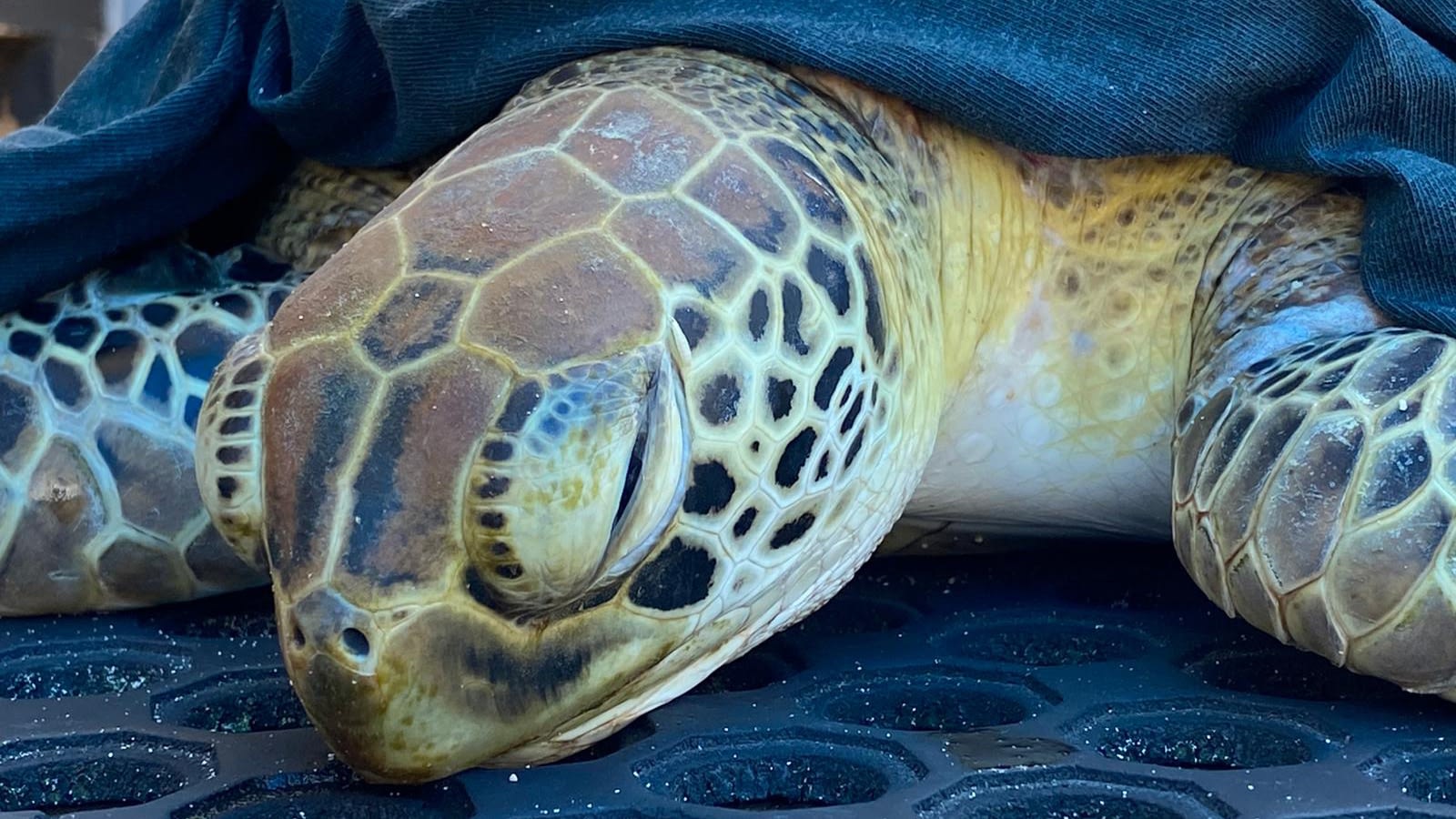 On Feb 20th twenty volunteers gathered for one of Eco Dive's regular monthly clean up dives off Grand Anse Beach in Grenada, a shore dive site adopted by Eco Dive under the Project AWARE Adopt a Dive Site programme. With a mix of snorkelers, freedivers and scuba divers, including junior divers, the squad set out to find and recover as much 'treasure' as possible from the patch reef, sand patches and extensive seagrass beds skirting the beautiful 2 mile beach.
With a plan in place to cover as much of the beach as possible and focus on the high risk areas (storm drains, public jetty, public park accesses) the group set off. Divers were dropped by the dive boat up the beach in teams, a meeting time was set, mesh bags were issued and the they were off. Two more teams one of divers and a snorkel/freediving team headed off from the dive shop to cover the home base and down current zone of the beach.
With the clean-up underway the beach station was set up for sorting, counting and weighing of the haul. The debris gets sorted and the data recorded with Project AWARE to help track global trash trends and local hot spots and events. The first team back to the beach however was the freediving team, and they brought a VIP. Found tangled in kite line was a juvenile Green Sea Turtle. These juvenile turtles love this seagrass habitat off Grand Anse Beach and there is a rotating population of juveniles that join snorkelers regularly.
The team at Eco Dive are familiar with these endangered babies and work closely with Ocean Spirits, a local conservation organization, to tag and monitor these juveniles in the hopes of gaining more information on their movements, risks, health and a better estimate on the size of the local population. For anyone who has worked with a sea turtle project before you would know that catching a wild turtle is a stealth act of athleticism, especially juvenile Green's who are deceptively quick when motivated. To see our snorkel team carrying a turtle (on a non-tagging day) had to mean something was amiss.
Sure enough timing on this clean up dive turned out to be serendipitous. This little turtle, later named Cora, was alive but exhausted. She had managed to tangle herself in a kite line and struggled so much that the line that immobilized her fore-flippers and dug cuts into her skin. Unable to reach the surface this little baby was struggling for her life, so she provided no resistance to rescuers as they freed her up to the surface and back to the dive shop for some TLC.
The right place right time nature of the day continued… with Ocean Spirits' Director, Chair and veterinarian was on the clean up dive already, there were a further 5 veterinarians also on the clean up dive (it turns out vets love to help save the ocean and make great clean up dive buddies!) so little Cora was in good hands. Cora received some antibiotics to help prevent infection in her cuts, some fluids to help her relax and a safe place to stay for 4 days before her release safely back into the sea. Normally turtles would be tagged at the base of their fore-flippers to help identify repeat individuals and track growth etc however with the tissue damage and bruising Cora suffered under her fins on this occasion she was not tagged but marked with her name and well wishes on her shell and set free.
As for the trash clean-up dive the team successfully removed more than 38 kg of trash from the sea including 2 kites, 10+ kite lines, fishing line and lots of plastics and clothing. Juvenile octopus, mantis shrimp, cleaner shrimp, crabs, grunts, wrasse and gobies were found within the trash treasures and were released back to the sea by the sorting volunteers. Cora definitely stole the show and had all of the volunteers extra grateful for having made the effort to come out and join the clean up. More kite line remained in the sea however as some run for 100's of meters. A plan was made by some particularly keen volunteers to come back during the week and target some of the known areas where kite line remained, the Eco Dive crew also committed to daily clean up dives for the week to get these lines out of the sea.
As the working week started, Eco Dive were back to their daily routine and booked a clean up dive with just 4 regulars for the next Friday morning. The divers were out for an hour and one of the dive teams found another turtle tangled. A different turtle, and a different kite line, but a very similar scenario. Kite line in the spring windy season is a known risk item that is found on the clean ups but a tangled turtle has never been found before until this week, and now they had rescued two! A call went out to Ocean Spirits saying "you'll never believe me but .." and the dive team got to work freeing the second turtle of the week from a fore-flipper straight jacket caused by kite line.
This juvenile green sea turtle, slightly bigger than Cora, was named Aurelia, after Eco Dive's Junior Open Water Diver who is an adamant clean up diver and has been on a trash mission for weeks. Aurelia weighted in at just over 7 kg and was exhausted but safe.
Eco Dive's tally for their clean up dives for the week: they removed over 50 kg of lines and plastic from the sea and rescued two baby turtles. A pretty good week all round!
For more information, or to join a clean up day, with Eco Dive Grenada visit their website by clicking here. You can also follow them on Facebook and Instagram.
Caribbean Conservation in Action: Coral Conservation during Covid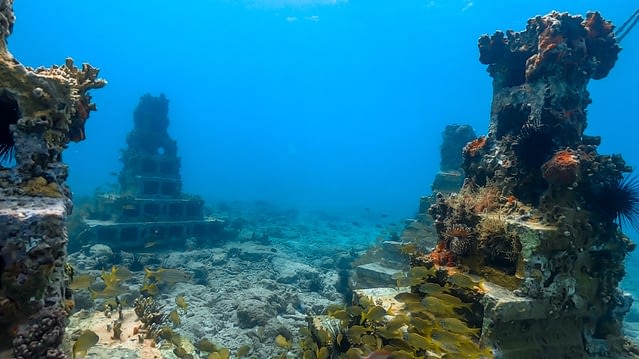 Dive Grenada started the Grand Anse Artificial Reef Project (GAARP) back in 2013 and their biggest challenge has always been time. Busy running their dive shop in Grenada seven days a week, they always felt the project was not getting the attention it needed.
The arrival of the COVID pandemic in 2020 and the cessation of tourist visitors to the island has on the upside created a great opportunity for them to be able to devote some time to developing the project.
The project is now in its eighth year and they have seen the successful growth of a plethora of marine life on the site including a wide range of corals, sponges and over 30 different species of fish. The team felt that they now had the chance to get some 'hard science' set up and running and that is exactly what they have been doing.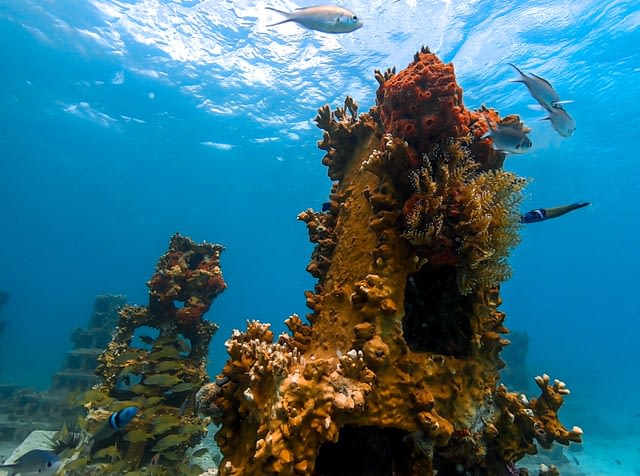 They started by simply developing an underwater identification and numbering system that would withstand the marine environment. With a locally sourced and engineered solution now installed they were ready to call in the experts.
GAARP are thrilled to now have a volunteer local scientist trained in marine biology on the team. It has been an exciting time as they have worked to develop the best surveying methodology to assess, record and monitor the marine growth development on each individual pyramid structure. He will be assisted in is work by volunteers including members of the student community from the local university.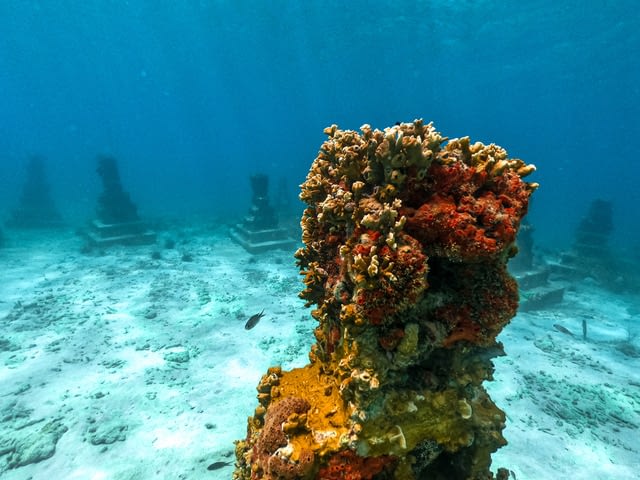 They have also used this downtime in their normal operations to reach out to like-minded environmental groups in Grenada to help them understand the issues and challenges that the marine environment is facing. Moving forward they are actively setting up collaboration partnerships with organisations and individuals to ensure that GAARP is both sustainable and meaningful to Grenada.
For more information contact Phil Saye: info@divegrenada.com or visit the GAARP Facebook page by clicking here.