New destination from Diverse Travel: Dominica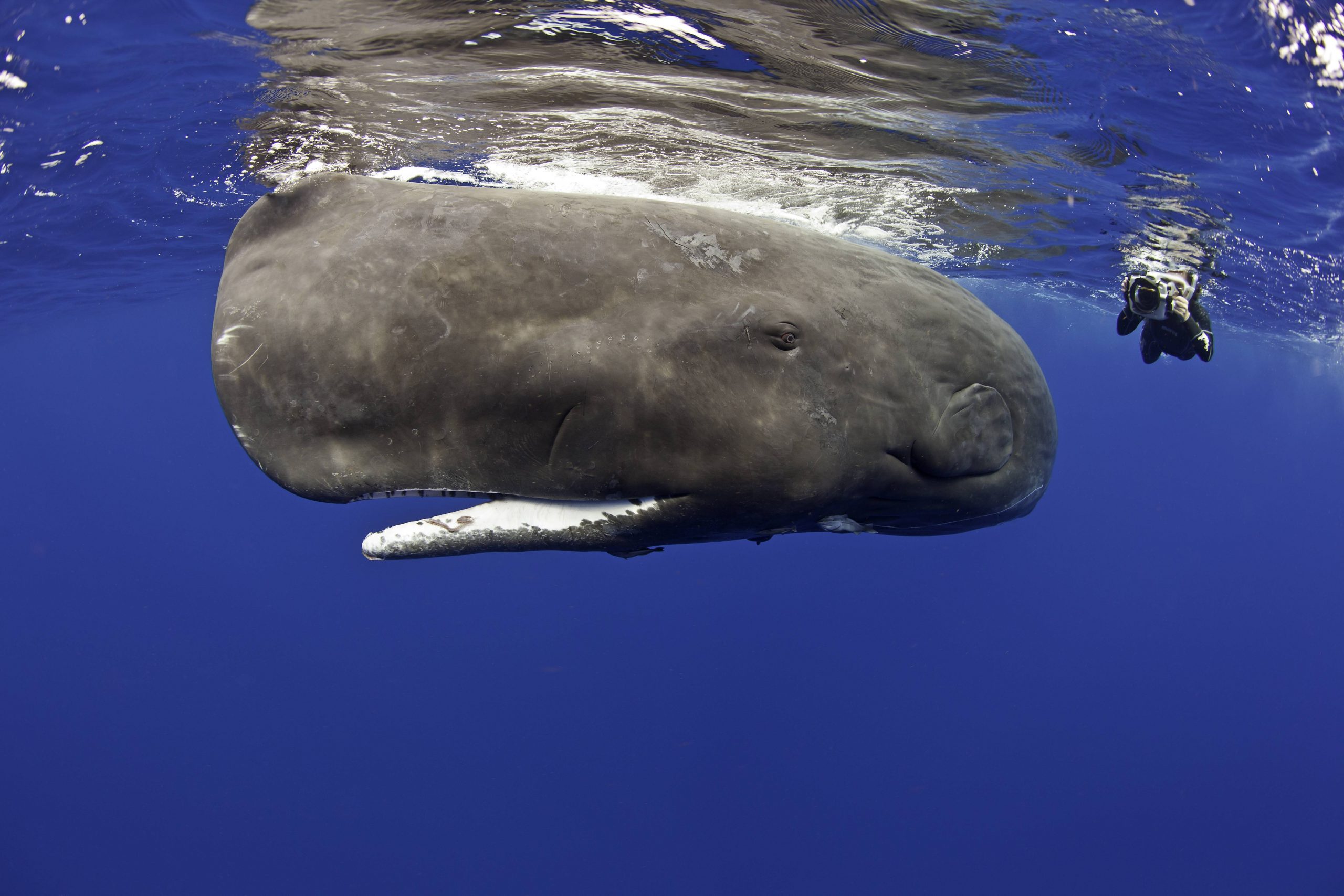 UK-based dive holiday experts Diverse Travel have added Dominica to their programme.
The spectacularly beautiful island of Dominica is one of the best-kept secrets in the Caribbean. Popularly known as the Nature Island, Dominica offers a tantalising combination of lush rainforest, towering peaks, and a choice of glistening waterfall or meandering river for every day of the year.
The landscape of Dominica has been honed by centuries of volcanic activity making for truly dramatic scenery above and below water. Majestic mountains disappear into the blue to form deep ocean trenches that are home to marine mammals such as numerous dolphins and over 20 species of whale, including the Sperm Whales for which the island is renowned for. Divers will find much fascinating topography to explore here: pristine reefs, drop-offs and walls sit alongside pinnacles, caves, swim throughs and volcanic thermal springs that form underwater bubble baths for divers and snorkellers.
Dominica is one of those rare destinations where scuba divers will want to spend as much time topside as underwater. This unspoilt nature lover's paradise is a haven for sustainable and eco-tourism. There are plenty of natural wonders to explore – everything from the Caribbean's longest hiking trail, to exciting river adventures, the World Heritage Site of the Morne Trois Pitons National Park and, of course, whale watching or for the ultimate wildlife adventure, swimming with Sperm Whales.
A holiday to Dominica offers the opportunity to experience one of the world's top marine life encounters. This island holds many treasures, but none is more spectacular than the chance to swim with resident Sperm Whales in the crystal clear warm waters of the Caribbean Sea. This very special opportunity is subject to strict controls and limited permits each year. Visitors are hosted on private catamaran trips of just six people (three in the water), giving the unique opportunity to swim and snorkel with these magnificent creatures, as well as observe fascinating natural behaviour, and learn more about research and conservation from the expert knowledge of private guides.
Diverse Travel dive holidays to Dominica start from £1895pp (based on June 2022) and include return flights London to Dominica via Barbados with 23kgs baggage, 7 nights in an Ocean Front room at the island's historic Fort Young Hotel & Dive Resort in Roseau (room only meal plan), 5 days of 2-tank boat dives with guide, tank & weights, and airport transfers in Dominica. Packages are also available at Hotel The Champs, and The Cabrits Resort & Spa Kempinski in the north of the island.
Limited spaces are available on Diverse Travel's exclusive special trips to swim with Sperm Whales. 2021 trips are from 27 November – 4 December and 4 December – 11 December 2021. A week's package combining swimming with whales, scuba diving and land tours starts from £4125pp to include return flights London to Dominica via Barbados with 23kgs baggage, 7 nights in an Ocean Front room at the island's historic Fort Young Hotel & Dive Resort in Roseau (bed & breakfast meal plan) 3 days guided swimming with Sperm Whales on a private catamaran inclusive of permits and license, 3 days 2-tank boat dives with guide, tank & weights, three land tours, and airport transfers in Dominica. A week's package with 6 days swimming with Sperm Whales is also available from £4850pp.
Discover more about diving in Dominica and swimming with Sperm Whales in the Diverse Travel destination guide on their website at www.diversetravel.co.uk/diving-holiday-destinations/dominica-diving-holidays/ and www.diversetravel.co.uk/swimming-with-sperm-whales-in-dominica/
With over 50 years' experience of dive travel, dive centre and resort management the expert Diverse Travel team has the experience to deliver memorable holidays that benefit from full financial ATOL and TTA protection.
For more information visit www.diversetravel.co.uk, call 01473 852002, or email info@diversetravel.co.uk.
Lead image: Franco Banfi / Avalon
Jeff chats to… Christopher Bartlett, MD of Indigo Safaris, about scuba diving in Dominica and Mexico (3 of 5)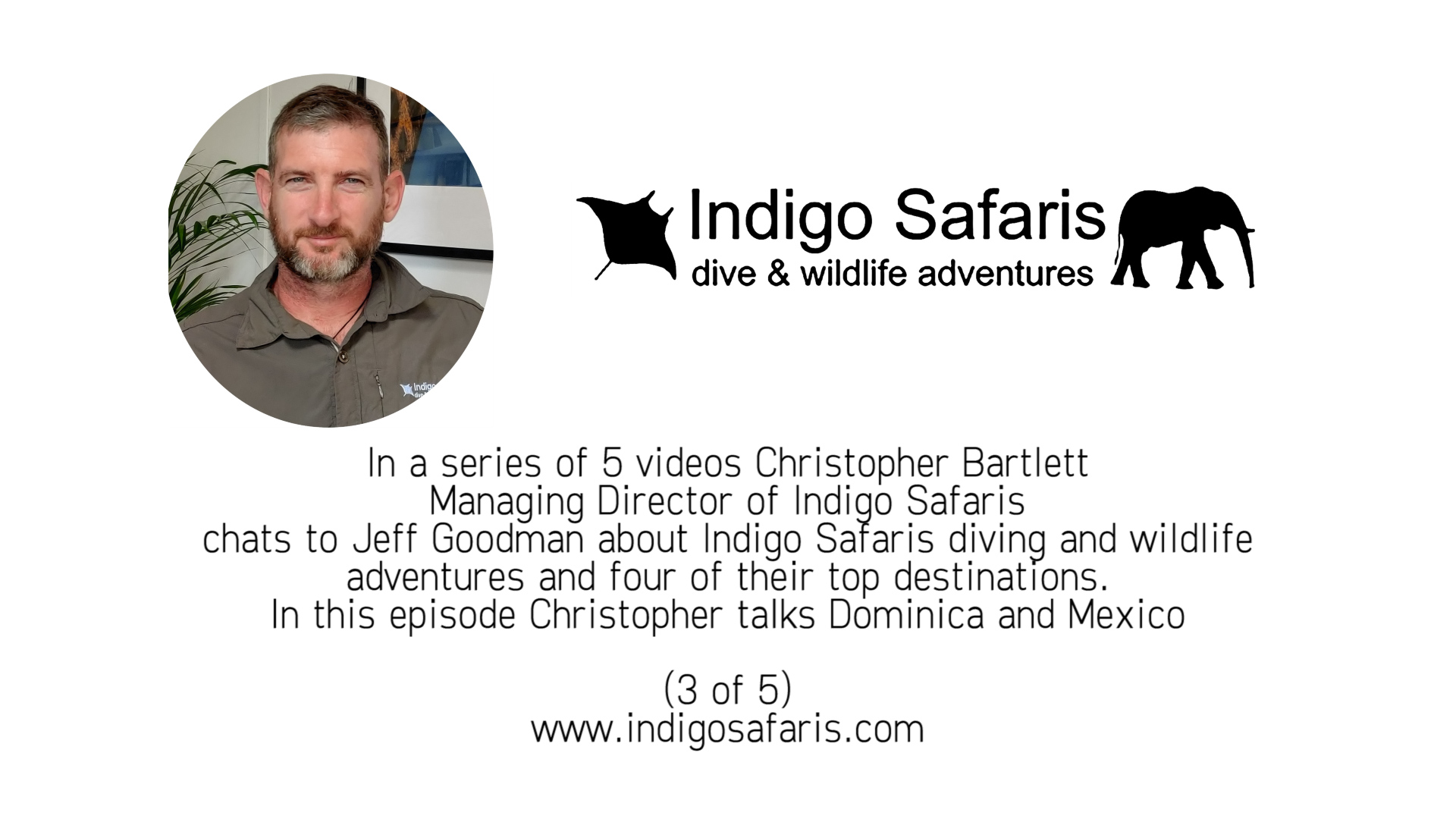 In the third in this exclusive series of five videos, Jeff Goodman, Scubaverse Editor-at-Large, chats to Christopher Bartlett, Managing Director of Indigo Safaris, about their diving and wildlife adventures, and some of their top destinations. In this episode Christopher talks about Dominica and Mexico.
For more information, please visit www.indigosafaris.com
Rather listen to a podcast? Click on this link to listen HERE.
Reefs Go Live returns for new season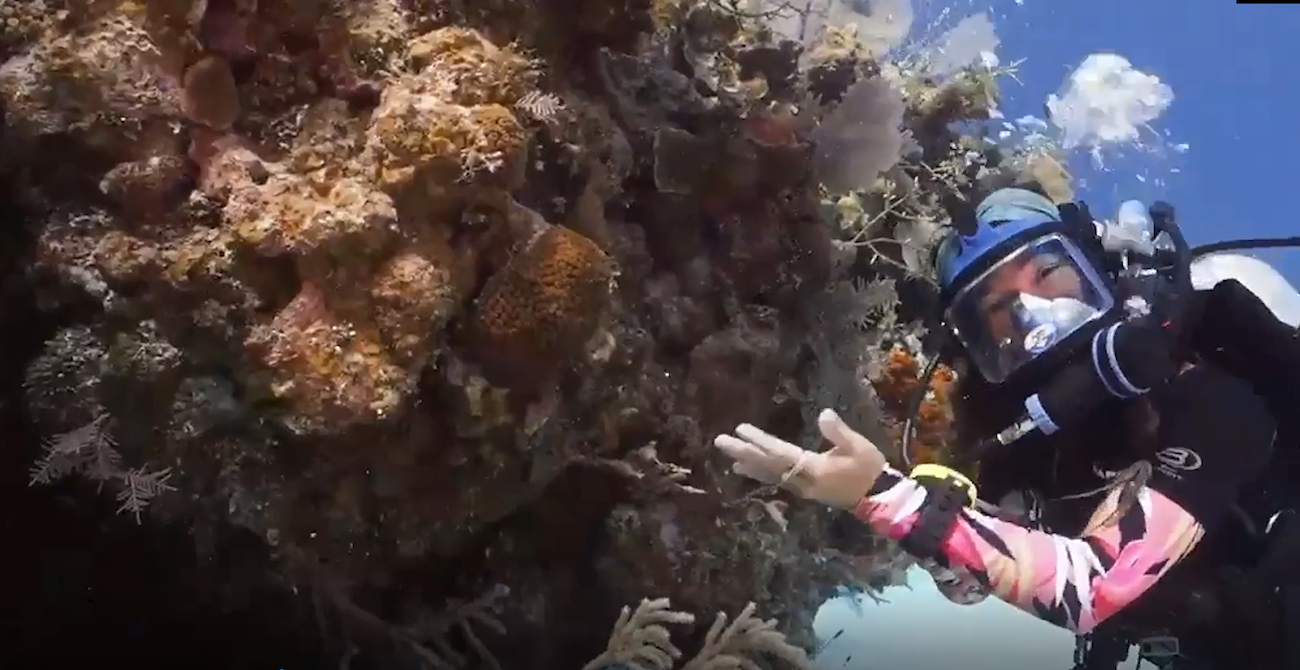 CCMI brings the ocean directly to classrooms around the world through live-stream lessons from underwater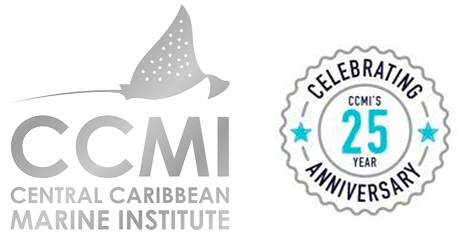 In 2018, the Central Caribbean Marine Institute (CCMI) launched Reefs Go Live, their innovative, flagship education programme that live-streams directly from underwater on the coral reefs in Little Cayman to students in classrooms around the world in real time. For the 2022 season, the four episodes of Reefs Go Live reached more than 107,000 viewers in 22 countries. CCMI's Reefs Go Live team hopes to expand their reach with four new episodes and supplemental teaching resources to help integrate the material into classroom lessons.
Science Communications & Development Manager for CCMI, Beth Chafin, is excited to be part of another year of Reefs Go Live:
"Knowing we have an audience that spans the world, our team is energised as we plan and implement our Reefs Go Live season for 2023! We feel that creating a connection to the ocean and sharing the beautiful coral reefs of Little Cayman with others, both locally and abroad, is one of the most important ways to increase support for critical, timely issues such as marine protection and sustainability. At CCMI, we are fortunate to have these stunning reefs at our doorstep; not everyone is so lucky to be this connected to coral reefs, but healthy coral reefs are vitally important to everyone on earth. Bringing the ocean into classrooms and homes through Reefs Go Live allows us to share the work we do at the Little Cayman Research Centre, facilitate real-time interactions between viewers around the world and our experts in the field, and inspire the diverse audience to take positive action for the future of coral reefs."
The first episode of 2023 will take place on Friday, 31st March at 10 am Cayman time (UTC -5h). The episode, 'Finding Hope on our Reefs', will feature what CCMI's long-term monitoring of Little Cayman's reefs shows us. The data from the annual surveys reveals important trends in reef health over time that reflect global threats and the benefits of strong local protection. Reefs Go Live hosts will explain why this annual monitoring is important and what the results tell us about the future of our coral reefs that we all depend upon. Viewers of each episode will be able to ask questions of the diver and participate in polls through the online platform to make Reefs Go Live an interactive experience.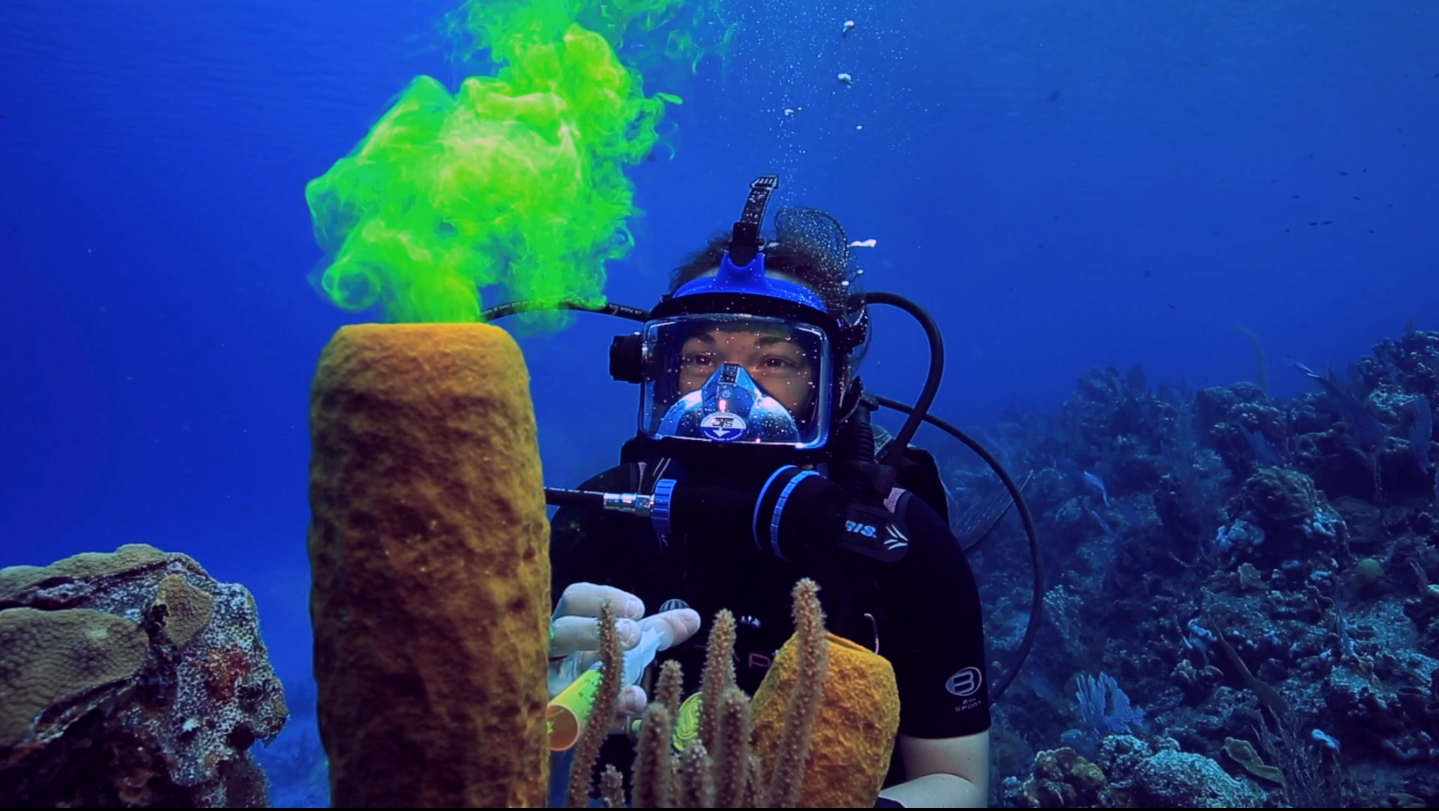 Additional episodes for this year will run at 10 am (UTC -5h) on the following dates:
Thursday, 11th May: Adaptation on Coral Reefs
Wednesday, 24th May: Reef Resiliency & Restoration
Thursday, 8th June: World Ocean Day – 25 Years of Coral Reef Research
Registration for Reefs Go Live is free and is only required once to receive access to all episodes: https://donate.reefresearch.org/rgl2023.
Reefs Go Live provides an opportunity for students from all over the world to engage with the stunning ocean environment in its most natural format. As coral reefs around the world face unprecedented pressure, generating increased engagement with these precious ecosystems creates an opportunity to promote marine sustainability in a positive and fun way.
Reefs Go Live utilises streaming technology with underwater video and audio equipment to enable real time broadcasting from Little Cayman's stunning coral reefs. Little Cayman, a Mission Blue Hope Spot, hosts one of the healthiest reef ecosystems in the Caribbean, which overall remains healthy and shows resiliency to climate change impacts. The broadcasts and education materials draw connections from CCMI's current research conducted in Little Cayman to the national science curriculum and key ocean literacy principles, making CCMI's work relevant and accessible to students and viewers of all ages, and emphasizing the relationship that we all have to coral reefs, no matter where we are.
Reefs Go Live is a free education programme that is made possible by the generosity of The Edmund F. and Virginia B. Ball Foundation. To register for the broadcasts and teaching resources, please visit: https://reefresearch.org/what-we-do/education/reefs-go-live/