AFCFT grant funds Deptherapy expedition to Grenada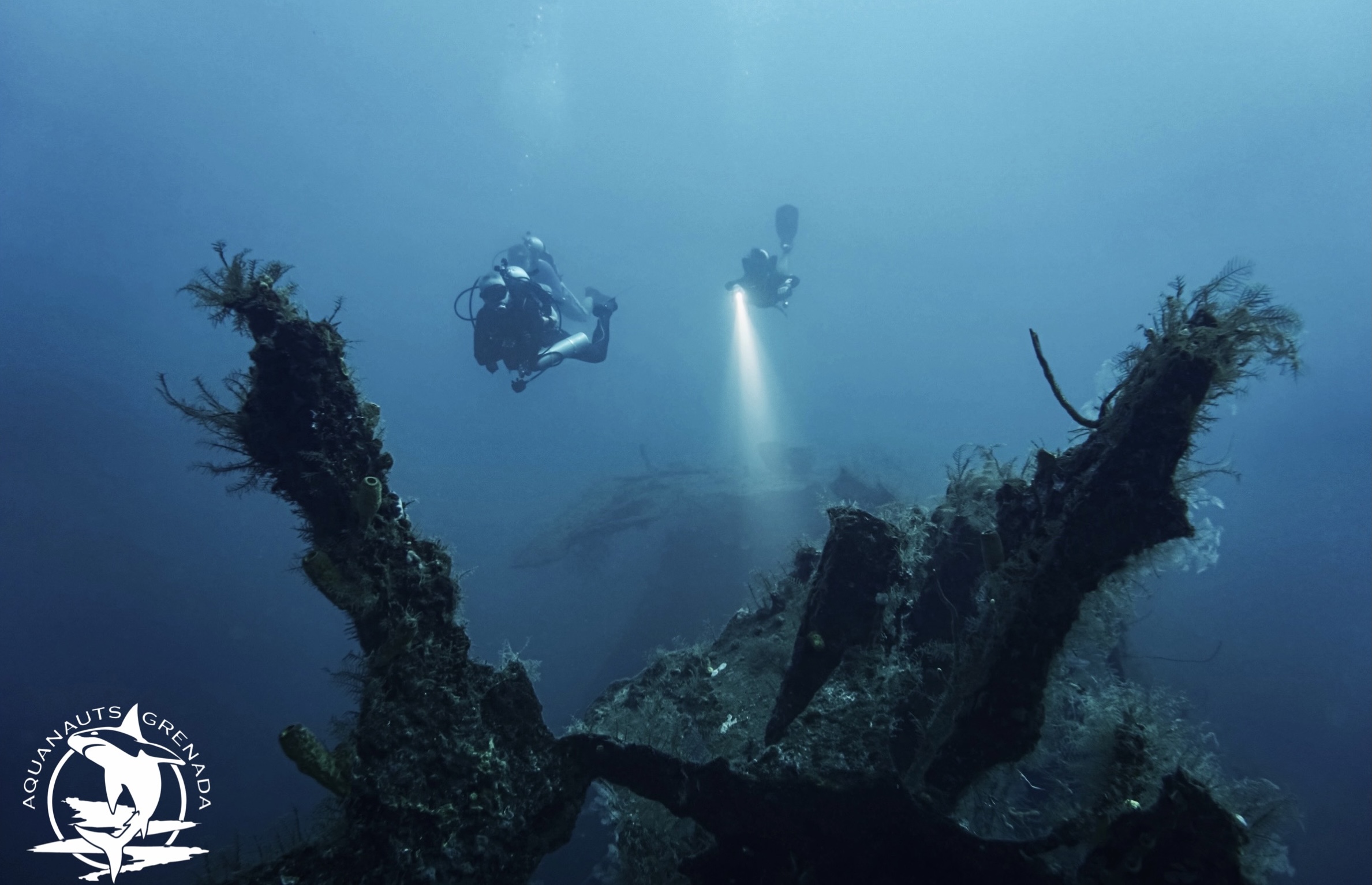 A team from Scuba Diving rehabilitation charity Deptherapy heads to the Caribbean island of Grenada for the first time this month as part of a two-year programme funded by the Armed Forces' Covenant Fund Trust's (AFCFT) Positive Pathways Programme.
The expedition, which comprises several RAID training courses tailored to different beneficiaries as well as a reef survey, almost didn't happen due to COVID constraints. The charity's original plan for a two-week expedition to Egypt had to be re-booked and eventually cancelled, but thanks to the incredible flexibility of the AFCFT and their strategic partners, the Invictus Games Foundation, permission was granted for the funding to be allocated by Deptherapy for an expedition to Grenada.
Team Deptherapy will be staying at the True Blue Bay Boutique Resort and diving with Aquanauts in Grenada. Aquanauts have experience working with clients who have mental and physical challenges and offer the accessibility that some expedition members require.
The 10 day expedition will take place from 13th to 23rd October 2021 with the group having to quarantine in resort for two days whilst awaiting the results of 'on arrival' COVID PCR tests. There will be at least seven days of diving which will comprise a RAID Deep Course, three RAID Advanced 35 courses and five RAID Nitrox courses.
Two or more days will be spent conducting a reef survey. This will be led by Deptherapy Ambassador and beneficiary Tom Oates, who is in his second year of studying for a degree in Marine Biology at Hull University. Expedition members have been supplied with Caribbean fish ID slates and are already developing their survey plan.
Over the last 18 months, the beneficiaries have been studying fish and coral ID led by Dr Deborah McNeill of the Open Oceans Project as part of the Positive Pathways Programme. The reef survey work is leading towards the second part of the programme which takes place in 2022 on an expedition to the Red Sea where a comparative survey of the aquatic life on the SS Turkia in the Gulf of Suez and the iconic SS Thistlegorm will be undertaken.
Dr Richard Castle, who is an independent consultant psychologist specialising in trauma and one of Deptherapy's Vice Presidents said:
"The majority of Deptherapy's beneficiaries have mental health challenges, predominantly Post Traumatic Stress Disorder. For the last 18 months expeditions to Roots to complete the Marine Biology programme have been cancelled, re-booked and cancelled again due to COVID. This can be extremely difficult for those with mental health challenges. I would like to say a huge thank you to the Armed Forces' Covenant Fund Trust for being so flexible in allowing us to change our expedition plans at such short notice.
We have a close relationship with the Trust, but I doubt that even they realise how important their flexibility is in supporting the mental health of our beneficiaries."
Explorer, author and TV presenter Paul Rose said:
"I have been a supporter of Deptherapy's bid for Trust funding from the outset in 2019 and very much involved in the project's plans. It has been awful seeing expedition after expedition cancelled due to COVID. What I have always admired is Deptherapy's attitude of adapt and overcome and the Grenada Expedition is yet another example of this very positive attitude. I am glad that the team will carry out a beneficiary-led reef survey as this supports the project's objectives. A big thank you to the AFCFT!"
Corey Goodson was injured in a car accident during basic training prior to joining the Royal Anglian Regiment resulting in paraplegia. At 21 years old he is Deptherapy's youngest ever beneficiary. Corey said:
"When the Board said we were not going to Roots in October I was shattered! Then out of the blue Richard sent an email asking if I could travel on these dates as we are going to Grenada. It's an unbelievable, once in a lifetime opportunity. I have a lot of studying to do – my Advanced course, Nitrox and all the fish ID work – but for such an amazing expedition it is more than worth it."
Formerly in the Scots' Guards, Afghan veteran Gary Daye said:
"From doing my Deptherapy RAID Open Water 20 during August in Wraysbury to Grenada in October, it is just an unreal journey… I hope I don't wake up and find it was all a dream!
Lots of hard work studying but it is the focus and buzz that I find reflects how the charity works. I haven't met most of those on the expedition yet face to face, but we are already a team, a strong team. I am not sure how Deptherapy does it, but they create this positive, supportive atmosphere within the group; it is almost magical. Grenada, here we come!"
For more information about the work of Deptherapy and Deptherapy Education visit www.deptherapy.co.uk.
Photos: Aquanauts Grenada
Blue Marine Foundation launches new partnership with Dutch Caribbean Nature Alliance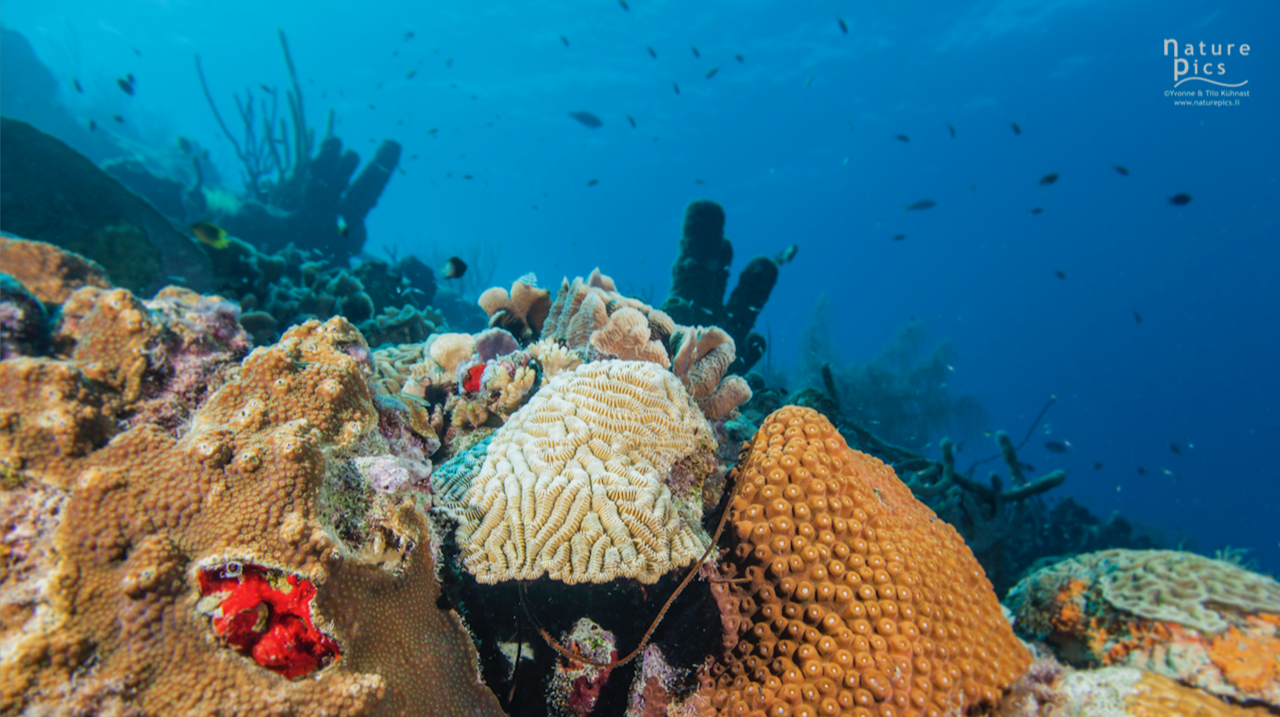 Ocean charity makes initial grant of $90,000 to marine parks on six Dutch Caribbean islands. Award will fund projects including coral protection, and training youth marine rangers.
Ocean conservation charity Blue Marine Foundation has announced it is awarding $90,000 in funding to support marine conservation in the Dutch Caribbean. A range of projects run by protected area management organisations on six islands will each receive a grant of $15,000. The funding is the first step in a longer-term partnership to support the islands and help secure sustainable financing through the Dutch Caribbean Nature Alliance (DCNA) Trust fund.
To improve ocean governance, Blue Marine uses a combination of top-down intervention and bottom-up project delivery to help local communities at the front line of conservation. It will work together with the DCNA to help marine-park organisations protect the unique and threatened biodiversity of the Dutch Caribbean.
The new partnership is an important development in the successful management of marine conservation parks in the Dutch Caribbean. The UK-based charity has established a small-grants fund to provide rapid access to support for critical conservation projects run by marine parks.
The individual projects and their local partners are:
Unique ecosystems on the islands are vulnerable to threats such as feral livestock causing sedimentation on reefs, and invasive species, including lionfish and coral diseases. They are also at risk from overfishing, climate change, coastal development, erosion and the build-up of harmful algae caused by waste water.
The islands of the Dutch Caribbean are also home to important "blue carbon" habitats – ocean ecosystems such as seagrasses, mangroves and other marine plants that suck up and lock away carbon from the earth's atmosphere. Seagrass is so efficient at this it can capture and store carbon dioxide up to 35 times faster than tropical rainforests.  The management and protection of these blue carbon habitats is vital in the fight against climate change.
Current marine conservation measures in the islands include a 25,390 square km mammal and shark sanctuary- Yarari sanctuary- across the Exclusive Economic Zone of Bonaire, Saba and St Eustatius. All six islands have inshore Marine Protected Areas ranging in size from 10 to 60 sq km.
Blue Marine's Senior Project Manager Jude Brown commented: "Having recently visited two of the islands, I witnessed first-hand how special this region is. Diving the waters off Saba I saw huge Tarpon swimming amongst shoals of blue tang, and hawksbill turtles feeding on the seagrass beds. I also witnessed the challenges these islands are facing from coral disease to issues with coastal development. It is an exciting opportunity to work in the Dutch Caribbean, bringing expertise and funding from Blue Marine to join with the wealth of knowledge already on the islands, to work together to protect the important marine life arounds these islands."
Tadzio Bervoets, Director of the DNCA commented: "The Dutch Caribbean consists of the Windward Islands of St. Maarten, Saba, and St. Eustatius and the Leeward Islands of Aruba, Bonaire and Curaçao. The nature of the Dutch Caribbean contains the richest biodiversity in the Kingdom of the Netherlands. The diverse ecosystems are a magnet for tourism and at the same time the most important source of income for residents of the Dutch Caribbean. Nature on the islands is unique and important but it is also fragile. The coming week we will be in The Netherlands to present a Climate Action Plan for the Dutch Caribbean to emphasize the urgent need for a climate smart future for our islands."
---
Photo: Coral reefs in the Dutch Caribbean- Photo credit: Naturepics: Y.+T. Kühnast- all rights reserved
Dominica's Secret Bay unveils new amenities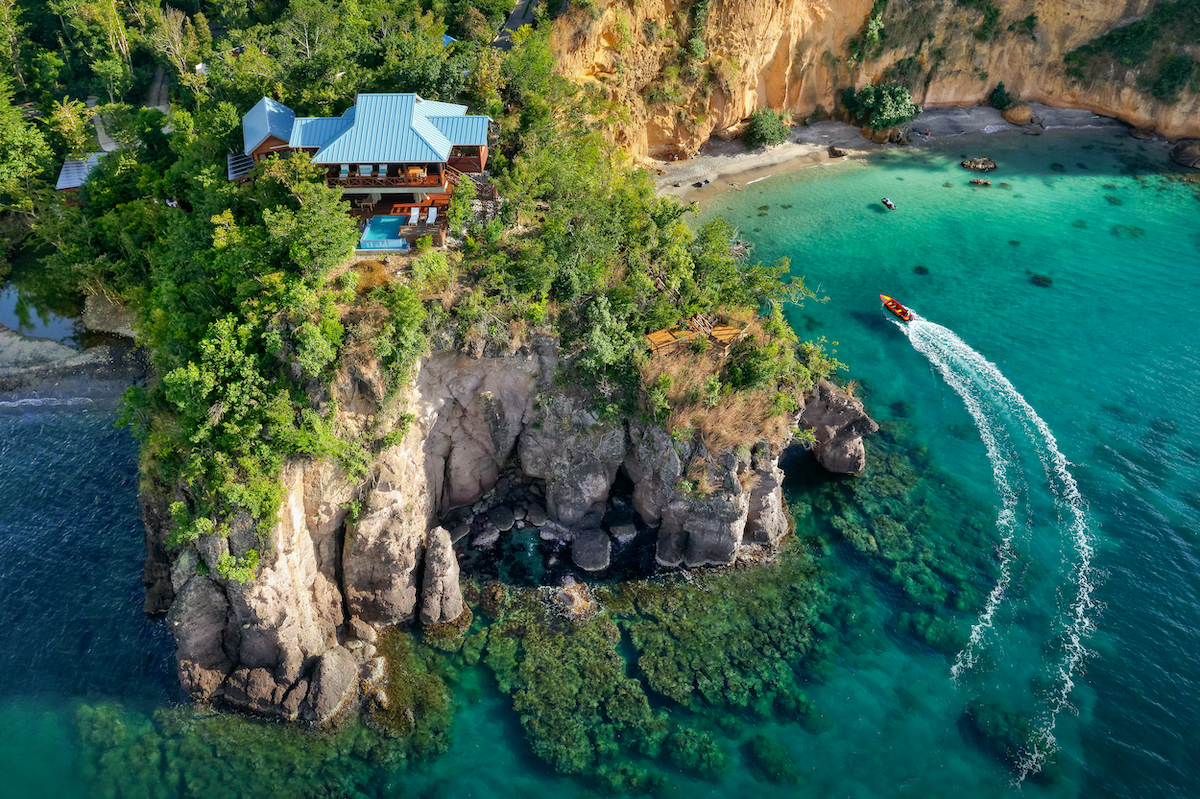 Secret Bay, Dominica's exclusive six-star, all-villa, Relais & Châteaux rainforest resort and residences, has unveiled a first look at three new amenities inspired by biophilic design – Mouben Welcome House, Gwiyavye' Lap Pool & Bar and Zing Zing Lounge. The architecturally stunning amenities are the first undertakings being introduced as part of the 10-year-old, award-winning resorts' multi-year, master plan. This evolution – spread over 40+ acres of coastal land – allows for an array of new amenities, more private villas, and the introduction of a for-sale residence program, all while lowering the resort's overall density and granting guests the utmost in the luxury of time and space.
The new amenities being unveiled at this time include:
Mouben Welcome House – Mouben Welcome House is both an architectural feat and the new resort hub where guests jumpstart their transformative journey. Modern in design and organic by nature, the structure features a porte-cochere for seamless entry and a fleet of electric vehicles to transport guests to their villas, as well as effortless access to Secret Bay's beachfront, and the forthcoming funicular and Bwa Denn: Food, Art & Brewery. The Welcome House features the new Adventure Concierge Desk, where guests can arrange an array of life-altering island experiences—a service that is also available in-villa. Secret Bay will continue to have a "no front desk" concept, allowing guests to check in and out directly from their villa.
Gwiyavye' Lap Pool & Bar – While each villa has its personal plunge pool, the Gwiyavye' Pool & Bar serves as an elevated oasis for all guests to enjoy. The relaxing oceanfront destination features an in-nature lap pool for guests to use at their own leisure, a cantilevered deck with lounge chairs to soak up the warm Dominican sunshine and a spacious, full-service bar handcrafted with Guyanese Greenheart wood. Enveloped in lush rainforest landscape, the space offers spectacular views of the Caribbean Sea amid an orchard of guava trees.
Zing Zing Lounge – An extension of Secret Bay's existing gourmet Zing Zing restaurant, the Zing Zing Lounge is a more casual offering that serves up specialty curated cocktails by expert mixologists paired with authentic Dominican bites. The Bar & Lounge is open daily from 5pm to 10pm.
"Secret Bay is continually evolving to meet the needs of our guests and stand out as a superior resort experience," said Dinesh Kissoon, General Manager of Secret Bay. "We're thrilled to bring these new experiences to Secret Bay and continue to raise the bar for excellent hospitality."
In addition to these three new amenities, the masterplan of intimate amenities also includes a funicular, an art barn and a microbrewery, all slated for completion in early 2023.
Tucked away on the unspoilt "Nature Island" — one of the Caribbean's most sparsely populated, environmentally conscious and culturally rich countries — Secret Bay has been praised for its ability to effortlessly capture the luxury of time and space along with its artful fusion of high design, local craftsmanship, commitment to sustainable development through numerous green and eco-friendly initiatives and its reputation for authentic guest experiences custom-curated to personal preference.
Part of Secret Bay's elevated experience is delivered in the form of its culinary offerings, including a "no-menu" concept at the innovative Zing Zing restaurant. Similarly, the Gommier Spa, a three-walled, treetop retreat designed especially for couples, focuses on local and sustainably sourced products for treatments. Other amenities include dedicated villa hosts, on-call concierge, chefs and guides and two secluded beaches.
Nightly rates at Secret Bay start at $897 USD. Secret Bay is located in Portsmouth, Dominica and can be reached at (+1) 767.445.4444 or info@secretbay.dm or online at http://secretbay.dm/.
The Residences at Secret Bay provide vacation home buyers with the rare opportunity to own a residential-style villa managed and marketed by one of the world's most acclaimed sustainable luxury all-villa boutique resorts. Pricing for The Residences at Secret Bay starts at $1,490,000 USD for whole ownership or $208,000 USD per share for citizenship investors. For more information, visit www.secretbay.dm/residences. For a consultation, please email residences@secretbay.dm.