Dominica showcases 'all-inclusive, island included' experience – first in the Caribbean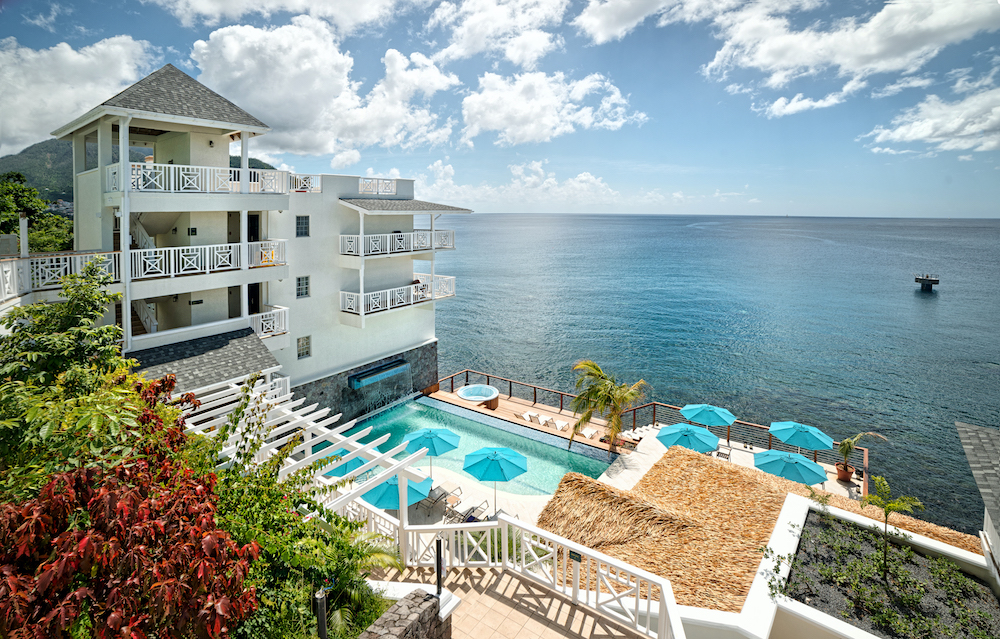 Fort Young Hotel & Dive Resort, the "Nature Island's" landmark, waterfront hotel on the edge of Dominica's capital, Roseau, has announced the introduction of the Caribbean's first-ever "All-Inclusive, Island-Included" resort experience. Beyond the offerings of a traditional all-inclusive, like food and beverages, the All-Inclusive, Island-Included experience will give guests access to activities and offerings beyond the hotel — from a lionfish catching expedition, to hiking and exploring some of the island's best attractions like Trafalgar Falls and Titou Gorge, to enjoying tropical beaches — providing an unrivaled, immersive and memorable Nature Island holiday.
Not only will guests enjoy city, land and/or sea adventures each and every day, but off-property island activities will also include a community touch point — whether it be a sweet treat or cocoa tea from a local restaurant or rum shop, a local arts and craft offering or a cultural experience. By involving independent tour providers and local food and beverage outlets, the new model will cater to guests while also supporting the community at large.
"Fort Young has always been a gateway to Dominica's incredible sights and landmarks, so it was a natural evolution for us to introduce this All-Inclusive, Island-Included offering," said Dinesh Kissoon, Fort Young Hotel & Dive Resort's general manager. "We wanted to offer travellers to Dominica a truly seamless, effortless and authentic way to experience the local culture, land and sea unlike ever before. Doing an all-inclusive with island included is a way of engaging our community and gives guests a more robust and immersive experience, creating a more sustainable and symbiotic environment."
The All-Inclusive, Island-Included package requires a minimum five-night stay and includes:
Daily breakfast, two-course lunch, afternoon snacks and three-course dinner
Unlimited house beverages and alcoholic drinks from 10am – 10pm
Welcome pack in-room minibar
A selection of daily scheduled water or land adventure experiences
Cocoa tea, juices and cakes at local eateries
Beach discovery visit
Round-trip airport transfers
60-minute massage twice per stay for one or two based on occupancy
60-minute yoga twice per stay for one or two based on occupancy
Unlimited unguided shore scuba diving
Kayak and other non-motorised watersports
Daily housekeeping and turndown services
High-speed Wi-Fi
National park and entrance fees
All taxes and charges
Among the numerous included excursions are:
Hiking to Trafalgar Falls, Titou Gorge, the Middleham Falls and Hot Springs, Spanny and Jacko Falls, Freshwater Lake and Boeri Lake
Lionfish hunting and snorkelling by boat
Guided Roseau city walking tour
Mero Beach discovery
Further, guests will also have the opportunity to donate to a local charity at check-out.
Rates for the All-Inclusive, Island Included start at US$349 per person per night based on double occupancy in a newly reimagined Oceanfront room. Upgrades are also available to experience even more of the island's adventures, such as swimming with Dominica's resident sperm whales, canyoning, night snorkelling, hiking to Boiling Lake, and exploring Kalinago Territory. Terms and conditions apply.
The resort is also offering three alternative packages: a breakfast, beverages and island-included package starting at US$286 per person per night (five-night minimum stay); a standard all-inclusive meal plan starting at US$255 per person per night (two-night minimum stay); and a breakfast and beverage plan for US$190 per person per night (two-night minimum stay). Prospective guests can also book standard room rates without a meal plan.
Fort Young Hotel recently unveiled 26 fully refreshed Oceanfront Deluxe Rooms. Replete with panoramic seaside views, exceptionally stylish furnishings and a bright colour palette, the reimagined guestrooms are designed to make guests feel even more warmly welcomed while expressing Dominica's vibrant spirit. These refurbished rooms are part of the resort's new master plan that also calls for eight more rooms to be updated this autumn alongside the introduction of a brand-new waterfront spa, 24-hour gym and six all-new Oceanfront Junior Suites with en-suite bathrooms, kitchenettes and interconnecting rooms; 60 forthcoming Fort Rooms; a state-of-the-art fitness center featuring eco-friendly equipment; business center; new bar and lounge; 200-seat conference room; 250-seat sun deck for weddings and other events; art gallery, wine and rum cellar, gift shop, and three new meeting rooms. Upon completion, Fort Young Hotel & Dive Resort will be a 4+ star property.
The new Zemi Spa features two private treatment rooms and two manicure and pedicure stations where certified and therapists conduct a variety of services and treatments, including Swedish, Deep Tissue and Volcanic Rock massages, Body Treatments and Signature Rituals featuring indulgent, locally-inspired products. Guests can also book a package of multiple services. Spa visitors can also make use of the 24- hour Compass Gym overlooking the Caribbean Sea.
For more information, visit www.fortyounghotel.com/, call 767-448-5000 or email info@fortyounghotel.com.
Seahorse National Park announced on Eleuthera in The Bahamas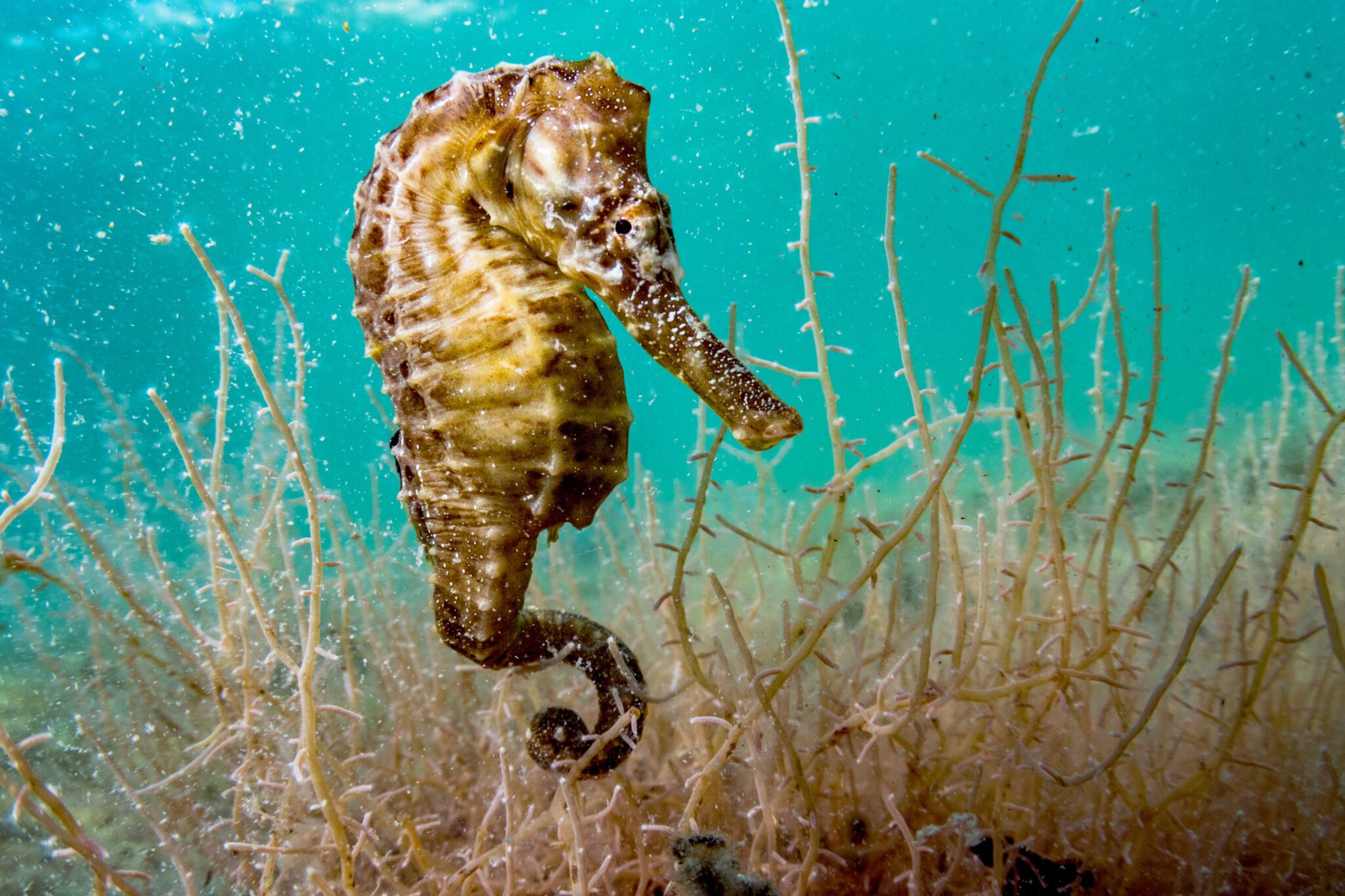 This week has seen the announcement of the designation of Seahorse National Park at Hatchet Bay Cave and Sweetings Pond on Eleuthera. This monumental announcement comes after years of efforts from the BNT and its partners in advocating for the protection of Sweetings Pond and its surrounding areas as an official national park under the BNT's management.
Sweetings Pond is a large, land-locked saltwater pond in Hatchet Bay, Eleuthera. It has many unique natural features, but the most notable of them all is its incredible seahorse population, which is believed to be the densest population of seahorses in the world. The new 548-acre national park protects the entire one-mile-long pond and the surrounding terrestrial area. The land surrounding Sweetings Pond is a blend of intact coppice, mangroves, and farmlands. In addition, the new national park includes the extensive Hatchet Bay Caves system. This historic cave system is a popular attraction and contains a number of impressive geological features. It is one of the longest dry cave systems in The Bahamas.
Since 2014, the BNT has been leading efforts to have the area declared as a national park. This included years of public outreach and stakeholder consultations in communities across Eleuthera; education presentations in local schools; science and research efforts; and engaging consecutive government administrations. In 2018, the BNT submitted the "20 by 20 Marine Protection Plan" to the government, which included the recommendation to declare Sweetings Pond and other areas in The Bahamas as protected areas.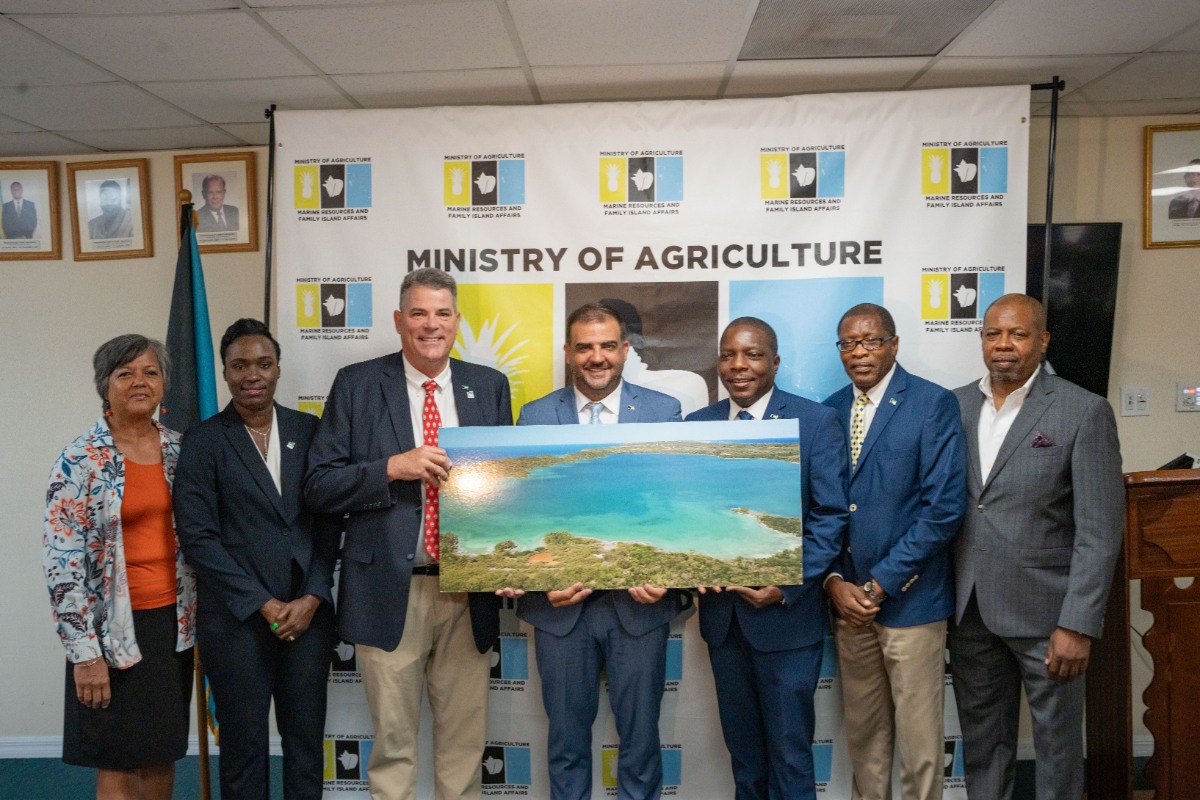 During the lease signing ceremony for Seahorse National Park, Minister Clay Sweeting, said, "This lease agreement for Sweetings Pond has been a long time coming. It represents a milestone in our journey towards sustainable development. It symbolises our collective responsibility to safeguard our natural heritage and create a harmonious relationship between economic progress and environmental preservation.
"I would like to express my gratitude to all stakeholders in this process of drafting and finalising this lease agreement. Their dedication, expertise, and commitment has been crucial in ensuring that this agreement falls in line with our vision of creating a thriving ecosystem while promoting responsible usage. Let us continue to preserve the jewel that is Sweetings Pond for many generations to come."
The BNT invites the public to stay tuned for more news about its plan for the country's newest national park: Seahorse National Park at Hatchet Bay Cave and Sweetings Pond!
To learn more about the role the BNT plays in managing terrestrial and marine national parks, conserving wildlife, and informing environmental policy, please visit its website: www.bnt.bs
Follow/subscribe to its various social media channels: Facebook, Instagram, Twitter, and YouTube.
---
Banner Image: A lined seahorse (Hippocampus erectus), female, clining to algae in an alkaline pond in The Bahamas by Shane Gross
PADI Club invites Ocean Lovers on exclusive dive trip to Bonaire this September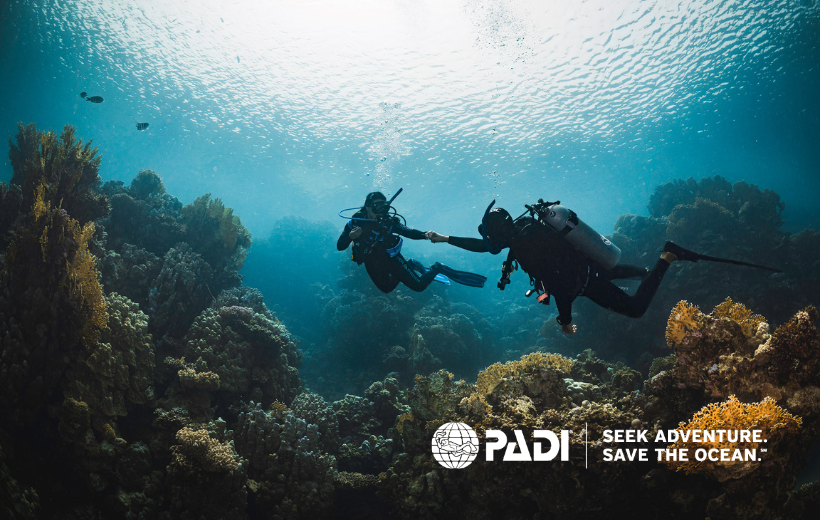 Following the popularity of the PADI Club trip to Belize at the end of July, a second "dive trip of a lifetime" has just been announced by PADI Club to Bonaire this  September 23-30, 2023.
Offered exclusively for PADI Club members as part of their yearly benefits, attendees will get to seek adventure while staying at the all-inclusive Buddy Dive Resort, one of PADI's premier members on the island. Other PADI Members in Bonaire – including Toucan Divers, Divi Flamingo, Wanna Dive, Dive Friends and Scuba Do – will also be hosting various dive experiences throughout the week.
"Bonaire is a unique and beautiful gem in the Dutch Caribbean and we want to show our Club Members this little island looms large as a dive destination," says Zach Pavkov, PADI Club Operations Manager. "This trip offers participants a chance to not only explore a world-class diving destination but do so through some of the very best PADI Operators."
PADI Club members will receive a generous discount for this seven-day diving adventure, with packages starting at $1,739 per diver for double occupancy.
Included in the package are:
social events that include hosted dinners, cocktail parties and live music
transportation in Buddy Dive Resort's famous pick-up truck
daily shore diving and boat diving
accommodation, with the option to share a room with another solo diver or rent out one, two and three-bedroom apartments to host larger groups of divers
surface interval activities that include PADI Seminars and island excursions like hiking and bird-watching.
"Because the water surrounding Bonaire has been an established marine park for 44 years, Bonaire is now a top-ranked destination with abundant marine life that includes scorpionfish, flounder and frogfish, moray eels, hawksbill turtles and eagle rays, " continues Pavkov.
With limited spots available, the list of participants will be decided on a first-come, first-served basis. Those who are not yet PADI Club Members but are interested in joining the trip can sign-up, which will also give them access to:
20% of PADI eLearning® programs and PADI Gear™
a free ReActivate® online refresher
a free DAN® Prepared Diver course
a subscription to Scuba Diving® magazine
access to the PADI Club Celebrity Speaker Series webinars
brand partner benefits from GoPro, Uber, Salt Life and more
To further support ocean lovers to create positive ocean change, five percent of the PADI Club membership fee will go towards supporting conservation efforts around the globe.
"PADI Club benefits are designed not just to empower divers to explore the ocean, but also enable them to play a pivotal role in saving the ocean too," says Pavkov. "This year's additional expedition to Bonaire gives our community the chance to come together and explore our shared blue planet in a truly meaningful and connected way."
Click here to sign up for PADI Club and reserve your spot here to join the Bonaire dive trip.