Diving with… Sarah and David Hellevang, Golden Rock Dive Center, St. Eustatius, Dutch Caribbean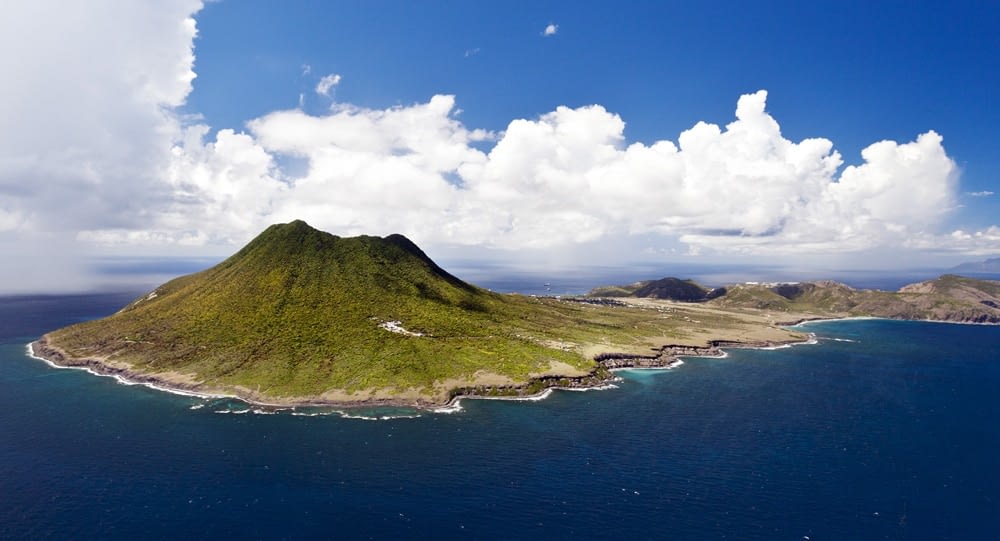 In this ongoing series, we speak to the people who run dive centres, resorts and liveaboards from around the world about their businesses and the diving they have to offer…
---
What is your name?
Sarah and David Hellevang – husband and wife owners/operators.
What is the name of your business?
Golden Rock Dive Center
What is your role within the business?
Owners/operators: David does all of the maintenance and repairs and most of the captaining.  Sarah does marketing, finance, administration and dives or captains a few times per week.  We have two other full-time PADI Instructors/managers at the dive shop.
How long has the business operated for?
Originally established in 1994.  Sarah and David purchased in April, 2017.
How long have you dived for, and what qualification are you?
We fell in love with diving in 2008 when we went to the Philippines as our first dive travel. We became PADI open water dive instructors and quickly decided we wanted to run our own dive center the way we had envisioned:  not under the confines of so many shops that overload their boats without good diver supervision or run a small operation without the safety and high quality equipment.
What is your favorite type of diving?
Slow, relaxed, looking for all of the little things.  I find a slow hovering dive allows me to see the natural marine activity and often the sea life comes to me! I could spend hours with my head under a rock playing with cleaner shrimp or looking for frogfish!
If you could tell people one thing about your business (or maybe more!) to make them want to visit you what would it be?
Want to return to how diving used to be?  Small groups of experienced divers with quality service without being pretentious; authentic island get-away without the mass tourism; relaxed atmosphere where our divers feel like family, not just another diver on an over-crowded boat.
Diving on Statia is so eclectic!  With over 30 dives sites, most of which are with moorings, Statia boasts several new wrecks, old historic wreck diving with anchors, blue beads, and bottles from the 1700 and 1800's, well preserved coral encrusted lava flows, and more… all under the protection of the St. Eustatius Marine Park and Reserve since 1996.
What is your favorite dive in your location and why?
So many good ones to choose from!  I really enjoy both Hangover and Double Wreck, where I can spend hours searching for the macro sightings as well as a turtle or two that will often swim directly up to divers.
What types of diving are available in your location?
Several distinct diving ecosystems: historic archaeological dives with old anchors and glass bottles from the late 1700, several new wreck dive sites including the prestigious Charles L. Brown, isolated rock outcroppings surrounded by huge Caribbean sand rays, deep wall dives, coral encrusted lava flows from the Quill eruption around 40,000 years ago, sandy bottom muck diving with flying gurnards, sailfin blennies, historic artefacts including the opportunity to find a Statia Blue Bead.  Statia has diving for all levels and interests.
What do you find most rewarding about your current role?
We are having fun renovating and updating the business since we purchased two years ago.   When my husband and I purchased Golden Rock Dive Center we had the vision of providing dive services that are safe and attentive, yet relaxed and authentic.  We have incredible staff that hold dear the same vision.
I love when our customers leave with smiles on their faces from an amazing day or week of diving and feel they were catered to on their special dive vacation. "Leave feeling like family, not just another diver on a boat."
What is your favorite underwater creature?
Ohh!  I love them all.  Anytime I find a nudibranch I am happy and sea turtles will always be dear to me. But, my ultimate favorite is summer time when all of the juveniles bloom in the water and I get to find the juvenile trunkfish.  They make me smile the most!
Are there any exciting changes / developments coming up in the near future?
As new owners, we are constantly updating, especially after our rebuild from Irma.  We are back in our old location with new digs and loving it!  We are also in the process of some new program development… keep tabs on our Facebook and website in the coming months for more details.
Is your center involved in any environmental work?
Absolutely!  Beyond the daily protection of our Marine Reserve by educating divers to have good buoyancy and respect for the marine environment, we regularly organize or participate in land and underwater rubbish clean-up.  We offer Project Aware and REEF dive training and participation.  Statia has many local and visiting research divers on the island conducting multiple marine research programs.  These researchers are regularly on our boats and around our shop providing tourists the opportunity to dive with and learn from researchers.  These scientists provide educational talks and dives directly to our customers which is a fun way to learn about what is going on in our underwater world.
How do you see the SCUBA / Freediving / snorkeling industry overall? What changes would you make?
Mass tourism in general and mass dive tourism specifically with no oversight and no education is damaging our fragile marine and land environments. Though all-inclusive resort vacations are inexpensive and convenient, tourist, especially divers, miss out on any authentic and personalized experiences as they are hidden behind the walls of the resort and end up diving without any personalized touch.
What would you say to our visitors to promote the diving you have to offer?
With over 1000 hectares of protected coral reef, we have almost more reef environment than Bonaire and Saba combined.  Combine this with the authentic and safe island experiences, coming to Statia is like stepping back into the Caribbean 30 years ago.
Only one dive boat is allowed per dive site, so divers get a truly personalized diving experience.  Our boats leave from the local fishing pier directly next to the dive center where divers can interact with the local fishermen and we regularly host local fish and lobster BBQ's at our dive shop.
Where can our visitors find out more about your business?
Website: www.goldenrockdive.com
Facebook: Golden Rock Dive Center
Instagram: Golden Rock Dive Center
Ground-breaking Shark Research conducted in St. Maarten waters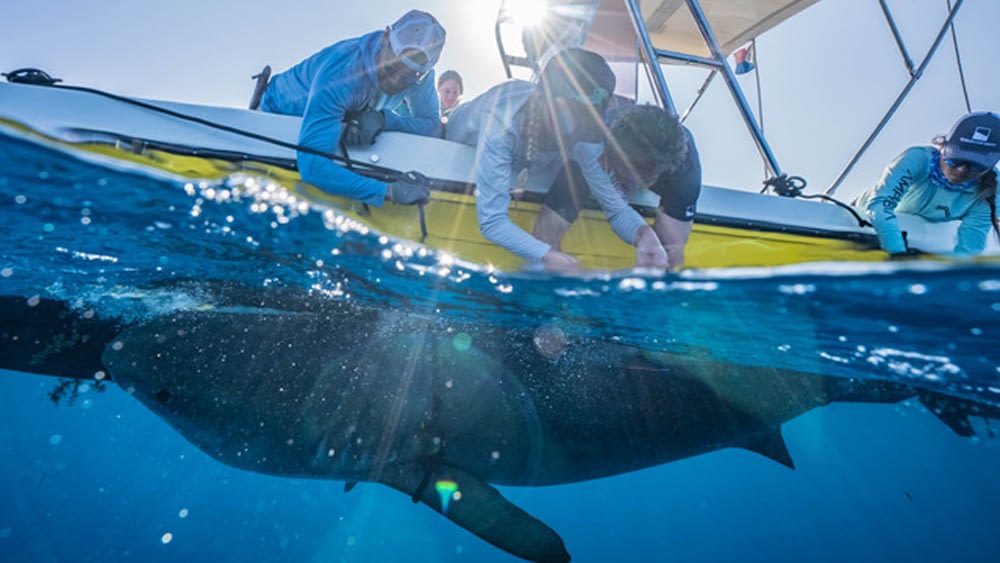 In April 2021 members from the Nature Foundation St. Maarten, the Dutch Caribbean Nature Alliance (DCNA), the Saba Conservation Foundation (SCF), and Beneath the Waves conducted multiple 'scientific firsts' as part of the "Shark Shakedown" project. The research expedition was a part of a wider research project into tiger sharks in the region funded by World Wide Fund for Nature (WWF-NL) through the Biodiversity Funds and the Dutch National Postcode Lottery. The researchers tagged eleven sharks, including for the first time a female pregnant tiger and endangered Caribbean reef shark in the Dutch Caribbean. The data will provide vital information for conservation strategies not only in St. Maarten, but for the wider Caribbean.
The expedition lasted five days in which three species of sharks were tagged, including tiger sharks (Galeocerdo cuvier), Caribbean reef sharks (Carcharhinus perezi), and nurse sharks (Ginglymostoma cirratum) all ranging from sub-adults to adults.
Participants received hands-on training with experts from Beneath the Waves in preparation for the upcoming expedition to the Saba Bank in August 2021. The goal of this upcoming expedition is to determine whether the Saba Bank is a breeding area for tiger sharks in the Eastern Caribbean. The high-definition ultrasound technology the team used was created by E. I. Medical Imaging and pioneered by collaborator Dr. James Sulikowski, of Arizona State University. This technology has successfully been used to identify maturity state and the stage of pregnancy in various shark species, a first for shark science in the region.
The scientists successfully confirmed early pregnancy stage in a large female tiger shark, as well as placed a satellite tag on the shark during the workup process. Using satellite tracking over the next few months, the scientists hope to confirm evidence of Sint Maarten being a breeding location for these globally threatened animals. In another shark tagging 'first', Beneath the Waves' Chief Scientist, Dr. Austin Gallagher, placed the first camera tag on a tiger shark in the Dutch Caribbean. The team successfully recovered the camera package during the expedition, and the animal has already shown promising results regarding shark behavior in the region.
Both the satellite tag and camera tag have shown that these tiger sharks prefer to travel in the area between St. Maarten and St. Barths; however, these are only the first detections. No assumptions can be made yet regarding the movement of these animals.
The information gained from this research will provide a better understanding of the importance of both the status of sharks in Sint Maarten's territorial waters and in the Yarari Sanctuary and the role these ecosystems play in the life-cycle of tiger sharks in the wider Caribbean region. Tiger sharks are currently categorized as Near-Threatened by the International Union for Conservation of Nature while Caribbean reef sharks have very recently been upgraded to Endangered. Sharks play key roles in maintaining the balance within local and regional marine ecosystems and maintaining biodiversity and therefore their protection is crucial.
Follow the Dutch Caribbean Nature Alliance's Facebook, Instagram (dcnanature) or DCNA's website (https://dcnanature.org/news/) to learn more about the shark expedition and other nature news from the Dutch Caribbean.
Photo credit: © Sami Kattan/Beneath the Waves (all rights reserved)
Book your Autumn 2021 Bonaire getaway with Ultimate Diving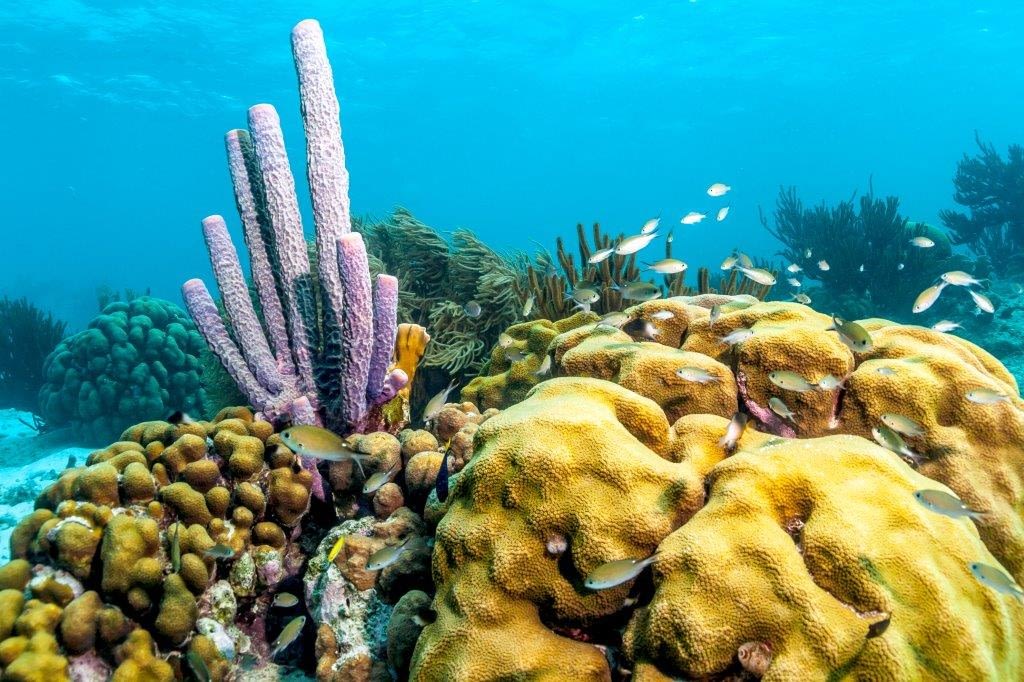 Ultimate Diving has been busy working on some fantastic itineraries to the beautiful Bonaire so you can start planning for a fantastic diving adventure. Bonaire is one of the few Caribbean destinations where you can dive 365 days of the year! Therefore, it is no surprise that it is a popular destination for divers. Experience its pristine underwater environment thriving with vibrant tones and encrusting corals on every rock and wreck and you will not be disappointed!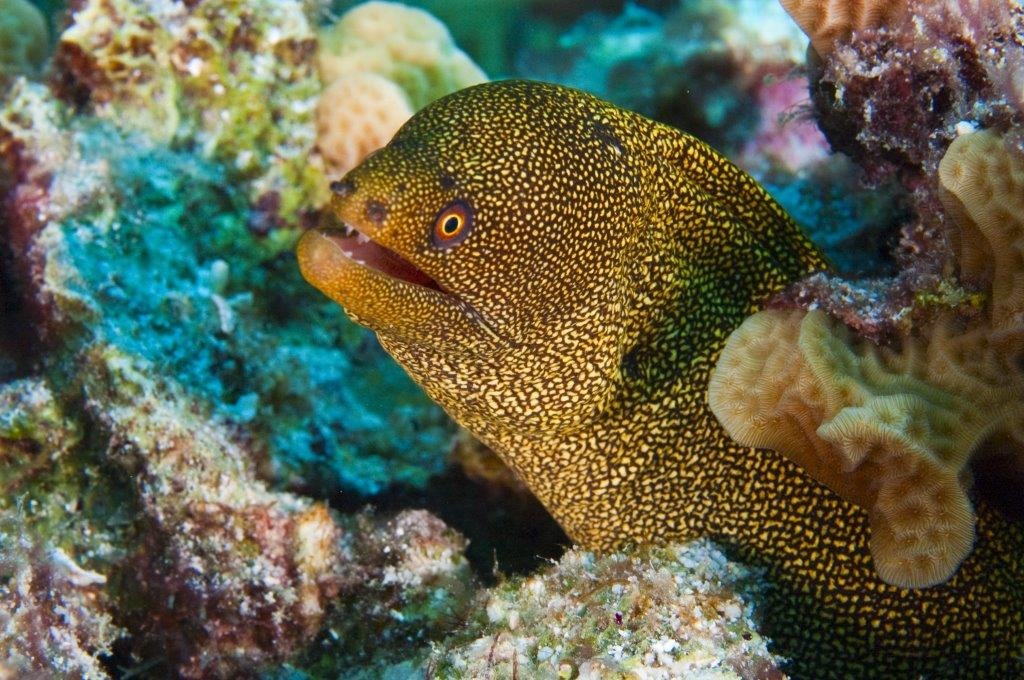 Ultimate Diving have a fantastic early booking offer for Captain Don's Habitat. The resort was founded in 1976 by the renowned underwater legend Captain Don Stewart who was at the forefront of environmentally sound developments on the island of Bonaire for many years. The pristine house reef accessible from the beach is awash with colourful parrotfish, angel fish, feisty sergeant majors, butterfly fish, scrawled file fish, grunt, gobies and groupers.
Special Offer: Book 7 nights from £1885 – Price includes flights from London, transfers, 7 nights accommodation and 10 dives per person. Single supplements apply and regional departures available on request.
To enquire or book, just give the Ultimate Diving team a call on 0208 655 6458 and they can answer any questions you may have and give you the lowdown on the destination and diving.
For more, visit www.ultimatediving.co.uk.