Diving with… Sarah and David Hellevang, Golden Rock Dive Center, St. Eustatius, Dutch Caribbean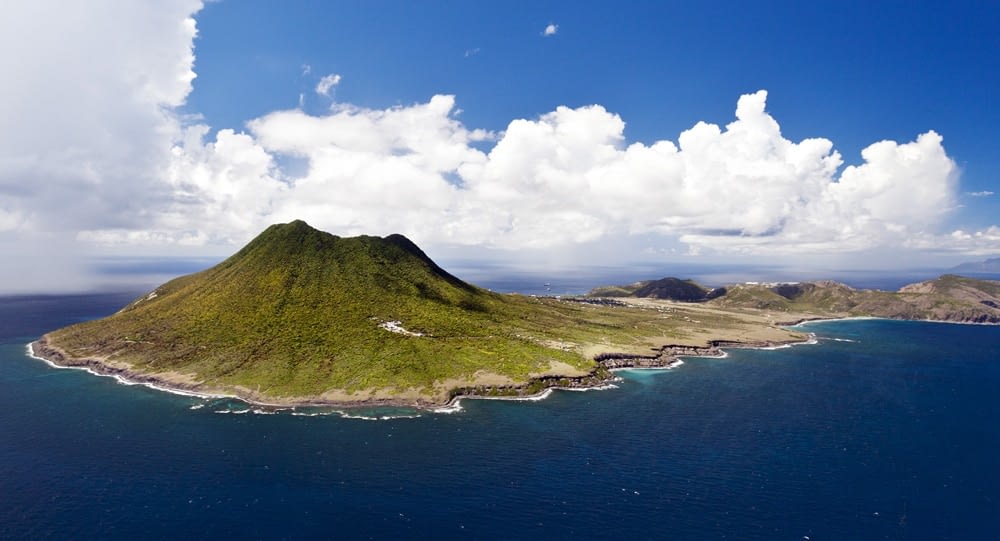 In this ongoing series, we speak to the people who run dive centres, resorts and liveaboards from around the world about their businesses and the diving they have to offer…
---
What is your name?
Sarah and David Hellevang – husband and wife owners/operators.
What is the name of your business?
Golden Rock Dive Center
What is your role within the business?
Owners/operators: David does all of the maintenance and repairs and most of the captaining.  Sarah does marketing, finance, administration and dives or captains a few times per week.  We have two other full-time PADI Instructors/managers at the dive shop.
How long has the business operated for?
Originally established in 1994.  Sarah and David purchased in April, 2017.
How long have you dived for, and what qualification are you?
We fell in love with diving in 2008 when we went to the Philippines as our first dive travel. We became PADI open water dive instructors and quickly decided we wanted to run our own dive center the way we had envisioned:  not under the confines of so many shops that overload their boats without good diver supervision or run a small operation without the safety and high quality equipment.
What is your favorite type of diving?
Slow, relaxed, looking for all of the little things.  I find a slow hovering dive allows me to see the natural marine activity and often the sea life comes to me! I could spend hours with my head under a rock playing with cleaner shrimp or looking for frogfish!
If you could tell people one thing about your business (or maybe more!) to make them want to visit you what would it be?
Want to return to how diving used to be?  Small groups of experienced divers with quality service without being pretentious; authentic island get-away without the mass tourism; relaxed atmosphere where our divers feel like family, not just another diver on an over-crowded boat.
Diving on Statia is so eclectic!  With over 30 dives sites, most of which are with moorings, Statia boasts several new wrecks, old historic wreck diving with anchors, blue beads, and bottles from the 1700 and 1800's, well preserved coral encrusted lava flows, and more… all under the protection of the St. Eustatius Marine Park and Reserve since 1996.
What is your favorite dive in your location and why?
So many good ones to choose from!  I really enjoy both Hangover and Double Wreck, where I can spend hours searching for the macro sightings as well as a turtle or two that will often swim directly up to divers.
What types of diving are available in your location?
Several distinct diving ecosystems: historic archaeological dives with old anchors and glass bottles from the late 1700, several new wreck dive sites including the prestigious Charles L. Brown, isolated rock outcroppings surrounded by huge Caribbean sand rays, deep wall dives, coral encrusted lava flows from the Quill eruption around 40,000 years ago, sandy bottom muck diving with flying gurnards, sailfin blennies, historic artefacts including the opportunity to find a Statia Blue Bead.  Statia has diving for all levels and interests.
What do you find most rewarding about your current role?
We are having fun renovating and updating the business since we purchased two years ago.   When my husband and I purchased Golden Rock Dive Center we had the vision of providing dive services that are safe and attentive, yet relaxed and authentic.  We have incredible staff that hold dear the same vision.
I love when our customers leave with smiles on their faces from an amazing day or week of diving and feel they were catered to on their special dive vacation. "Leave feeling like family, not just another diver on a boat."
What is your favorite underwater creature?
Ohh!  I love them all.  Anytime I find a nudibranch I am happy and sea turtles will always be dear to me. But, my ultimate favorite is summer time when all of the juveniles bloom in the water and I get to find the juvenile trunkfish.  They make me smile the most!
Are there any exciting changes / developments coming up in the near future?
As new owners, we are constantly updating, especially after our rebuild from Irma.  We are back in our old location with new digs and loving it!  We are also in the process of some new program development… keep tabs on our Facebook and website in the coming months for more details.
Is your center involved in any environmental work?
Absolutely!  Beyond the daily protection of our Marine Reserve by educating divers to have good buoyancy and respect for the marine environment, we regularly organize or participate in land and underwater rubbish clean-up.  We offer Project Aware and REEF dive training and participation.  Statia has many local and visiting research divers on the island conducting multiple marine research programs.  These researchers are regularly on our boats and around our shop providing tourists the opportunity to dive with and learn from researchers.  These scientists provide educational talks and dives directly to our customers which is a fun way to learn about what is going on in our underwater world.
How do you see the SCUBA / Freediving / snorkeling industry overall? What changes would you make?
Mass tourism in general and mass dive tourism specifically with no oversight and no education is damaging our fragile marine and land environments. Though all-inclusive resort vacations are inexpensive and convenient, tourist, especially divers, miss out on any authentic and personalized experiences as they are hidden behind the walls of the resort and end up diving without any personalized touch.
What would you say to our visitors to promote the diving you have to offer?
With over 1000 hectares of protected coral reef, we have almost more reef environment than Bonaire and Saba combined.  Combine this with the authentic and safe island experiences, coming to Statia is like stepping back into the Caribbean 30 years ago.
Only one dive boat is allowed per dive site, so divers get a truly personalized diving experience.  Our boats leave from the local fishing pier directly next to the dive center where divers can interact with the local fishermen and we regularly host local fish and lobster BBQ's at our dive shop.
Where can our visitors find out more about your business?
Website: www.goldenrockdive.com
Facebook: Golden Rock Dive Center
Instagram: Golden Rock Dive Center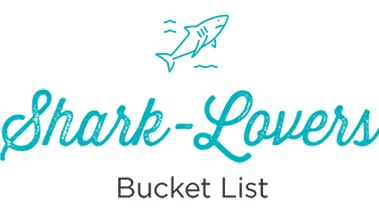 Get your fix in The Out Islands of The Bahamas!
A designated shark sanctuary since 2011, The Bahamas boasts some 40 species of sharks, and dozens of dive operators ready to help you live your own Shark Week adventure. Best of all, for US and Canadian citizens, when you book one of 35 participating Out Islands hotels, they'll treat you to free round-trip flights or ferry tickets from Nassau! For European residents, there is a similar offer up for grabs – click here to find out more!
Shark highlights include:
Andros
On just about every dive in Andros, you will see a shark. The puppy dog-like Caribbean Reef Shark is the most prominent.
Bimini
Just a half-mile off Bimini, you'll find endangered great Hammerhead Sharks and the occasional Bull Shark and Lemon Shark on shallow dives in Bimini's warm waters.
Cat Island
Discover the world's largest concentration of Oceanic Whitetip Sharks in the deep, protected waters around Cat Island.
The Exumas
Meet abundant (and mostly friendly) Nurse Sharks around the Exumas' colorful reefs or resting under a dock.
Long Island
Visit the world's first developed and still naturally unchanged Stella Maris Shark Reef. Dive and see the Bahama Grey Tip Reef Sharks (usually a dozen or more), an occasional Bull Shark, Nurse Shark, or Hammerheads.
For more information visit The Out Islands website by clicking here.
Sharks move to deeper water as they mature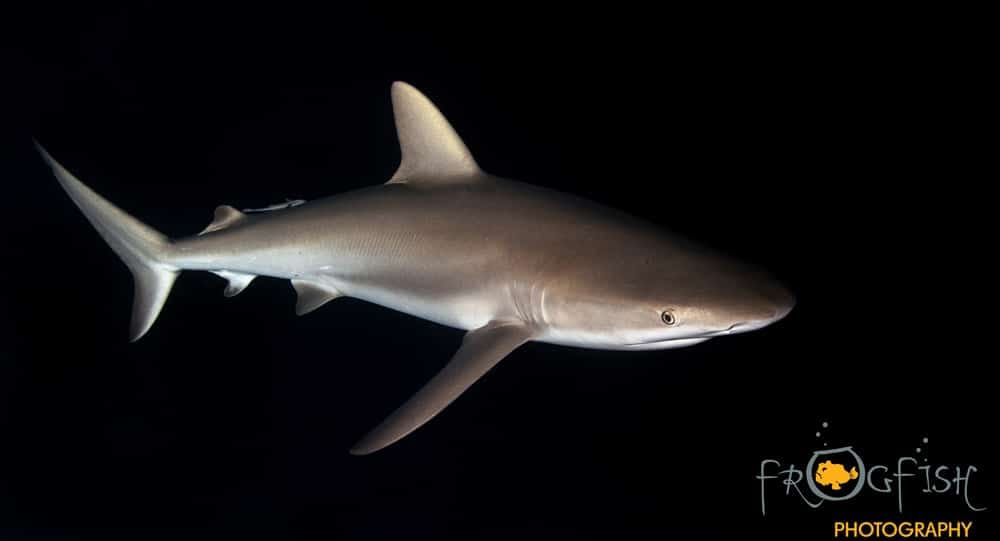 A new study from Wageningen University & Research (WUR) showed that reef sharks utilize different areas of the reef throughout their lifetime. Using baited video cameras, six different species of reef sharks were recorded around the northern Dutch Caribbean islands. These results will impact the design and implementation of shark conservation strategies for years to come.
Reef Sharks
Reef sharks play a critical role within the ocean. As a top predator, reef sharks help maintain the delicate balance within (coral) reef environments. In fact, research has found that reefs with healthy shark populations are more resilient and capable of withstanding the pressures of climate change, pollution, overfishing and diseases.
Juvenile Sharks
Understanding the dynamics of habitat use of local shark populations is critical when designing effective marine conservation strategies. This is exactly what the latest reef shark study from WUR hoped to achieve. Using baited remote underwater video cameras at 376 locations around the reefs of Saba, Saba Bank and St. Eustatius, fish ecologist Twan Stoffers and his colleagues recorded 126 different shark sightings.
Of the six different species recorded in this study, juvenile Caribbean reef sharks (Carcharhinus perezi) and nurse sharks (Ginglymostoma cirratum) were most commonly recorded. Overall, they observed young sharks in shallow, more complex areas of the reef, whereas the larger, more mature, sharks were observed further away from the reef in deeper habitats up to 65 meter depth. Larger nurse sharks were frequently recorded in seagrass beds. The researchers were surprised that hardly any adults were observed over the course of the entire study.
Implications
This knowledge could have an important impact on conservation strategies for reef sharks and other endangered shark species. Since reef sharks use a variety of different habitats (both shallow and deeper water areas), creating an interconnected conservation network is vital for ensuring full protection throughout their life cycle. Sanctuaries such as the Yarari Sanctuary (which includes the marine area around the Caribbean Netherlands) are an important step in creating a network of protected areas. In addition, efforts such as the Caribbean Shark Coalition are important as well, because they work to build capacity for shark and ray research, policy and conservation within the Wider Caribbean Region.
Report your sightings
You can help contribute to the overall understanding of sharks and other species by reporting your nature sightings on sightings and photos on DutchCaribbean.Observation.org or download the free apps (iPhone (iObs) & Android (ObsMapp)).
Species reports by local communities and tourists are invaluable for nature conservation efforts to help increase public awareness and overall species protection.
DCNA, Observation International and Naturalis Biodiversity Center are working together to develop on automated species identification app for your phone for all species on land and in sea. Your uploaded photos are of great value to make this possible. For questions, please contact research@DCNAnature.org