Travelling during a Global Pandemic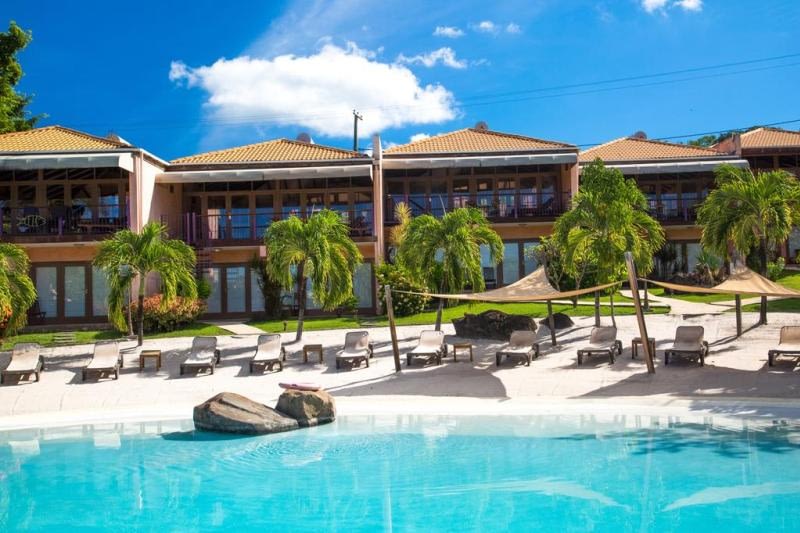 Blog by John Spencer-Ades at The Scuba Place
The year 2020 has been, let's say, interesting, at the least!
The World has been held to ransom by an invisible bug, and the impact has been both deep on a personal level and wide on a global society level. Families have been separated, friends and social life put on hold, people have lost loved ones and businesses have been decimated.
I have learned that I took life for granted to a certain extent – hopping on a plane to go on a dive trip was a very regular activity. Then came COVID-19, and with it, a dawning sense of reality that travel (and indeed diving to a lesser extent) was no longer a right.
With zero income from booking trips for people, plentiful outgoings in the form of giving refunds, and an immediate focus on re-booking existing trips for later in the year, my initial optimism that this would be a short-term thing fell flat on its face when lockdown (v1.0) was implemented.
As the Summer of Discontent extended into the Autumn of Austerity, we focused all of our efforts on constantly monitoring where we were might be able to travel to. The good old FCO list was indeed pretty useless on this note, as it lists only countries that we are allowed to travel back to the UK from, and not necessarily to. The vast majority of the rest of the World doesn't want us anywhere near them it seems. And, to boot, there are numerous countries that didn't accurately publish their entry protocols.
We booked group trips in September to various destinations, and then cancelled them or postponed
them – again. We found new destinations that we could travel to with good diving, booked them, and then the 'green list' changed again. We had clients arrive at Gatwick for their outbound flight, only to be told that the rules had changed again, and they would need to quarantine upon return. And we also had clients in resort have their return to the UK impacted, both by the changes made in entry protocols, and indeed the airlines.
So, arranging travel has been like herding cats this year – every itinerary moved, and multiple times but here is the important bit… we actually got to travel in October.
The FCO list stated travel to Grenada was finally permissible, the Grenada Health Authority had clearly set out their COVID protocols for entry and stay, so we had little or no hesitation in booking a trip – for 18 of us! This was a trip that had been rearranged twice already, but the light was green at last!
And here began the challenge……….
Firstly, and easily, we booked our flights with British Airways – direct to Grenada but in reality, with a scheduled touch down in St Lucia. Then came the pre-departure PCR Testing – we had to have one done (and with negative results of course!) 7 days before departure.
Good old BA have a partnership with one of the testing labs, so we all booked and paid for this on-line, taking advantage of the BA discount. The test kits are sent to you by post, you register them online and take the test.
Planning when to take the test is a task – we flew on a Wednesday, so needed to take the test the previous Thursday at the earliest (for entry validity) and by Friday at the latest to ensure we got the results back in time for our departure. So, we stuck cotton buds down each other's throats, extracted all sorts of bodily fluids, inserted the swab into the test tube, popped them in the post, and waited! The preferential postage service included did the trick, and results were back for some as early as Saturday!
Then less than 20 hours before departure, we received the dreaded email – the flight to Grenada was cancelled! BA offered to take us to either Barbados or St Lucia. Not especially helpful, as both those destinations have different COVID entry requirements and rules for visitors, so for the third time, this trip looked like it was doomed. Those who hadn't checked in got a phone call from yours truly to explain the situation – some of them were on their way to Gatwick from all parts of the country to stay in a hotel the night before!
There were no available flights on domestic airlines between St Lucia and Grenada and we couldn't go to Barbados as PCR tests were required within 96 hours of departure and we now didn't have time to get another test done. Even staying in St Lucia wasn't an option, as the entry rules required prior registration and approval. There was no other route, as all roads to Grenada are via St Lucia, Barbados or the USA, which is an even bigger 'no-no' than the first two choices when it comes to entry, quarantine and all that malarkey.
So, we did what any super-sensible person would have done. Cancel? No – we chartered a private plane
from St Lucia to Grenada, departing some 1 hour after having landed in St Lucia.
Wednesday morning at Gatwick was surreal. Empty. Desolate. Like a ghost-town. Well, apart from the check in lines as there were so many people who hadn't been made aware of the flight cancellation.
Security – I have never been through security so fast, even when flying up in the front of the plane. Boarding was super-efficient and socially distanced, and the plane itself was so clean it could have been brand new.
Reassured by the HEPA filters making the aircraft purportedly as clean as an operating theatre, and with face masks donned, we sat and awaited departure. Sure enough, the doors closed, we backed away from the gate and hit the skies. Passengers on the flight (it was approximately 60% full) were all extremely well behaved, wore their masks, didn't queue for the loos, and generally sat still and helped to empty the bar. This is how a flight should be!
Arriving in St Lucia was even more streamlined – whipped off the plane, personally escorted through test checks, temperature checks, immigration and baggage – and then immediately onto our onward flight. It really could not have been simpler or easier, even with the distraction of spotting a very well-known actor in the queue!
Arriving in Grenada, some 35 minutes after departing St Lucia, was a breeze too. We got a full health briefing, temperature checks and signed our health disclaimers – then it was straight to baggage, immigration, transport, and finally, FINALLY, our resort – True Blue Bay Boutique Resort!
Given the COVID regulations in Grenada, we were to be held in 'quarantine' in the Hotel for the first 4 days, then a test provided by the Ministry of Health on day 5 before being let loose on the island thereafter. Our expectation of quarantine was way more stringent than the reality!
We were shepherded to our rooms, all of which were in one central area, unpacked, and then hit the 'Quarantine Pool' – our very own private pool with bar! What could be better than this?! Meals were served in a separate dining room by the water's edge, and if we didn't want what was offered on the buffet, we ordered a la carte from the menu. In all honesty, it was like having our own private resort!
Diving was permitted too, as Aquanauts Grenada sit right on the dock in the quarantine area, so after a good night's sleep, albeit with a very early rise, we humped our kit onto the dive boat, set up, went through the dive and H+S briefings and off we set!
Day 5 had us all lined up like school children outside of the Medical Centre at the resort. Ministry of Health doctors and nurses put nasty things way too far up our noses and into our throats, and the testing was complete – 24 hours later we were all set free!
Breaking out of the quarantine area was great, and we got to take in the whole resort, have a day trip exploring the island, and use the a la carte restaurant and other pools. As brilliant as it was to be 'free' we missed our own pool!
So, what was travelling in the COVID World really like?
The airports at all stages of the journeys were exceptionally well organised. Social distancing was almost everywhere, and well adhered to. Masks were worn on all flights and at the airports, in transport to and from the resort, and in the resort itself, floor markings were everywhere, together with numerous hand sanitiser stations. Grenada itself, the resort and the dive centre, really got this right, and we had absolutely no fears.
We wore masks in the public areas of the resort, when interacting with staff (at the bar for example) and on the dive boats. We were even given souvenir masks by the Tourist Board!
Was it a hassle? Absolutely not. In truth, the actual travel was very little different to a 'normal' trip (I can remember those, but only just!). We experienced better space – more room on the planes, less crowding at the airports and in resort, and as we travelled as a group, we had our own dive boat. Honestly, it couldn't have been any better!
What we did learn throughout the whole process of planning and execution of travel during this pandemic, is that we had to be, even more so than usual, ready to deal with last minute changes. So, even with a few hiccups on the way out and back that took some fixing, we had a GREAT time, and made it home safe and sound. And, COVID-free too, but just in time for lockdown v2.0.
If we hadn't travelled with ATOL protection, and didn't have comprehensive travel insurance, this could have been a very costly and exhausting experience.
Would we travel again during this pandemic? Yes, and without concern. But only with ATOL and/or ABTA Protection.
Our advice to all who are considering travel during these times is as follows:
Be prepared for changes – flights, transport, COVID rules. If you have a top-notch bonded Travel Agent behind you, you should have little to worry about.
Masks – the cloth ones are super comfortable, and you forget you are wearing them.
Hand sanitiser – take it with you and use it!
And finally, remember you are on holiday – relax, even if it hurts!
As we look to the future, we are hopeful. Vaccines are coming, testing on departure and return is available, and the rules are changing daily, making it less restrictive in terms of where we can go, and return from with shorter or zero quarantine. We expect there to be highs and lows in our ability to travel over the coming months, and we will just have to deal with them as they arise. COVID is by no means over, but we can see a light at the end of the tunnel.
Our sincerest of thanks for all of the expert support and organisation go out to Grenada Ministry of Health, Grenada Tourist Board, True Blue Bay and Aquanauts Grenada. You got it so, so right!
We will be back!
---
Find out more about the worldwide dive itineraries that The Scuba Place offers at
www.thescubaplace.co.uk.
The Scuba Genies head to Bonaire! Part 2 of 2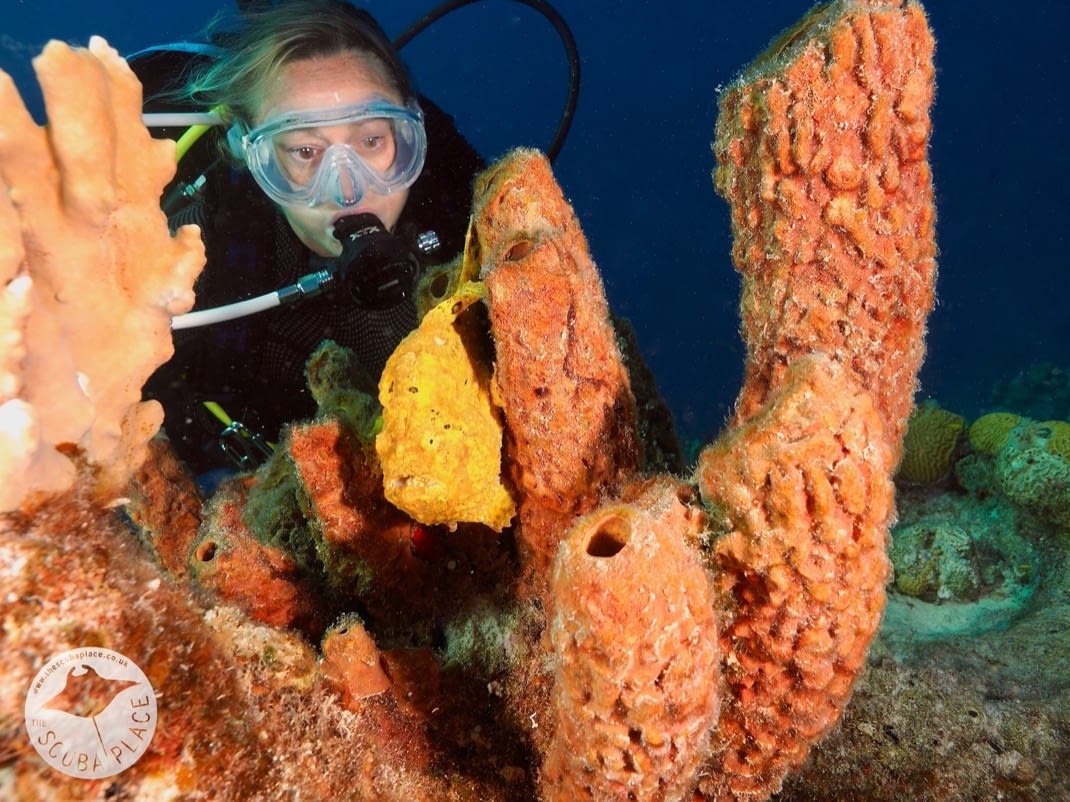 In the second of this two-part blog, The Scuba Genies share their trip report from the Come Dive with Us hosted trip to Bonaire in September 2021. Missed Part One? Read it here!
There is another dive we just must share with you and one that we can confidently call a 'Dive of a Lifetime'. There were 12 of us in our group, and collectively we have logged in excess of 8000 dives in some very special places around the world. And every one of us was totally blown away by this dive! A fellow diver, by way of the Girls that Scuba FB group mentioned that if the timing was right, an ostracod dive was one not to miss. A link to an online article noted that 2 to 5 days after a full moon and 45 minutes after sunset, was the best time to observe the mating ritual of these tiny creatures. And only if they have not been exposed to light of any kind. That meant no streetlights and no torches. NO TORCHES!
We lucked out and were in Bonaire during a full moon and planned our Ostracod dive carefully. One the fifth night after the full moon we headed south to Red Beryl, a site we had previously been to and knew the terrain. We were in awe of the soft coral forest at the site, and this was the perfect environment for the ostracods. As the 'show' only lasts about 20 minutes, we entered the water while it was still light and left a beacon on the shore to help guide us after the dive. We gently finned out over the sand and hovered above the soft coral at around 8 metres as the dark crept in. Little sparks of light started to appear in ones and twos, and then just as we had hoped, chains of these tiny creature were all around us, in hundreds and then thousands! Everywhere you looked, the ostracods were rising to the surface, like underwater fireflies linked together flashing their bioluminescence one after the other, giving us nature's most amazing firework show! The only way I can explain it is seeing thousands of Tinkerbells all at once! 20 minutes later, it was all over so we turned on our torches and headed slowly back to the shallows, happy to find a sleeping turtle, scorpion fish, more octopus and lots of little creatures.
As our holiday inevitably came to an end, we chose a site within minutes of Buddy's called The Invisibles. A highly recommended dive site, we parked up alongside the beach, kitted up and walked down the rock beach and into the water. 95 minutes later, we walked back up the beach with memories of green turtles feeding, free-swimming moray, immense sponges and a plethora of anemones with their tenant critters – shrimp, crabs, and all things fascinating. And back in the sandy shallows we didn't know where to look! A golden spotted snake eel, juvenile angel fish and a box crab that scuttled across the seabed before vanishing into the sand in a finger-click.
In summary, the diving here was very special – it truly lives up to its reputation of being one of the best destinations to visit, and in fact, over-delivered when it came to our expectations from the Caribbean. To mix it up, in addition to shore diving we also scheduled 4 days of boat diving right from the dock at Buddy's. We were able to explore all around Klein Bonaire and reach some of the more difficult shore-entry sites including Karpata and 1,000 Steps. We would recommend this highly if only to get away from a daily dose of sand in your boots!
Buddy's is a full-service dive operation, offering quality accommodation, good food, and the dive centre is as slick an operation as we have ever seen or experienced. The drive-thru tank station is genius for shore diving, the house reef is easily accessed, and the boat diving from the dock on one of their 5 purpose-built dive boats is organised perfectly. Catering for newbies all the way through to technical and rebreather divers, Buddy's delivers it all, and very well. The staff are fun, highly professional, and the whole set-up is geared to making a dive trip work without any fuss. Even the shop is very well stocked with kit, spares, forgotten stuff and replacements for broken things!
Importantly, Buddy's is also a supporter and enforcer of the Marine Park protection rules – the whole of the island is surrounded by a protected marine reserve, so no touching, no gloves, no pointy-sticks. Turtle nesting and coral regeneration programmes are evident, and given the fantastic health of the reefs, the protection initiatives and regulations work.
Would we go back? Without any hesitation, and repeatedly!
Bonaire delivered the goods. Great diving, great accommodation and freedom to dive wherever and whenever you want – especially with the tanks on the house reef available 24/7. A perfect destination for dive clubs and groups as the 3–bedroom apartments really work.
Bonaire is exceptional value for money. There are very few places on this planet where you can dive so much for so little in a great marine environment.
Key Facts:
Getting there: Flights with KLM to Bonaire depart from any major UK airport via Amsterdam. From London Heathrow it was a 12-hour total flight time. An extra 23kg bag also costs less than £90 return if booked in advance.
Air temperature: Tropical – average daily temperature throughout the year is 31', reasonable rainfall (passes quickly) and the sea breezes are most welcome!
Water temperature: 28-30°C. A 1-3mm full suit is recommended to protect from scratches and stings and to keep the sand out.
Visa requirement: No tourist visa was required, but under COVID there are protocols in place. See https://www.bonairecrisis.com/en/travel-to-bonaire/ for the current requirements.
Currency: US Dollar with ATMs easily found, and all major credit cards are accepted.
Electricity: 120V with American 3- and 2-pin plugs. Our US/UK converters worked without issue
Accommodation: You mention Bonaire and Buddy Dive Resort is the first place people mention. Only 10 minutes from the airport makes for a super simple transfer. Multiple room types, all with kitted out kitchens and air-conditioned bedrooms. Two pools, two restaurants, full-service dive shop and staff always around to answer questions or lend a hand.
Diving: With both world class shore and boat diving available, warm and clear water, abundant marine life, coral and sponges like you've never seen, what more could you ask for?
Price Guide: Expect from £1500 per person based on two sharing for 7 nights with bed and breakfast. Unlimited shore and house reef diving, Nitrox and car rental all included. Return flights and transfers also included.
Additional costs:
STINAPA Marine Park passes: $45 per calendar year. We purchased ours online prior to departure and carried a copy in the vehicle when shore diving.
Buddy Dive Vehicle Insurance: $19 per day of vehicle rental for one named driver for the duration of your stay. For an extra $5 you can name another driver for a day. This was added to the room bill, and we split the cost with the rest of our apartment.
Our Advice: Stay longer…. 10 days would be the perfect amount of time in our opinion to get the most out of the shore and boat diving. And with numerous flights during the week to choose from, any duration can easily be arranged.
---
Find out more about the worldwide dive itineraries that The Scuba Place offers at
www.thescubaplace.co.uk.
The Scuba Genies head to Bonaire! Part 1 of 2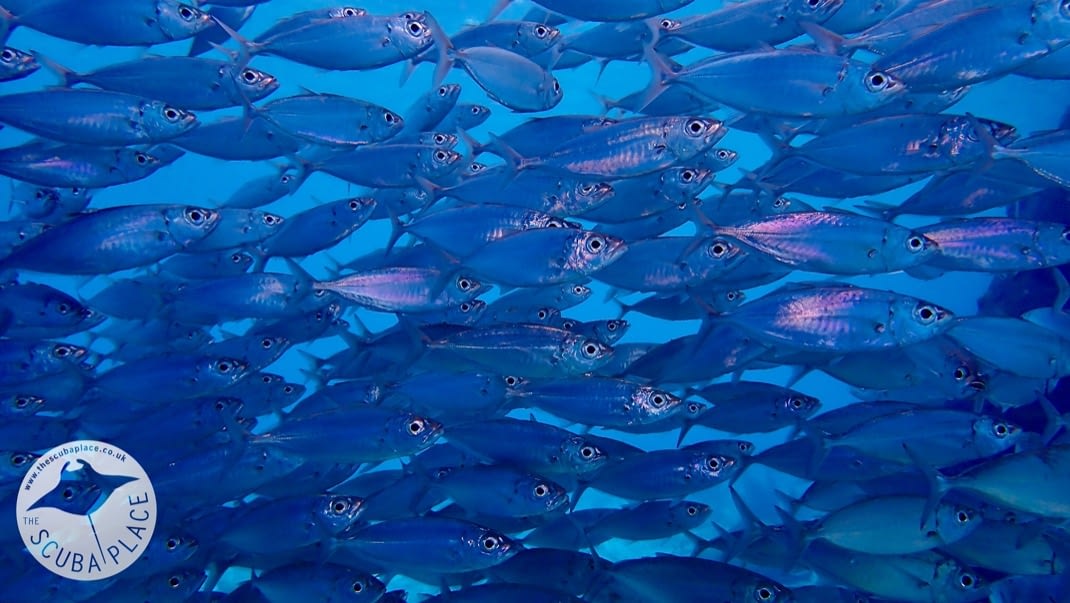 In the first of this two-part blog, The Scuba Genies share their trip report from the Come Dive with Us hosted trip to Bonaire in September 2021…
Travelling during the Covid pandemic has been challenging for some, impossible for most, and missed by all. We have been scanning the rules and regulations daily, and as soon as the UK Government allowed us, we were off!
What was supposed to be a trip to Mexico for a gang of 12 of us, just like most trips over the last 18 months, we were forced to change as the travel rules changed – we have been trying to get to Bonaire for ages, and this became the perfect opportunity – at last!
With our bags packed, negative test results and completed Bonaire health forms in hand – we made an early start for Heathrow, prepared for an 0630 departure. A quick flight and we landed in Amsterdam. As a Dutch Caribbean territory, all flights from the UK to Bonaire on KLM go via Amsterdam. In the airport, we met up with the rest of the gang who had travelled from Birmingham. After a quick layover we took off for Bonaire, where we arrived about 9 hours later. Our health documents were checked at the airport, and we grabbed our bags. It seems odd to have to fly East to then go West, but as we stepped out of the minibus at Buddy Dive Resort, only 10 minutes after leaving the airport, the sunshine and blue sky told us it was worth it!
Our accommodation for the group was made up of two 3-bedroom apartments, a stone's throw from the water, dive shop, dock and Blennies, the main restaurant and bar. Buddy Dive also has 1- and 2-bedroom apartments along with studios, all comfortably furnished with either a garden or ocean view.
Each 3-bedroom apartment is spread over two floors – but a floor up from ground level. The 'ground' floor of each apartment offers a double bedroom (beds can be configured as twins or double in all rooms), a bathroom, lounge with balcony, and a very well-equipped kitchenette. Microwave, toaster, hob, fridge/freezer with ice-maker and enough pots, pans and utensils to satisfy the avid cook! On the upper floor, there are two further double rooms with ensuite bathrooms, both with balconies of their own. Each bedroom is air-conditioned, and the lounge and kitchen have celling fans. All in all, quite perfect for a home away from home for a fortnight!
The rules of group travel say we must unpack (empty bags onto floor or bed), sort kit out (look at dive bag and save it for later), put cameras together (er….NO!) and hit the bar – so being rule-abiding people that we are, this is what we did. Picking up the rental van for our stay would have to wait!
The next morning after breakfast, served in the Ingridients restaurant and right on the water, we attended the Buddy Dive orientation. The staff gave us a quick tour of the dock and resort including the famous drive thru tank shed offering both air and nitrox tanks ready and waiting to be loaded into your vehicle. Check in at the dive centre was easy… we all completed our diver forms online before arrival so with a quick hello we were handed locker keys for our kit storage. Time to head back to the room and get ready for our first dive!! That is why we're here after all!
As with all trips, the first dive was a check dive, so we climbed down the steps into the water off the dock to go an explore Buddy Dive Reef. Finning over the sandy bottom, past the coral restoration project 'trees' and following well laid lines with directional markers we hit the reef after just a minute or two where you can drop to 35+ metres over simply stunning corals. This reef, just like the rest of the sites we dived, is super-healthy and teeming with juvenile fish wherever you look. Moray eels, turtles, octopi and HUGE tarpon on our first dive! What a great start!
The following day we decided it was time to explore the island. We picked up our 6-person minibus from Reception, pulled up to the drive thru tank station and grabbed 12 well filled Nitrox 12l aluminium (A-Clamp – not DIN) cylinders. With our guidebook in hand, off we went driving on the right of course, in search of marine life.
There are over 50 dive sites scattered around the coast of the main island, and even more on the island of Klein Bonaire accessible by boat. We chose a comfortable start by picking dive sites to the South where the entry seems to be a little easier on old knees and hips. We packed up sandwiches we made after a quick shop at the supermarket the day before, along with waters and a few essentials – towels, sunnies and bug spray.
I won't bore you with every dive site name and description – the guidebook is the tool for that – but it is more than safe to say that we dived, dived and dived again! Every dive gave us far more than we expected, and the marine park surrounding the whole island delivered the goods without fail. Super healthy corals, plentiful marine life, warm and very clear water at 30 degrees made life easy. Parking the van up at the marked dive sites wasn't difficult, and a few strides across the sand was far simpler than we had expected.
I will say that some sites are a little more challenging to get into the water from – anything more than three or four steps doesn't float my boat! We adapted our entries for the group – some kitting up in the water, some not, but the rule of thumb quickly became step in up to thigh-depth, inflate bcd, fall flat on your back and paddle out before putting your fins on. Simple! Getting out of the water was pretty much the reverse of the above – stand up when you can, remove fins, and then navigate the rocks and sand channels before you walk up the beach. Nothing that an over-weight, under-tall chap in his mid-50's with dodgy knees and even dodgier hips couldn't cope with! (That is me by the way…..no offense to anyone else intended and no animals were harmed in the writing of this either).
We saw stuff – lots of it! Huge tarpon, French and Grey Angelfish, forests of Christmas Tree worms, anemones with Peterson, sexy and cleaner shrimp, clinging crabs, nudibranchs – especially lettuce-leaf slugs, coral-banded shrimp, lobster and so much more. Turtles everywhere, trumpet-fish in unbelievable numbers, and that was generally the story – all in very good visibility too! The corals and huge sponges were stunning with fascinating reef-structures offering all sorts of hidey-holes for critters!
There were some really special sited that we loved, and Salt Pier was one. The Cargill solar salt facility is easily found with its distinctive line of white salt pyramids.Each pyramid, roughly 50-feet high, can contain up to 10,000 metric tons of 99.6 percent pure salt. Even more noteworthy, in addition to the acres of salt ponds, the facility is also home to largest pink flamingo sanctuary in North America. Our very own Chloe has written an in-depth blog about Bonaire and its pure salt so be sure and check it out!
Back to the diving! We were given a hint to drive just past the pier to park where we would find an easy sand entry to the site. We kitted up and finned out through the shallows where we encountered three juvenile hawksbill turtles along with a few smooth pufferfish fighting to feed on patch of sponges, and then made our way under the immense structure of the pier. There are several platforms supporting the conveyor belts that move salt to the container ships and there wasn't much diver-traffic to contend with. We were amazed by all things weird and wonderful – big scorpion fish hiding under the metal work, angelfish battling for food, schooling fish up above you, and frogfish! Barracuda, Caribbean reef squid, spotted drums, octopus, oh! and more frogfish! Even a flying gurnard in the shallows! What a dive! And as it is shallow, it can be a very long dive too, especially with the 200-210 bar fills the drive-thru often gave us.
Check back for Part Two of this Blog tomorrow!
---
Find out more about the worldwide dive itineraries that The Scuba Place offers at
www.thescubaplace.co.uk.