The Top Dive Sites of Eastern Curaçao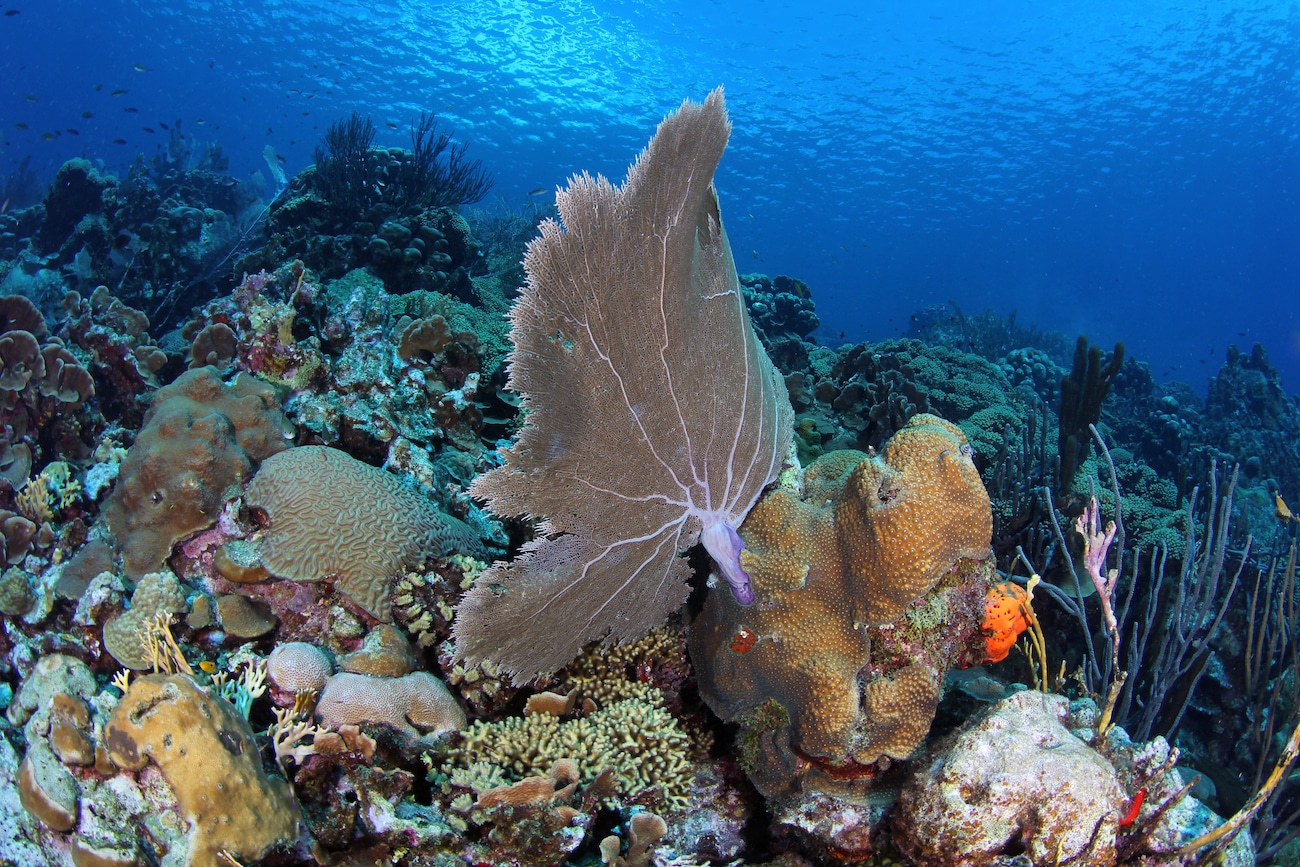 By Bryan Horne, Dive Curaçao
The island nation of Curaçao is home to some of the Caribbean's last thriving coral reefs and represents a window into the past when Caribbean reefs were healthy and vibrant everywhere.
Though this little Dutch Caribbean island is best known for its colourful colonial waterfront in Willemstad, too few know about the rainbow of vibrant coral and marine life under its waters.
It never gets old. Though I've been diving these waters for over a decade now, it's never the same scene twice. And you will never know what you might run into! A whale shark, spinner dolphins, a giant ray, sea turtles, even a humpback whale have all wandered into my path over the years.  That's the beauty of diving around Curaçao: it's natural diversity. Healthy coral reefs are attracting all kinds of marine life visitors because Curaçao is surrounded by more than 104 sq. km (40 sq. miles) of some of the best coral reefs in the Caribbean.
Curaçao is in the heart of the Dutch Caribbean, surrounded by its sister islands, Bonaire and Aruba.  Today, Curaçao is a proud independent country within the Dutch Kingdom that is 61 km (38 miles) long and between 5-14 kms (3-9 miles) across and located approximately 60 km (37 miles) north of Venezuela.
The coral reefs are normally found 18-300 meters (65 to 1,000 feet) from shore where they start at a depth of approximately 10 meters (30 feet) and then gently slope down to a depth of over 100 meters (300 feet) in some places.  In addition to the amazing fringing reef system, large inland bays can be found around the island in which mangroves and seagrass communities thrive and serve as nursery areas for certain types of reef fish that are less abundant on similar islands that have no inland bays. While living coral reefs are still growing around the island, Curaçao itself was formed by ancient coral reefs that were raised above the water as the sea level changed.
From the south eastern tip known as "Oostpunt" to the northwestern tip known as "Westpunt", the underwater world is completely different and unique. Eastern Curaçao is known to locals as "Banda Ariba".  This area is truly an unspoiled and largely still unexplored sanctuary inside of Curaçao's only National Marine Park. This preserve has amazing sheer walls covered with extensive healthy coral and sponge colonies while the shallow plateaus are overrun by magnificent examples of Elkhorn, Staghorn and Pillar coral communities.
Now, let's dive into the Top 5 eastern dive sites of Curaçao…
Located at the very eastern tip of Curaçao's National Marine Park, this is a MUST DIVE!!  Only accessible by boat, this site is largely one of the most pristine and unblemished fringing reef systems on Curaçao, if not the entire Caribbean. Lush gorgonians cover the site, together with hard corals and sponges. A large school of tarpons inhabit the underwater bridge, a natural bridge that was formed by coral formations throughout time.  Sharks, eagle rays, large barracuda, and turtles have been spotted at this wonderful Curaçao diving location that has seen very little human impact.
---
If you could imagine a picturesque deserted Caribbean island surrounded by warm aquamarine waters, then welcome to Klein Curaçao. Located approximately 6.5 miles off the eastern tip of Curaçao, this is a very special trip for divers and for snorkelers alike.  The locals say that the underwater habitats of Klein Curaçao is where everything is bigger and there is more of it with almost the guarantee of turtle sightings, ocean triggerfish and large groupers.  This is a true Caribbean dive location which is pristine and unspoiled.
---
Often this spectacular dive becomes a drift dive where you literally "fly" east from Smokey's and end with an amazing finish at Kathy's Paradise. These immaculate dive locations with large dense corals overhangs lead to sharp drop offs, and this coupled with great visibility provide you with a 360-degree experience that will leave you wanting more upon surfacing!  Sharks and stingrays are often seen here too.
---
Located in just 5 meters (15ft) of water, this famous tugboat was wrecked just a few yards offshore in a protected bay of Caracassbaai.  This site is perfect for divers as well as snorkelers. Easy to access and easy to find a plethora of critters such as seahorses, octopus, lobsters, napping scorpion fish and the odd nudibranch if you can find it!!  The tugboat is overgrown with tube sponges and coral and is home to a variety of colorful reef fish too. The resident Majestic blue Parrot Fish and Yellow Tail Snappers guard this site.
---
Sits quietly upright on her keel with her bow facing west in roughly 30m (100ft) of water and about 150m (500ft) from the shoreline just west of the Curaçao Mega-pier.  As an advanced shore or boat dive, the easiest approach is from the stern due to the possibility of the prevailing currents.  As you descend the fringing reef, an eerie dark shadow starts to appear.  At first, you only see the stern, but then the entirety of this magnificent 50m (165ft) mass with its superstructure rising to within 21m (72ft) of the surface reveals itself, covered in a vast kaleidoscope of color.  Now with roughly 40 years of growth, the MV Superior Producer is an amazing artificial reef site home to numerous colonies and different species of corals, sponges, gorgonians and sea whips.  Because of this, it is a natural attraction for schools of predatory fish such as Tarpons, Barracudas, Snappers and Jacks.
---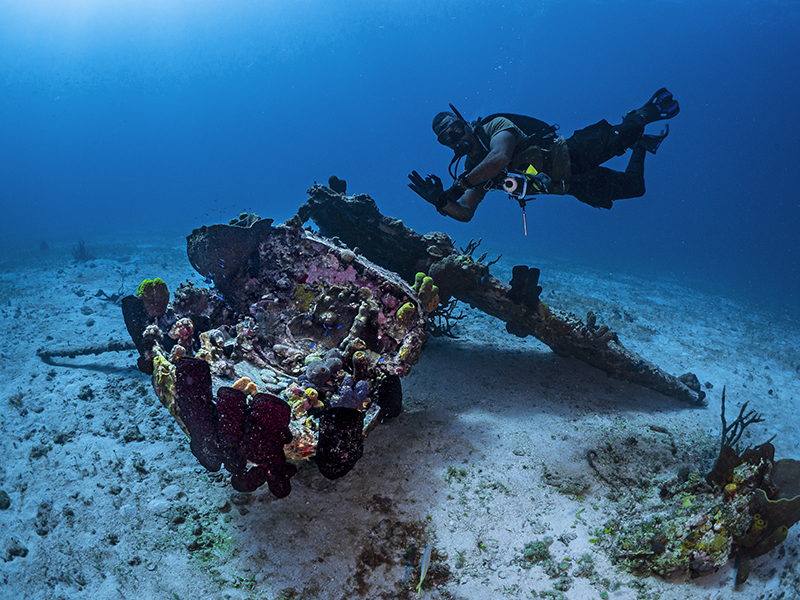 With part of my wife's heritage being of Jamaican descent, I really don't understand why it's taken so long for us to visit this amazing Caribbean Island. Firstly, as a couple enjoying adventures together and then over the last 5-6 years with our daughter as a family.
Finally we made it and enjoyed an amazing two weeks together, with the in-laws also in attendance. Initially scheduled for 2021, Covid reared its ugly head and a postponement meant we had to contain our excitement for another year until July 2022 came around and we were off.
We had booked your typical two week all-inclusive style holiday with TUI, stopping at the Royalton Negril. It was also my daughter's longest flight but thankfully she coped really well and was a pleasure to travel with. It took a few days to get into the holiday as we made use of the all-inclusive perks of the hotel. Stuffing our faces in the abundance of restaurants or food stalls on-site (the jerk hut was a frequent lunchtime visit). While we also enjoyed the entertainment from the on-site Vibes Team. I really love the energy and enthusiasm for music in Jamaica, with the dance routines and music choices entertaining pool side.
As fun as it was on-site, you can start to feel a little trapped all inclusive. We were soon itching to break free and explore other parts of Jamaica. Being in Negril we were too far from the famous Dunn's River Falls, so opted for the equally impressive YS Falls. It's rainy season in July, so the falls were powerful in force, albeit less clear with a brown tinge. Still, it was a beautiful place to visit, while also enjoying rope swings into the pools and swims to cool off.
We followed up our visit to YS with a Black River Safari (you can easily manage the two trips in a day). This was a real highlight for me as I love big predators ,and seeing the American crocodiles up close again was great. It was also another stunning place as we cruised through pristine mangroves listening to the sounds of nature. Then on the way back we stopped at some local food huts for traditional Jamaican cuisine.
I love enjoying trips with the family. However, none of them are divers and I was desperate to sneak off and get some diving in. With getting married this year, diving had really taken a back seat and was long overdue. Before I left for Jamaica, I asked advice on a Facebook group for diving out of Negril and dive centres they recommended. However, I was disappointed to see a lot of negative comments basically telling me to save my money and how it really wasn't worth it etc. Undeterred, I knew I still wanted to get some dives in and was able to get connected to Michael Cabana, who is the owner of Scuba Dive Today. Unfortunately, Michael was out of the country but put me in touch with his MSDT Sharren Robinson. They were based out of Coral Seas Cliff Hotel and he recommended coming to do a couple of dives on their house reef.
It was an eerie feeling when I first arrived for diving at the Coral Seas Cliff Hotel, as it is still closed since the pandemic and I wondered if I'd got the right place. However, I soon met Sharren, where we filled in the necessary paperwork and he provided me with all the necessary equipment. He also explained that when the high season returns the hotel is due to open back up for the first time since Covid. Immediately I saw its appeal as a group dive holiday destination in the area.
We made our way through the "abandoned" hotel towards the cliff's edge where we had a short giant stride in. What a beautifully peaceful dive with nobody around but me and my guide Sharren. I wasn't left disappointed like the commenters on Facebook alluded to. The water was stunningly clear with plenty of life on the reef and beautiful coral formations akin to the rest of the Caribbean. A really easy pleasant dive along the reef and sandy bottom down to around 20 metres.
I had some problems with my camera on the first dive and didn't take any photos but I soon rectified that between dives and was glad to go back in for a second. On the first dive we went right along the reef before circling back. So, on the second we went left before circling back. Equally beautiful scenery with an abundance of fish life and soft coral to photograph. The small yellow stingrays were ever-present on both dives along the sandy bottom, while seeing one of my favourite species of marine animal – the octopus – is always a joy. Unfortunately, this particular one stayed well hidden in the rocks and I wasn't able to get images with my fisheye lens.
My next two dives out of Negril came a week later as two other divers joined Sharren, which meant I could join a boat trip out to other dive sites. We visited two of the more popular dive sites out of Negril – Shallow Plane and Arches dive site, along with the Throne Room. Again, both sites benefitted from great visibility and an abundance of beautiful soft corals. The plane wreck is only small and after a quick circle around we were back on the reef. The most fun part about both sites were the abundance of swim-throughs along the reef and overhangs to explore. The interesting topography made the dive that bit more adventurous with plenty of big crabs and lobsters inside the cracks. It was also nice to spot a nurse shark on the Throne Room dive, albeit a little far off for any photos as it changed direction once seeing us.
While I was left disappointed by the numerous negative comments online about diving in Jamaica, I was glad I took the plunge and saw it for myself. I would definitely recommend jumping in if you're on a family holiday to Jamaica, while I'd also highly recommend Jamaica as a holiday destination. The rest of our holiday was filled with some exciting adventures as we explored Rick's Cafe (yes, I did the high jump and it was a lot higher than expected!) We also had a fun day trip to a river rafting site that was the highlight of the trip for my 5 year old, and finished off with a swim in the Luminous Lagoon. A surreal experience that had us all smiling with excitement. I also did A LOT of snorkelling but will leave that for another blog, so stay tuned…
For more information about diving in Negril, Jamaica, take a look at:
The Suit Ocean Team leads the Ultimate Curacao Snorkeling Adventure
Snorkeling and scuba diving in Curacao is a dream for anyone who loves the combination of amazing beaches and the mind blowing biodiversity that exists along 104 square kilometers of its fringing coral reefs. So if you are interested in the ultimate Caribbean snorkeling adventure then keep reading as The Suit Ocean Team takes you on a one hundred kilometer snorkeling tour of Curacao's southern shoreline.
As passionate residents of our Dutch Caribbean Island, we must congratulate The Suit Ocean Team for creating more awareness about the importance of protecting our beautiful fringing reef systems in Curacao.
The film, Curacao Underwater Kunuku (Kunuku is Papiamento for Garden), not only documents this ultimate snorkeling adventure showing you how easy it is for everyone to access and enjoy a snorkel or diving experience, but it also showcases the interaction between man and nature, highlighting the beauty of underwater life while promoting conservation, preservation and the need to protect these vital habitats.
These are the key ingredients to this beautiful short film documentary. Watch NOW and please enjoy our "CURACAO UNDERWATER KUNUKU".
This film, produced by the Lawrence Mensa Foundation (LMF), is also available in multiple languages including: Spanish, Papiamentu, Dutch, Portuguese and German.
Images courtesy of The Suit Ocean Team