The Top Dive Sites of Eastern Curaçao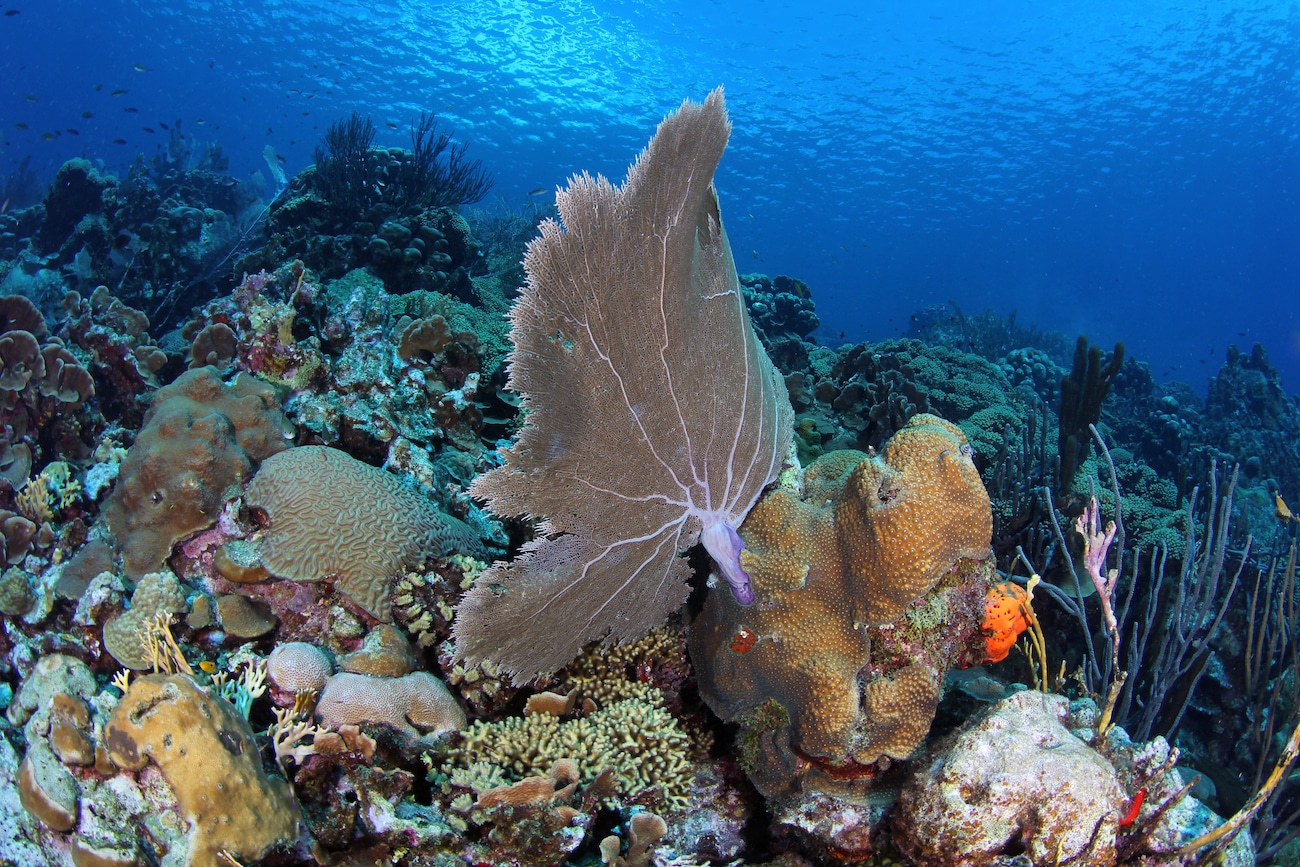 By Bryan Horne, Dive Curaçao
The island nation of Curaçao is home to some of the Caribbean's last thriving coral reefs and represents a window into the past when Caribbean reefs were healthy and vibrant everywhere.
Though this little Dutch Caribbean island is best known for its colourful colonial waterfront in Willemstad, too few know about the rainbow of vibrant coral and marine life under its waters.
It never gets old. Though I've been diving these waters for over a decade now, it's never the same scene twice. And you will never know what you might run into! A whale shark, spinner dolphins, a giant ray, sea turtles, even a humpback whale have all wandered into my path over the years.  That's the beauty of diving around Curaçao: it's natural diversity. Healthy coral reefs are attracting all kinds of marine life visitors because Curaçao is surrounded by more than 104 sq. km (40 sq. miles) of some of the best coral reefs in the Caribbean.
Curaçao is in the heart of the Dutch Caribbean, surrounded by its sister islands, Bonaire and Aruba.  Today, Curaçao is a proud independent country within the Dutch Kingdom that is 61 km (38 miles) long and between 5-14 kms (3-9 miles) across and located approximately 60 km (37 miles) north of Venezuela.
The coral reefs are normally found 18-300 meters (65 to 1,000 feet) from shore where they start at a depth of approximately 10 meters (30 feet) and then gently slope down to a depth of over 100 meters (300 feet) in some places.  In addition to the amazing fringing reef system, large inland bays can be found around the island in which mangroves and seagrass communities thrive and serve as nursery areas for certain types of reef fish that are less abundant on similar islands that have no inland bays. While living coral reefs are still growing around the island, Curaçao itself was formed by ancient coral reefs that were raised above the water as the sea level changed.
From the south eastern tip known as "Oostpunt" to the northwestern tip known as "Westpunt", the underwater world is completely different and unique. Eastern Curaçao is known to locals as "Banda Ariba".  This area is truly an unspoiled and largely still unexplored sanctuary inside of Curaçao's only National Marine Park. This preserve has amazing sheer walls covered with extensive healthy coral and sponge colonies while the shallow plateaus are overrun by magnificent examples of Elkhorn, Staghorn and Pillar coral communities.
Now, let's dive into the Top 5 eastern dive sites of Curaçao…
Located at the very eastern tip of Curaçao's National Marine Park, this is a MUST DIVE!!  Only accessible by boat, this site is largely one of the most pristine and unblemished fringing reef systems on Curaçao, if not the entire Caribbean. Lush gorgonians cover the site, together with hard corals and sponges. A large school of tarpons inhabit the underwater bridge, a natural bridge that was formed by coral formations throughout time.  Sharks, eagle rays, large barracuda, and turtles have been spotted at this wonderful Curaçao diving location that has seen very little human impact.
---
If you could imagine a picturesque deserted Caribbean island surrounded by warm aquamarine waters, then welcome to Klein Curaçao. Located approximately 6.5 miles off the eastern tip of Curaçao, this is a very special trip for divers and for snorkelers alike.  The locals say that the underwater habitats of Klein Curaçao is where everything is bigger and there is more of it with almost the guarantee of turtle sightings, ocean triggerfish and large groupers.  This is a true Caribbean dive location which is pristine and unspoiled.
---
Often this spectacular dive becomes a drift dive where you literally "fly" east from Smokey's and end with an amazing finish at Kathy's Paradise. These immaculate dive locations with large dense corals overhangs lead to sharp drop offs, and this coupled with great visibility provide you with a 360-degree experience that will leave you wanting more upon surfacing!  Sharks and stingrays are often seen here too.
---
Located in just 5 meters (15ft) of water, this famous tugboat was wrecked just a few yards offshore in a protected bay of Caracassbaai.  This site is perfect for divers as well as snorkelers. Easy to access and easy to find a plethora of critters such as seahorses, octopus, lobsters, napping scorpion fish and the odd nudibranch if you can find it!!  The tugboat is overgrown with tube sponges and coral and is home to a variety of colorful reef fish too. The resident Majestic blue Parrot Fish and Yellow Tail Snappers guard this site.
---
Sits quietly upright on her keel with her bow facing west in roughly 30m (100ft) of water and about 150m (500ft) from the shoreline just west of the Curaçao Mega-pier.  As an advanced shore or boat dive, the easiest approach is from the stern due to the possibility of the prevailing currents.  As you descend the fringing reef, an eerie dark shadow starts to appear.  At first, you only see the stern, but then the entirety of this magnificent 50m (165ft) mass with its superstructure rising to within 21m (72ft) of the surface reveals itself, covered in a vast kaleidoscope of color.  Now with roughly 40 years of growth, the MV Superior Producer is an amazing artificial reef site home to numerous colonies and different species of corals, sponges, gorgonians and sea whips.  Because of this, it is a natural attraction for schools of predatory fish such as Tarpons, Barracudas, Snappers and Jacks.
---
BVI Wreck Week – Diving (Part 3)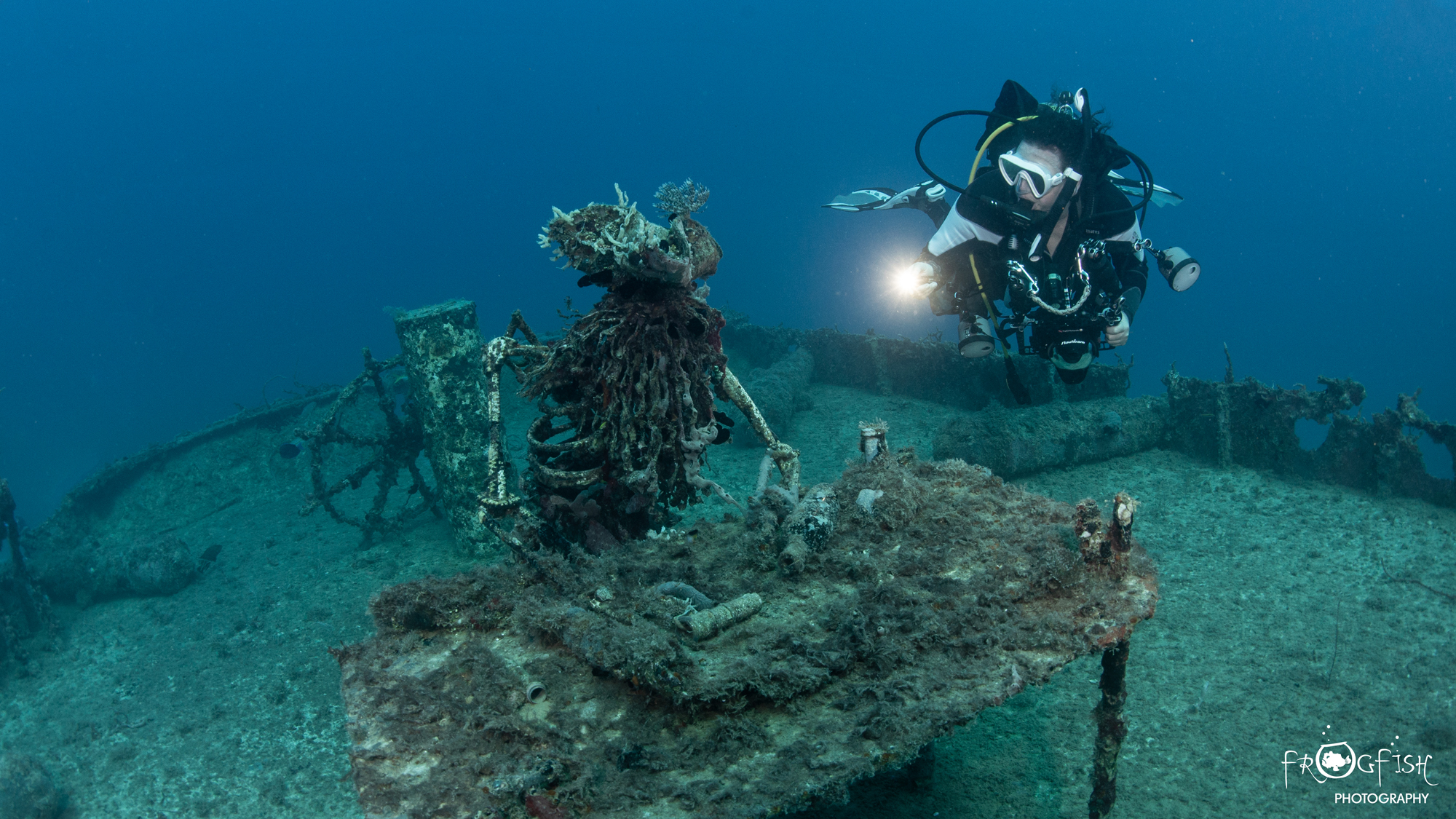 BVI Wreck Week allowed us to dive several of the wrecks the BVI has to offer, as well as sampling some of the best reef sites too. Our previous blog focused on the wreck of the RMS Rhone, so in this one we will try to give you a taste of the rest of the diving on offer.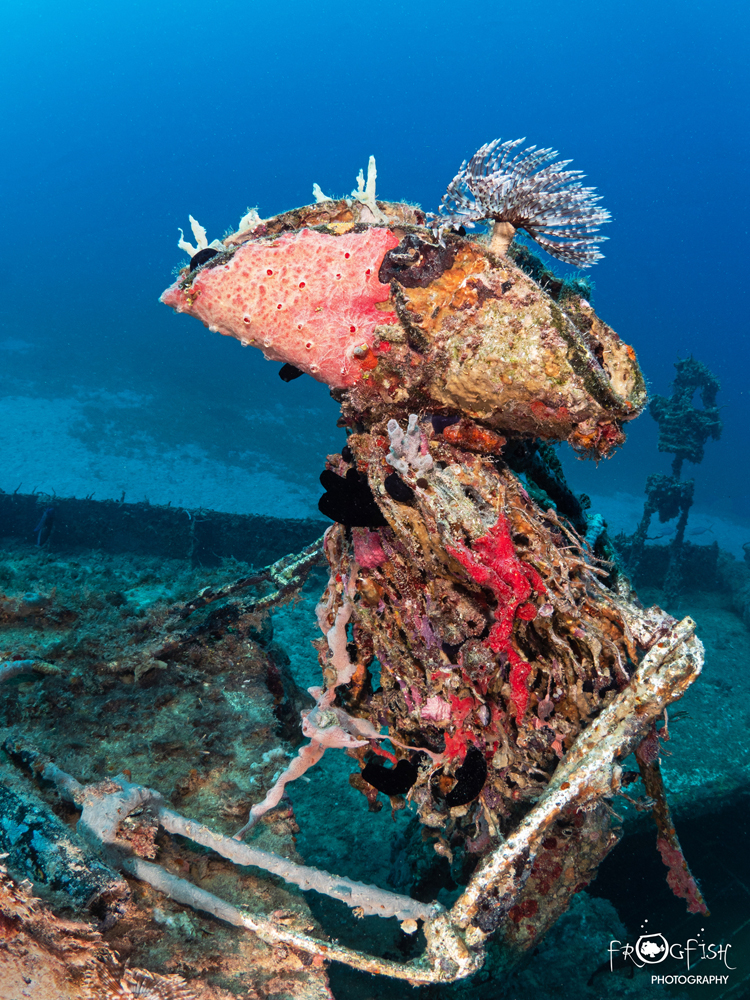 And there is a great deal of wonderful diving to tell you about. Our first day of diving did not offer the best visibility due to heavy rain earlier in the week. However, we were taken to a rugged dive site that had Caribbean and Lemon Sharks swimming all around us. If we had been able to see the usual 20m+ I am sure we would have been able to talk of dozens of sharks on the site.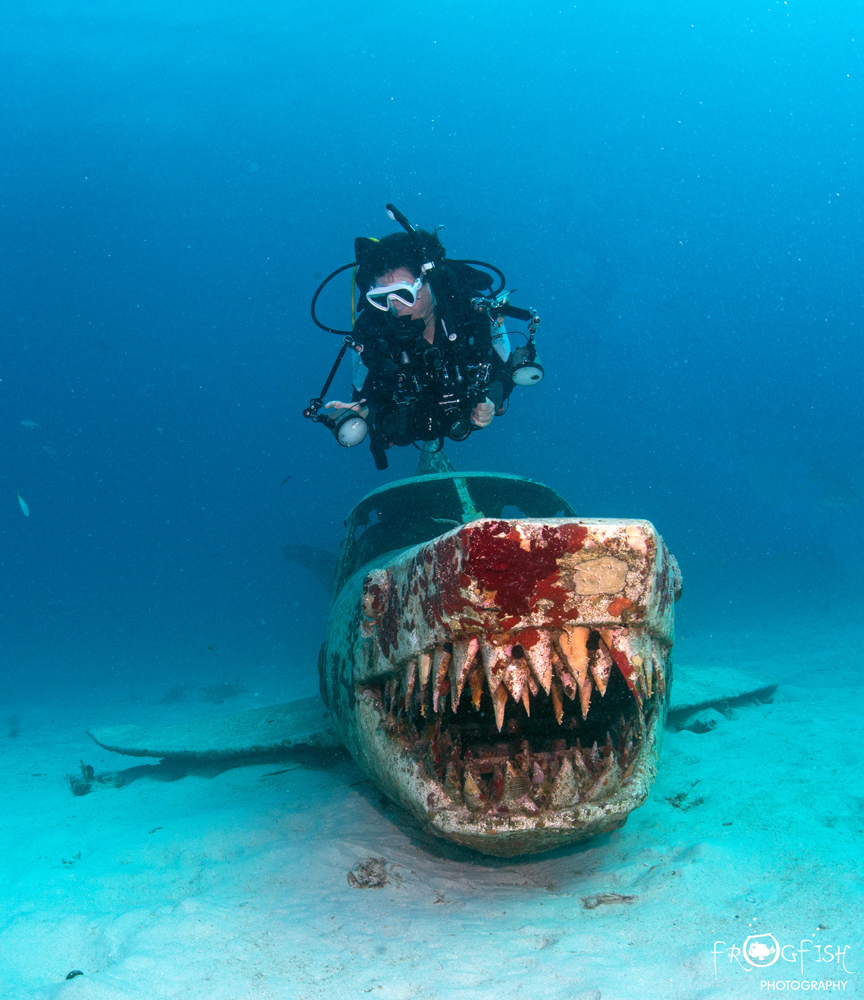 The BVI has plenty of artificial reefs, created from wrecks deliberately sunk. A couple of these are artistic creations from Beyond the Reef. The Willy T is a pirate themed party boat sunk in shallow water that now has skeletons of pirates duelling on the deck and going about their dastardly ways. It is a lot of fun and once you have had your fill, you can head up onto the shallow reef. Shark-plano is a series of three planes that were damaged in a hurricane, that have been turned into shark species and sunk. Both these sites are perfect for the diver that loves a bit of Instagram appeal!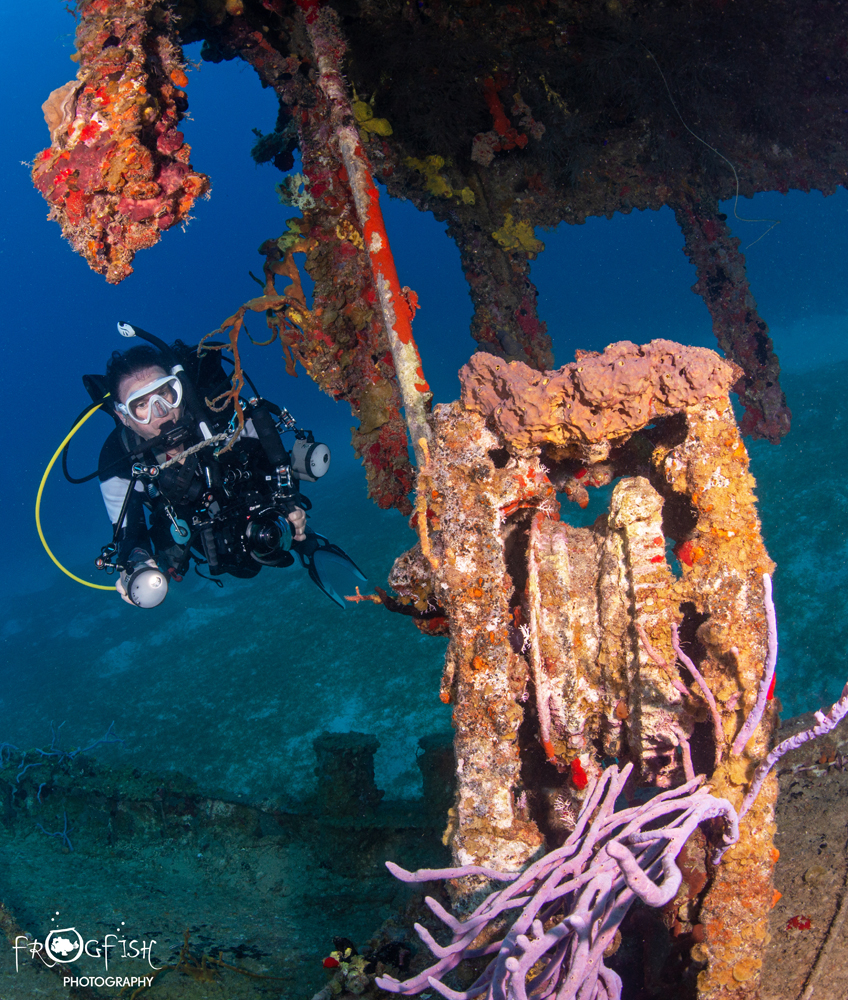 Wreck Alley has a series of three boats sunk to create a super dive site perfectly aligned for a single dive where you can explore them all. Moray eels can be seen free swimming along the decks, huge stingrays back the sandy seabed their home. Turtles cruise past as you make your way around and then up onto the reef for your safety stop.
On every dive we did we saw sharks which absolutely delighted us. The local dive shops seem to be particularly engaged in conserving the reefs, taking part in coral reef restoration, lionfish hunting, cleanups and logging their sightings. We were filled with positivity at the end of each day.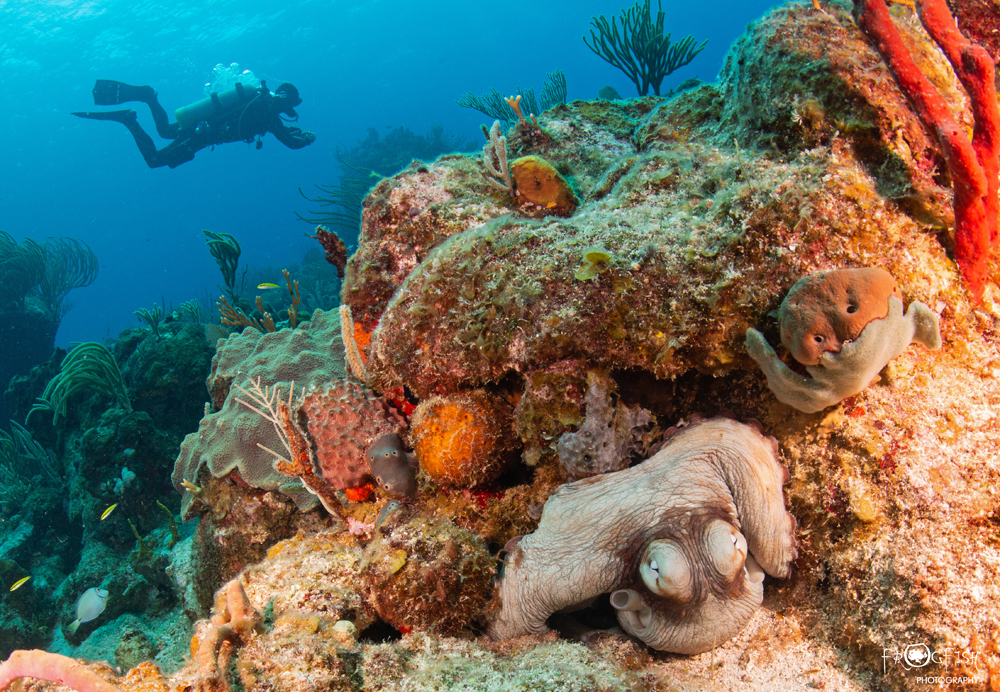 We hope that we can return to do it all again at BVI Wreck Week 2024!
Watch out for our full feature on BVI Wreck Week in the next issue of Dive Travel Adventures coming out in July.
For more information about BVI Wreck Week 2024 visit their website here.
---
Nick and Caroline were hosted by BVI Wreck Week
The Moorings provided their yacht for the week
Host Dive Centres:
BVI Wreck Week – Diving the RMS Rhone (Part 2)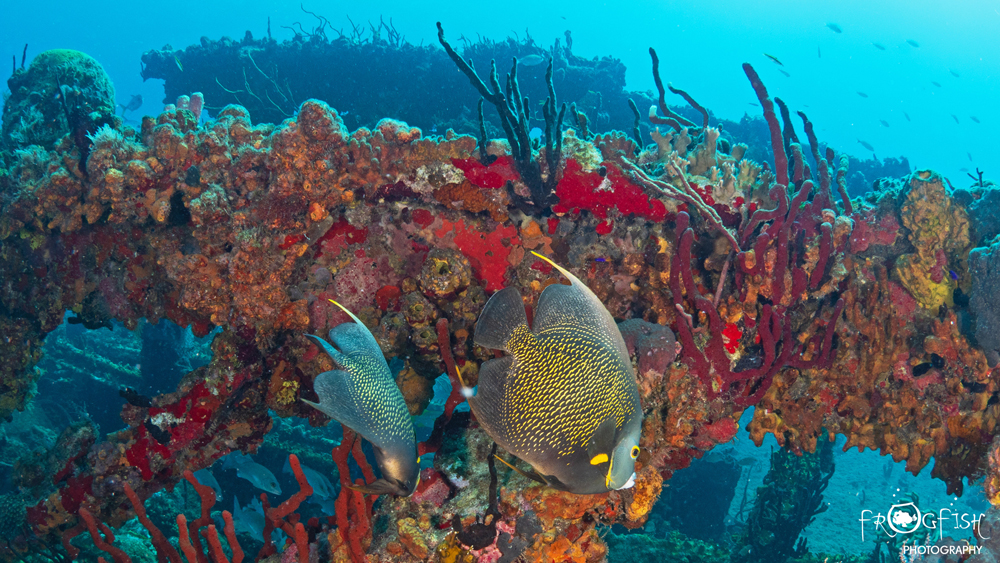 You cannot talk about BVI Wreck Week, or diving in the British Virgin Islands, without spending some time on the jewel in their crown of wreck diving – the RMS Rhone. So this blog is going to be dedicated to a wreck dive that we were happy to dive three times on our trip and would have been happy to dive every day!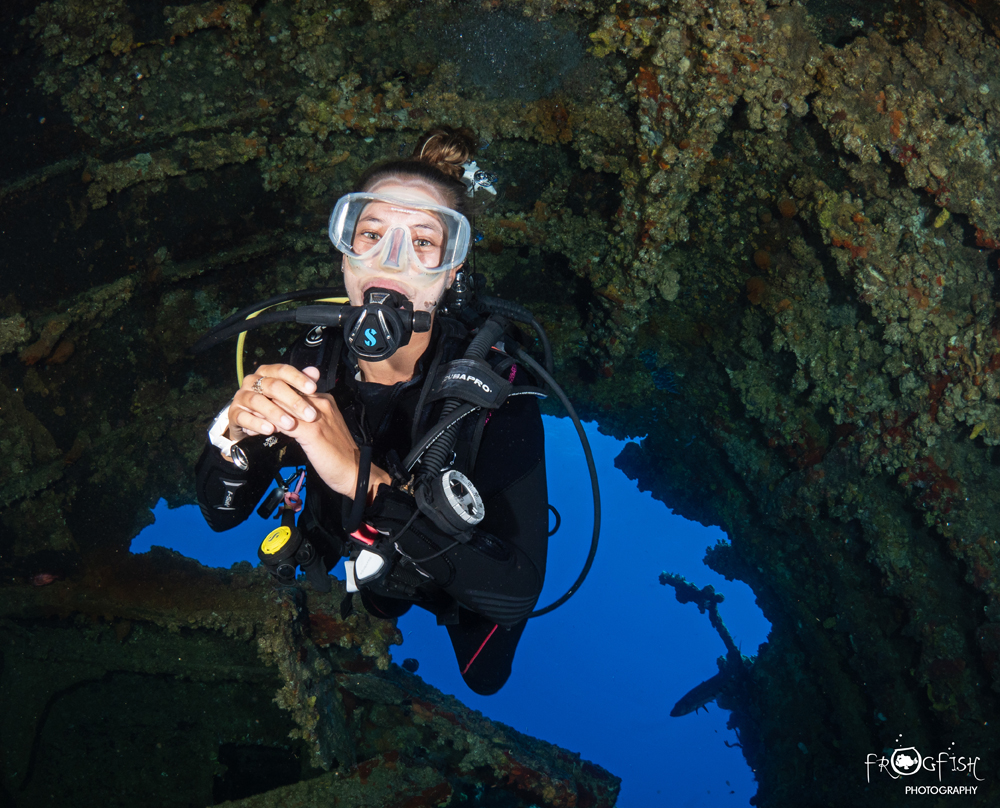 The RMS Rhone was a UK Royal Mail Ship wrecked off the coast of Salt Island on 29 October 1867 in a deadly hurricane. Now it is the most popular dive site in the region. The dive briefings for the site are filled with stories of the fate of the ship and some eye-opening tales since.
The wreck and surrounding area become the British Virgin Island's first national marine park in 1980. Many of the underwater segments of the 1977 thriller The Deep were filmed on the Rhone, requiring actors Jacqueline Bisset, Nick Nolte and Robert Shaw to learn how to scuba dive.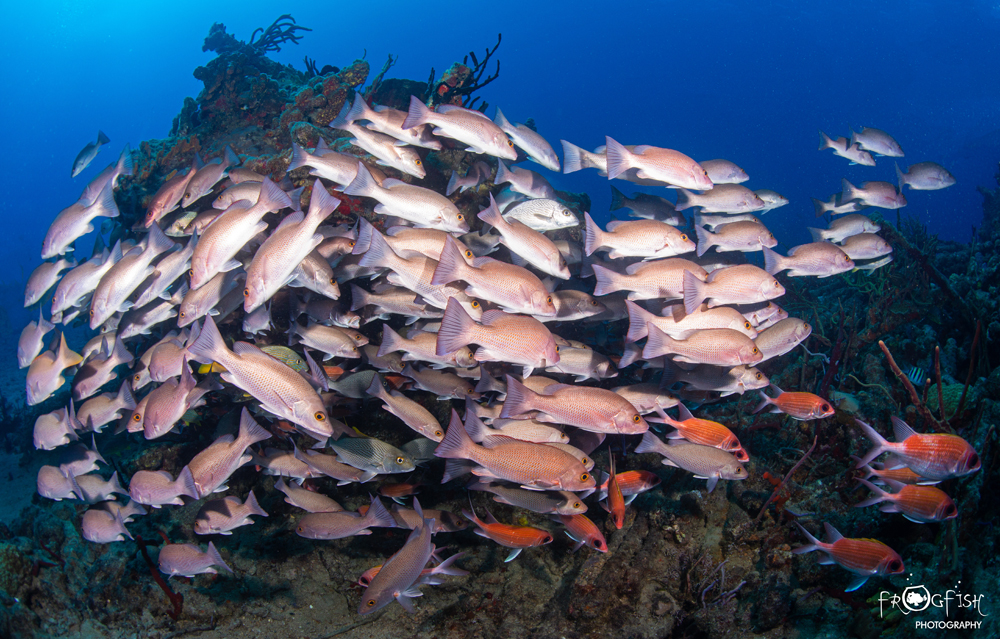 You'll need at least two dives to fully experience the RMS Rhone. The ship split apart on sinking and the bow drifted just a little before sinking. The two halves are about 100 feet apart with the bow sitting in deeper water (around 25 meters / 80ft). So you are best to explore the bow fully on a single dive and then head to the stern on your second dive.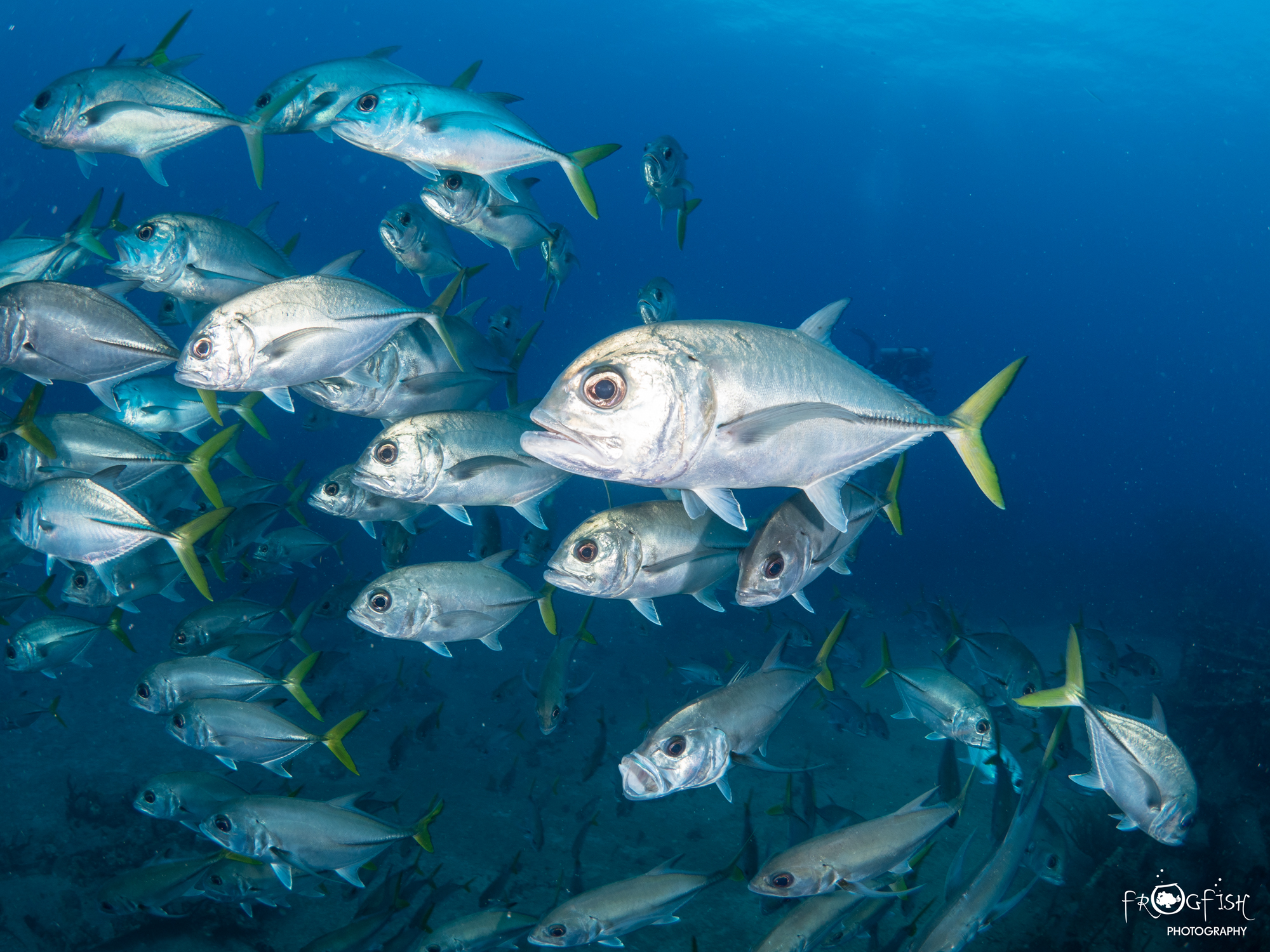 Whilst the history, artifacts and stories from the movies are absorbing, as soon as we got underwater to dive her, it was the incredible marine life that had us hooked. Two seahorses had made their home right at the bow of the wreck. Stingrays lay buried in the sandy sea bed. The structure is covered in colourful corals and sponges. Schools of fish occupy the overhangs and metal remains. We saw sharks on all three dives and were treated to a huge spotted eagle ray gliding over the wreck. Lobsters waved their antennae at us from every crevice. Life is everywhere you look on this dive.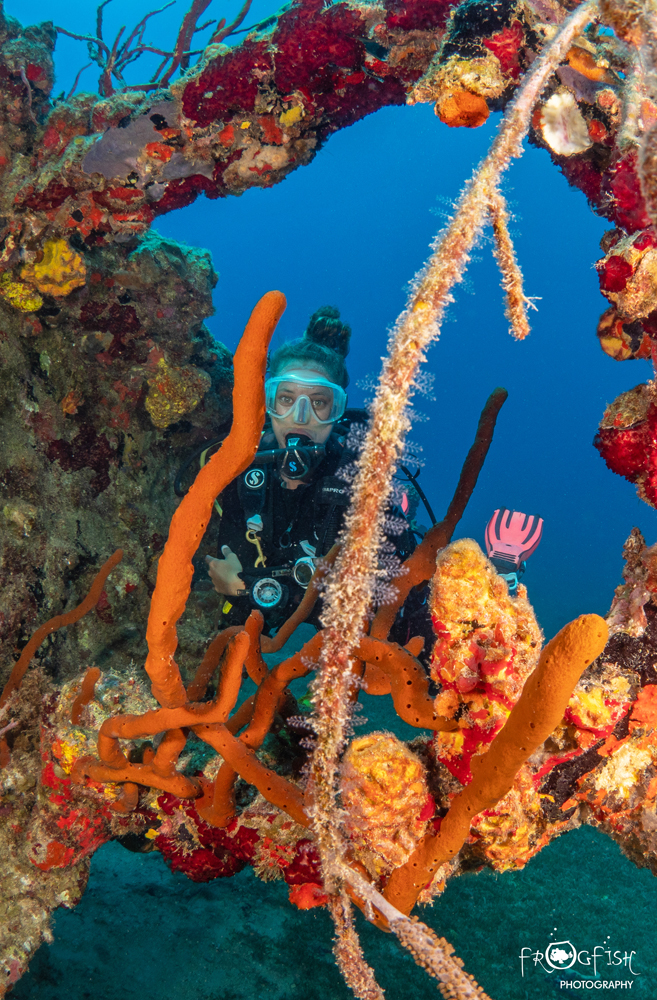 The marine park status has certainly ensured that this is one of the best wrecks we have dived in the Caribbean. Whilst we did not get the chance to do this – we bet it would make an awesome night dive.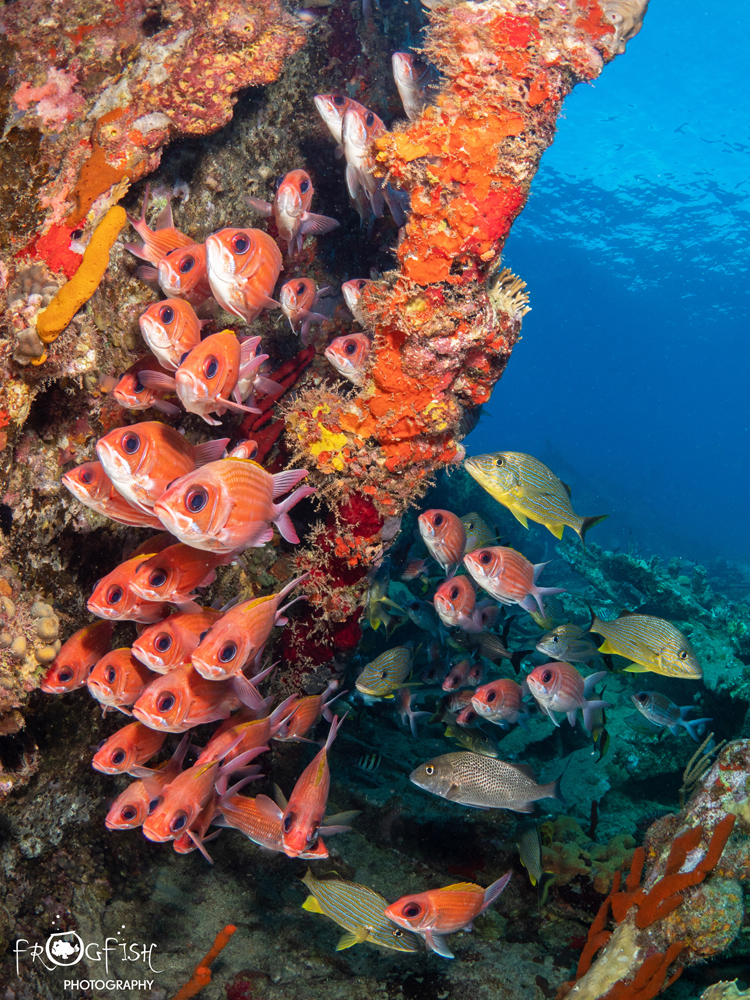 Check out our next blog to find out more about the diving and watch out for our full feature in the next edition of Dive Travel Adventures Magazine in July!
For more information about BVI Wreck Week 2024 visit their website here.
---
Nick and Caroline were hosted by BVI Wreck Week
The Moorings provided their yacht for the week
Host Dive Centres: