The Best of the West – Top Dive Sites of Western Curaçao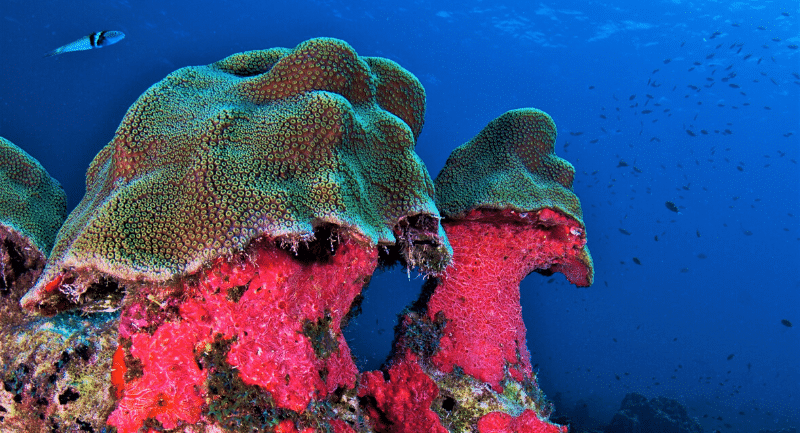 By Bryan Horne, Dive Curaçao
Last time, we provided you some insight on "The Top Dive Sites of Eastern Curaçao" that are littered with wall dives, wreck dives, shore dives, and lush coral gardens.  More importantly though, these sites have quickly become not only Curaçao icons, but also some of most sought after dives in the Caribbean.
BUT there is another side to Curaçao, the West side known to locals as "Banda Abou".  This is a bucolic haven for boat and shore diving, offering near perfect conditions year-round because of the natural shielding from the easterly trade winds offered by the mountain range running through the middle of the Christoffel National Park.
The western side of Curaçao stretches from Bullenbaai, near St. Willibrordus to the north west fishing village of Westpunt.  Along this rugged and ancient coastline, you will discover some of the best beaches in the Caribbean such as Cas Abao and the famous Kenepa Plantation.  These world class locations, among others, provide you with an exceptional opportunity for incredible shore diving and snorkeling.  However, this is just to get your feet wet because to truly "sea" the BEST of the WEST, then you need to dive into these essential dive experiences to feel it for yourself!
Descending on this site is quite a bit like reading Chapter One – "Down the Rabbit Hole of Lewis Carroll's 1865 novel Alice's Adventures in Wonderland"! As you descend you literally feel yourself getting smaller and smaller as the hard coral formations rise up to become larger and larger, growing in some cases to over 60 feet/18m in height encompassing a host of hiding places for the unusual characters we have in our story like the pair of resident frogfish and octopus! Of course, we regularly see Turtles, Eagle Rays, large schools of Boga's being hunted by Yellow Fin Tuna and so on… but really the attraction of Alice in Wonderland is the beautiful coral formations and all that hides within!!  The key to diving this site is to dive it "SLOW", believe me, you will be amazed at what you find!!
---
Derives its name from the Dutch word "Watermöllen" (Water Mill) because of the how the currents flow in this #1 Boat Diving Site!!  You will never understand what the currents will be doing until you check: sometimes they are flowing North/South, other times South/North and other times they are flowing in a circle!!  Watamula offers the diver an intense and sometimes overwhelming spectacle starting with a hard-coral field, then a soft coral patch, then finally ending with another hard-coral field! It is so intense that the diver really does not know where to look first! In addition to the mind-blowing coral formations, the intensity of the macro life combined with Ocean Trigger fish, Schools of Chubbs and Porcupine Fish will leave you surfacing wanting to don another tank for more!! 
---
One of the most famous dive sites in Curaçao. Over time, hard coral formations have grown in such a way that they resemble mushrooms, hence the name. Underneath each one of these coral formations an abundance of marine life awaits to be looked at, admired, and photographed.  Don't miss it!  You will love it! 
---
The Blue Room – an Essential Curaçao Experience 
This is the perfect place for off gassing between dives or just enjoying one of the many snorkel trips offered! Located next to Mushroom Forest, the Blue Room is easily explored by snorkeling through a narrow opening that reveal a large air-filled chamber lit up by the sun reflecting off the white sandy plateau in front of the opening… creating a brilliant glow of ambient light in vivid blue!!  Inside the "room" you will discover schooling glass-eyed sweepers, lobster, and hordes of silversides! Occasionally you might even get buzzed by fruit bats!! 
---
Appropriately named, this spectacular site is rarely visited by boat.  It is a drift dive and offered only on calm days, which are rare at this point of land. Consisting of a series of sheer deep walls and sandy valleys, this site is loaded with large Elephant Ear sponges, fans and often turtles.  If you are an intermediate or advanced diver craving sites offering more than the average wall dive, you should consider trying to include this site in your itinerary.  
As we have mentioned many times before and regardless of where you choose to stay, the decision should not be to dive either East or West, the decision should be to discover all of Curaçao (warning:  many attempts may be necessary) to truly uncover the magic that lies below the waterline.  Because there is a depth to this Dutch Caribbean island that you really do need to feel for yourself.
---
For more information, please visit Dive Curaçao.
The photography and videography are courtesy our Dive Curaçao partners: Stan Bysshe, NaturePicsFilms, and, Turtle and Productions HD.
BVI Wreck Week – Diving (Part 3)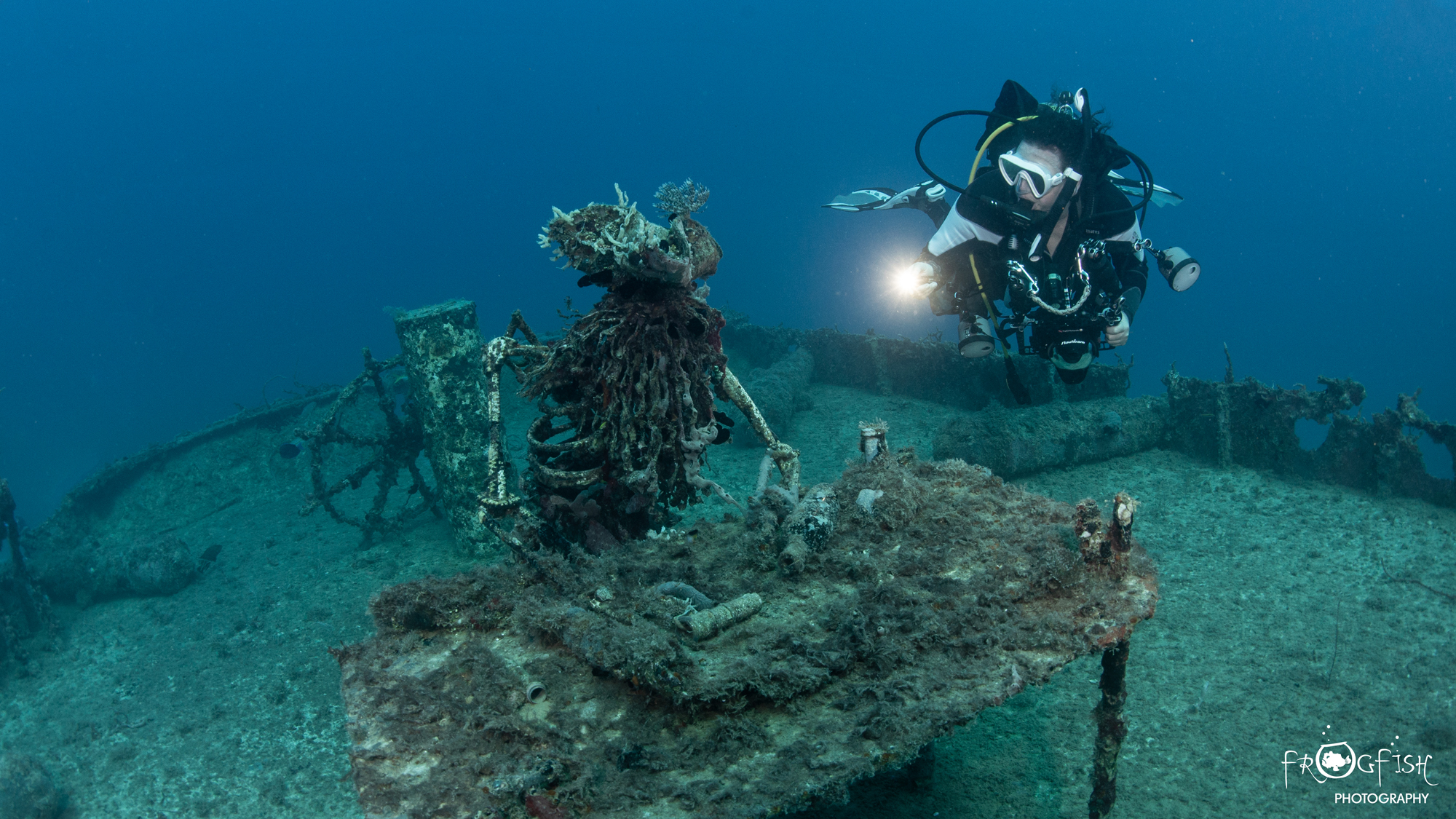 BVI Wreck Week allowed us to dive several of the wrecks the BVI has to offer, as well as sampling some of the best reef sites too. Our previous blog focused on the wreck of the RMS Rhone, so in this one we will try to give you a taste of the rest of the diving on offer.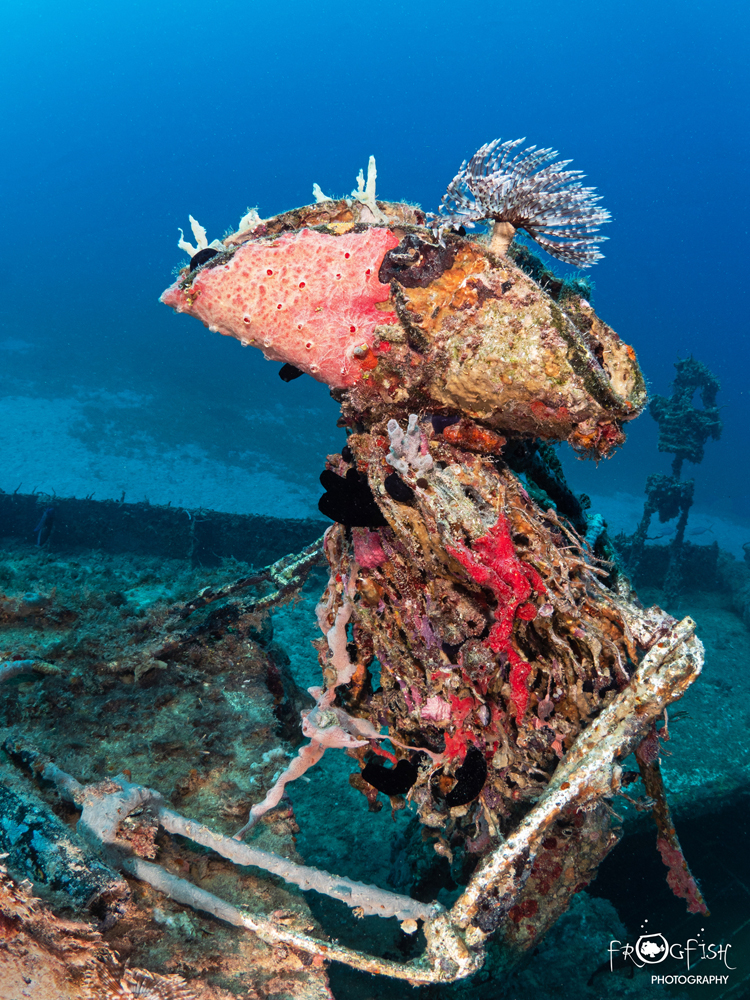 And there is a great deal of wonderful diving to tell you about. Our first day of diving did not offer the best visibility due to heavy rain earlier in the week. However, we were taken to a rugged dive site that had Caribbean and Lemon Sharks swimming all around us. If we had been able to see the usual 20m+ I am sure we would have been able to talk of dozens of sharks on the site.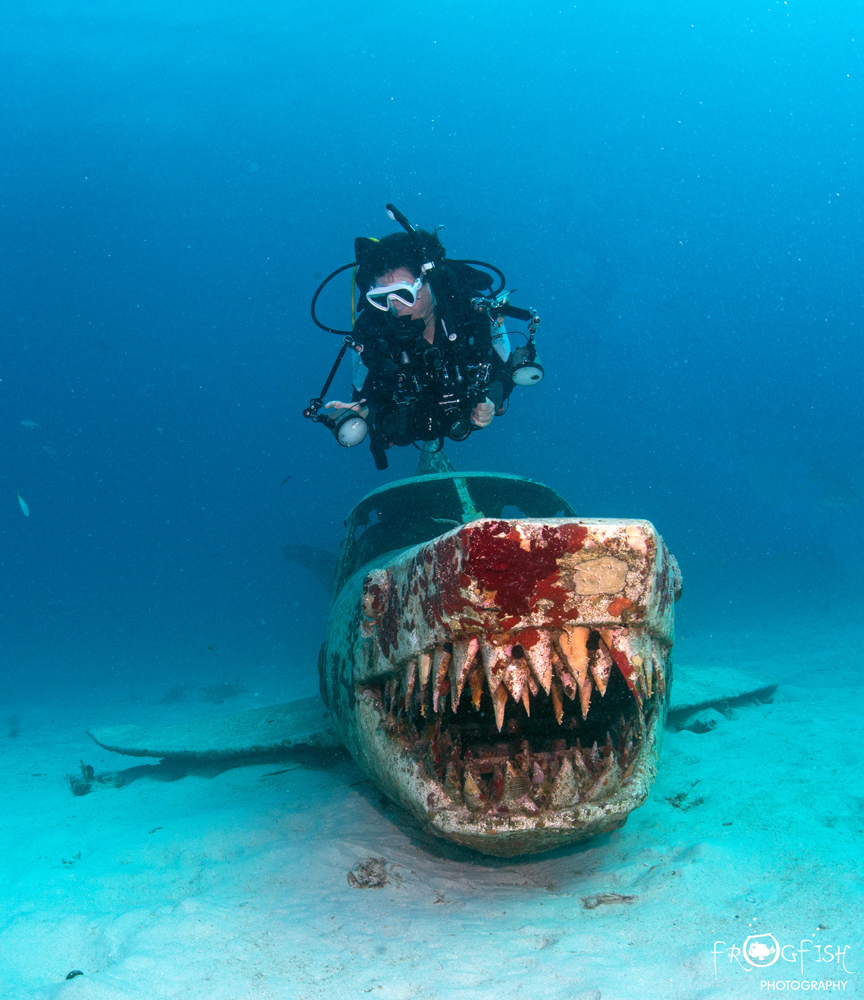 The BVI has plenty of artificial reefs, created from wrecks deliberately sunk. A couple of these are artistic creations from Beyond the Reef. The Willy T is a pirate themed party boat sunk in shallow water that now has skeletons of pirates duelling on the deck and going about their dastardly ways. It is a lot of fun and once you have had your fill, you can head up onto the shallow reef. Shark-plano is a series of three planes that were damaged in a hurricane, that have been turned into shark species and sunk. Both these sites are perfect for the diver that loves a bit of Instagram appeal!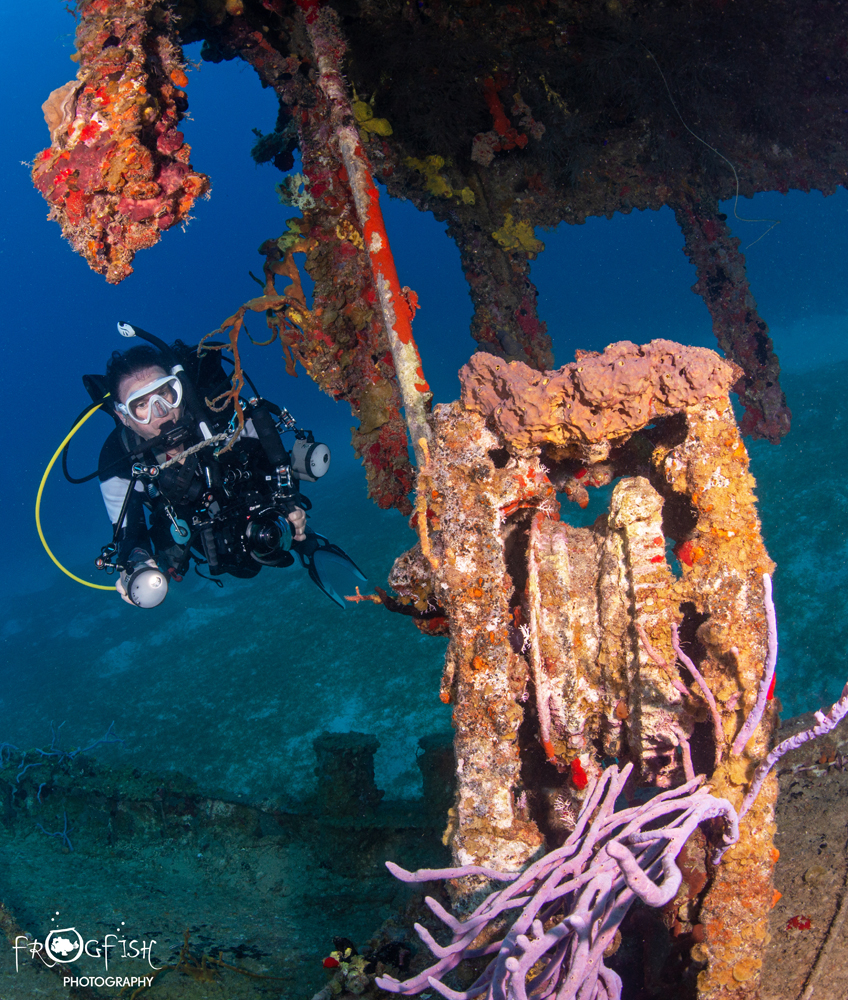 Wreck Alley has a series of three boats sunk to create a super dive site perfectly aligned for a single dive where you can explore them all. Moray eels can be seen free swimming along the decks, huge stingrays back the sandy seabed their home. Turtles cruise past as you make your way around and then up onto the reef for your safety stop.
On every dive we did we saw sharks which absolutely delighted us. The local dive shops seem to be particularly engaged in conserving the reefs, taking part in coral reef restoration, lionfish hunting, cleanups and logging their sightings. We were filled with positivity at the end of each day.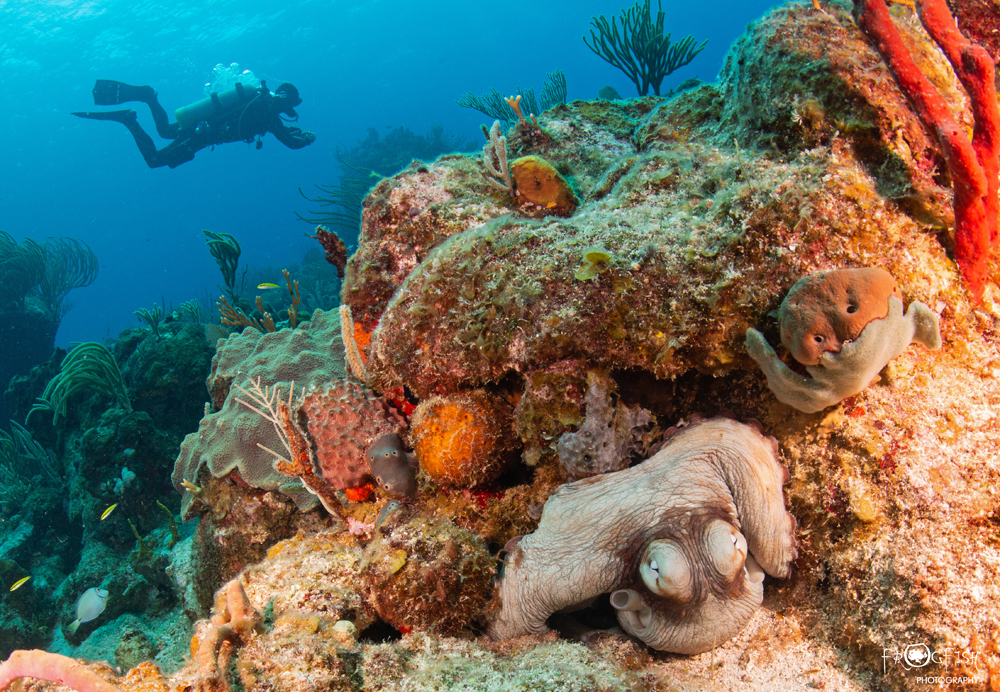 We hope that we can return to do it all again at BVI Wreck Week 2024!
Watch out for our full feature on BVI Wreck Week in the next issue of Dive Travel Adventures coming out in July.
For more information about BVI Wreck Week 2024 visit their website here.
---
Nick and Caroline were hosted by BVI Wreck Week
The Moorings provided their yacht for the week
Host Dive Centres:
BVI Wreck Week – Diving the RMS Rhone (Part 2)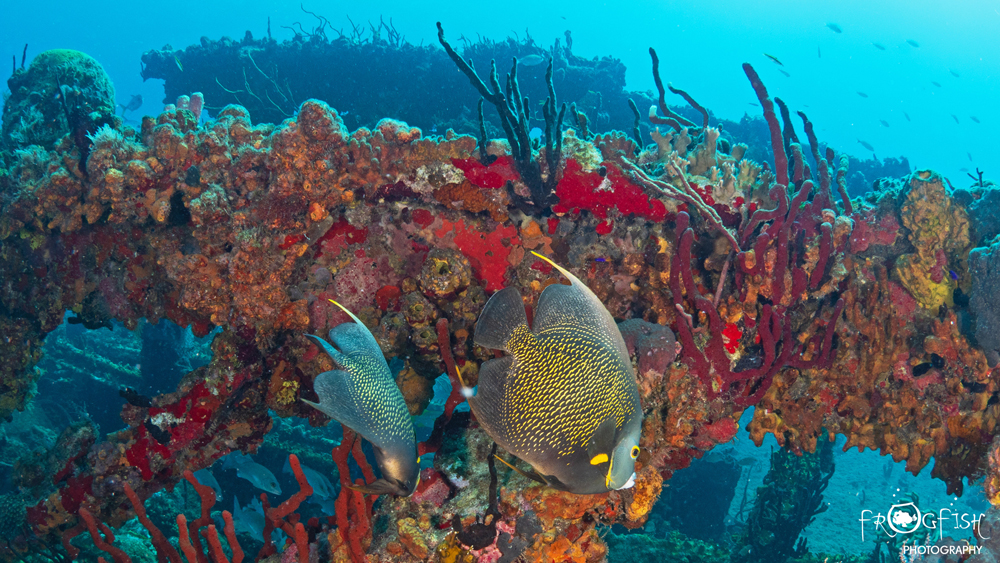 You cannot talk about BVI Wreck Week, or diving in the British Virgin Islands, without spending some time on the jewel in their crown of wreck diving – the RMS Rhone. So this blog is going to be dedicated to a wreck dive that we were happy to dive three times on our trip and would have been happy to dive every day!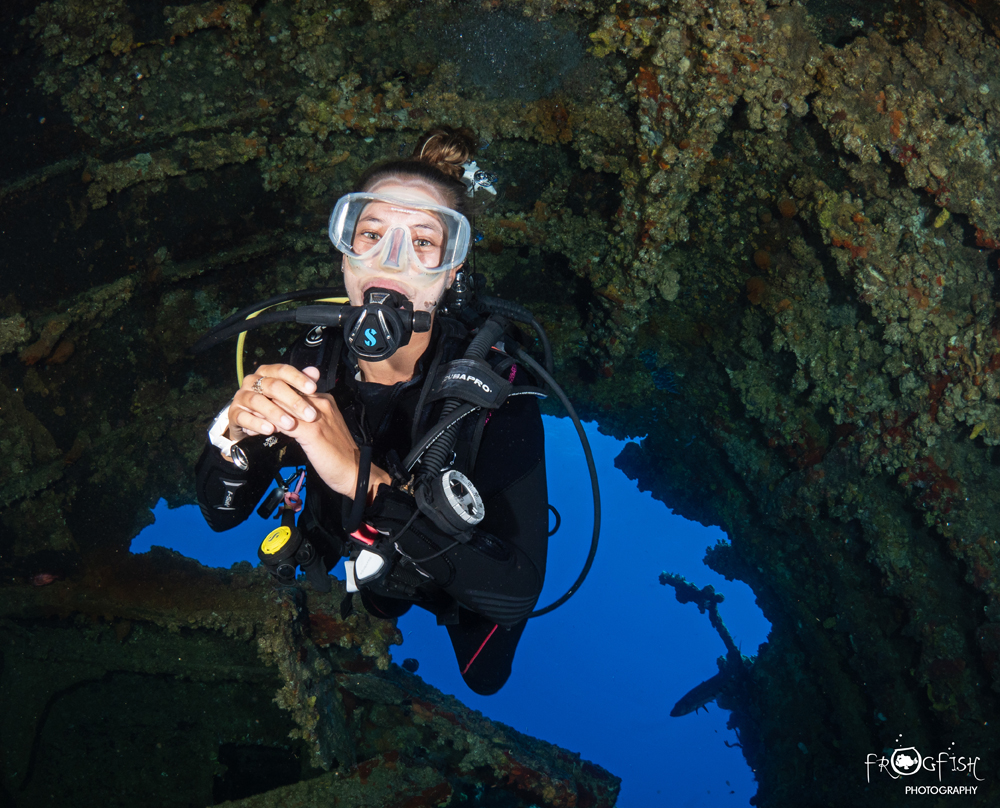 The RMS Rhone was a UK Royal Mail Ship wrecked off the coast of Salt Island on 29 October 1867 in a deadly hurricane. Now it is the most popular dive site in the region. The dive briefings for the site are filled with stories of the fate of the ship and some eye-opening tales since.
The wreck and surrounding area become the British Virgin Island's first national marine park in 1980. Many of the underwater segments of the 1977 thriller The Deep were filmed on the Rhone, requiring actors Jacqueline Bisset, Nick Nolte and Robert Shaw to learn how to scuba dive.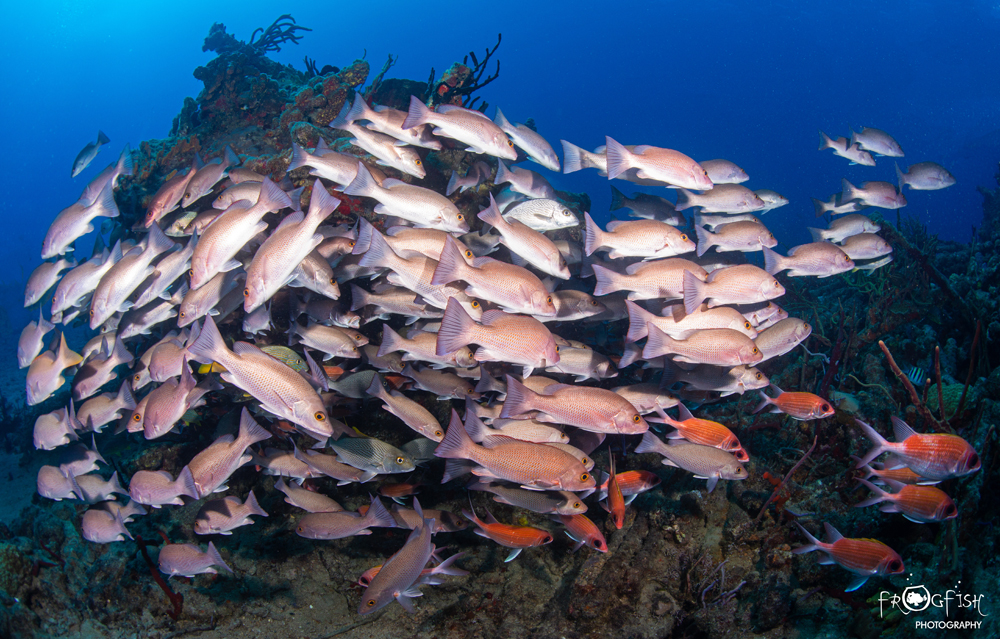 You'll need at least two dives to fully experience the RMS Rhone. The ship split apart on sinking and the bow drifted just a little before sinking. The two halves are about 100 feet apart with the bow sitting in deeper water (around 25 meters / 80ft). So you are best to explore the bow fully on a single dive and then head to the stern on your second dive.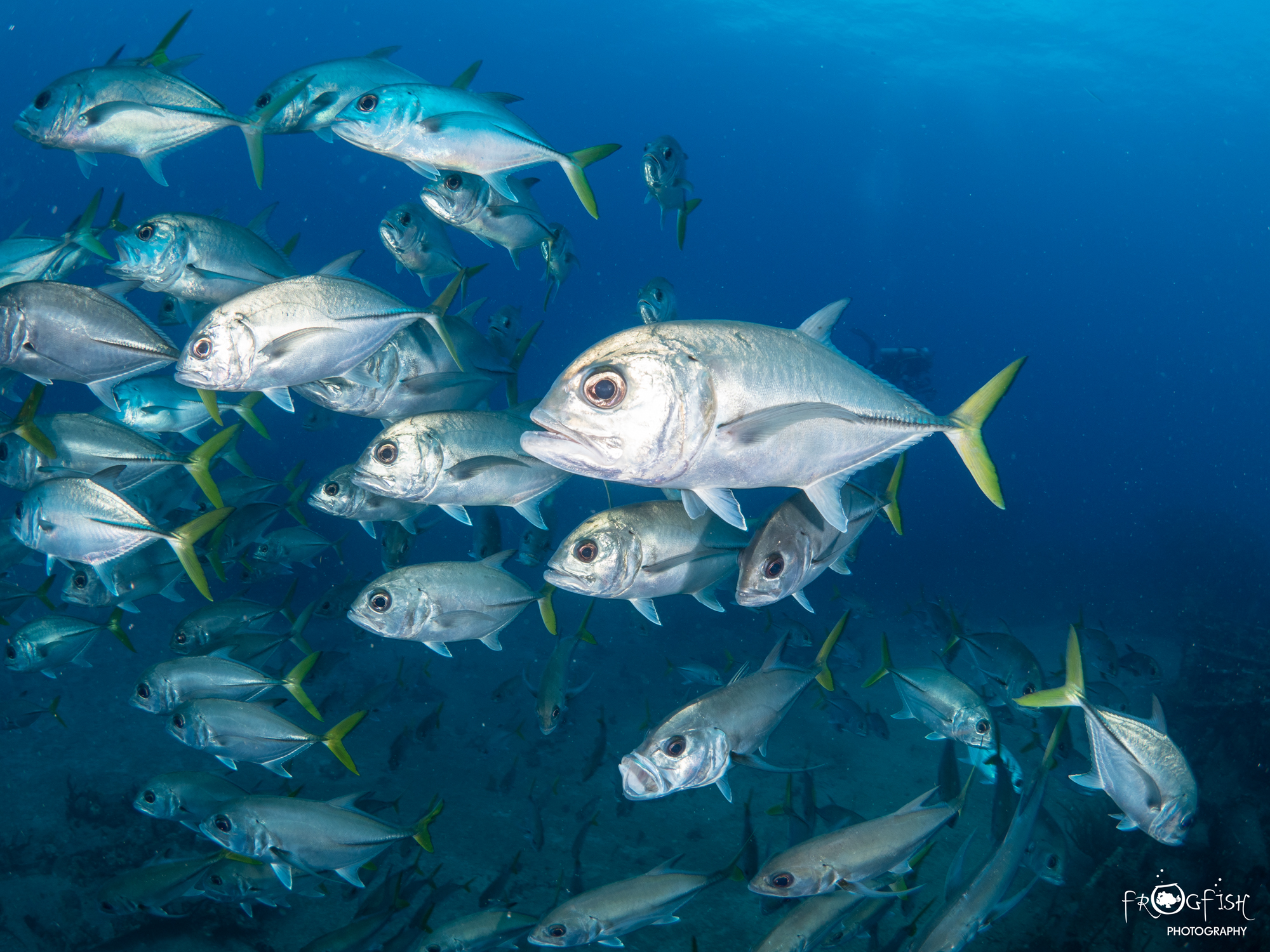 Whilst the history, artifacts and stories from the movies are absorbing, as soon as we got underwater to dive her, it was the incredible marine life that had us hooked. Two seahorses had made their home right at the bow of the wreck. Stingrays lay buried in the sandy sea bed. The structure is covered in colourful corals and sponges. Schools of fish occupy the overhangs and metal remains. We saw sharks on all three dives and were treated to a huge spotted eagle ray gliding over the wreck. Lobsters waved their antennae at us from every crevice. Life is everywhere you look on this dive.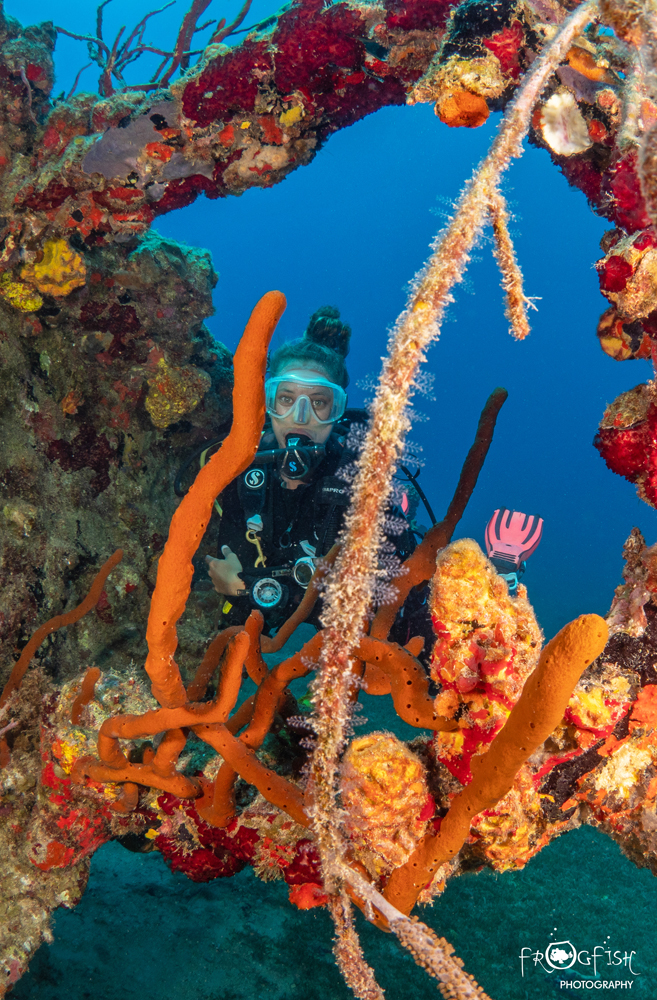 The marine park status has certainly ensured that this is one of the best wrecks we have dived in the Caribbean. Whilst we did not get the chance to do this – we bet it would make an awesome night dive.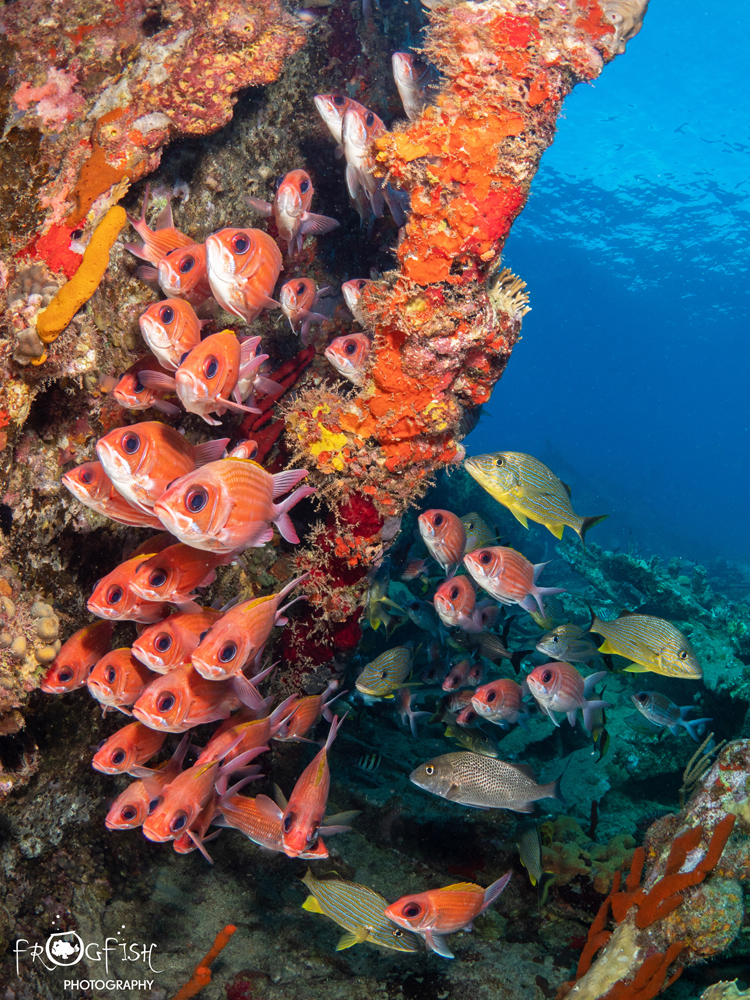 Check out our next blog to find out more about the diving and watch out for our full feature in the next edition of Dive Travel Adventures Magazine in July!
For more information about BVI Wreck Week 2024 visit their website here.
---
Nick and Caroline were hosted by BVI Wreck Week
The Moorings provided their yacht for the week
Host Dive Centres: