Caribbean Conservation in Action: Tagging Turtles in the BVI
For centuries, the Japanese artisans have used hawksbill turtle shells to make a variety of trinkets such as eyewear, combs and cigar boxes. By the 1800's, a fad had spread to the America's and Europe to obtain hawksbill shells and green turtle soup had become a delicacy around the world. It wasn't until the late 1970s when the Convention on International Trade in Endangered Species of Wild Fauna and Flora (CITES), the body that regulates cross-border trade in wildlife banned the international commercial trade of sea turtles and in 1978, the United States banned the intentional killing of all sea turtles under the Endangered Species Act.
However, In the late 1990s and early 2000s, Japan tried to lift restrictions under CITES to reopen the trade of hawksbill turtle shells with Cuba. Because sea turtles are a regionally shared resource due to their highly migratory range over an individual's lifetime, many Caribbean countries became concerned that Japan and Cuba's proposal would undermine some of the long-standing conservation efforts that had already been implemented. This prompted the United Kingdom to launch the Turtles of the UK Overseas Territories (TCOT) project in 2001 to address critical gaps in the knowledge of marine turtle populations found in all their Caribbean territories (Anguilla, Bermuda, British Virgin Islands, Cayman, Montserrat and Turks & Caicos Islands).
Although the BVI was already monitoring nesting leatherback sea turtles, this 3-year UK-funded project brought a new dimension to turtle monitoring to the BVI and other UK Territories. In-water turtle tagging of foraging populations commenced which identified healthy populations of juvenile to sub-adult (teenage) green and hawksbill turtles in the BVI. Through genetic sampling of those turtles tagged, green turtles were identified as coming from as far away as Ascension Island, Venezuela and Costa Rica with hawksbills coming from Brazil, Barbados, and Cuba. Subsequently, some of the tagged turtles have migrated from the BVI on to their adult foraging grounds and travelled as far as Nicaragua, Bonaire and Guadeloupe.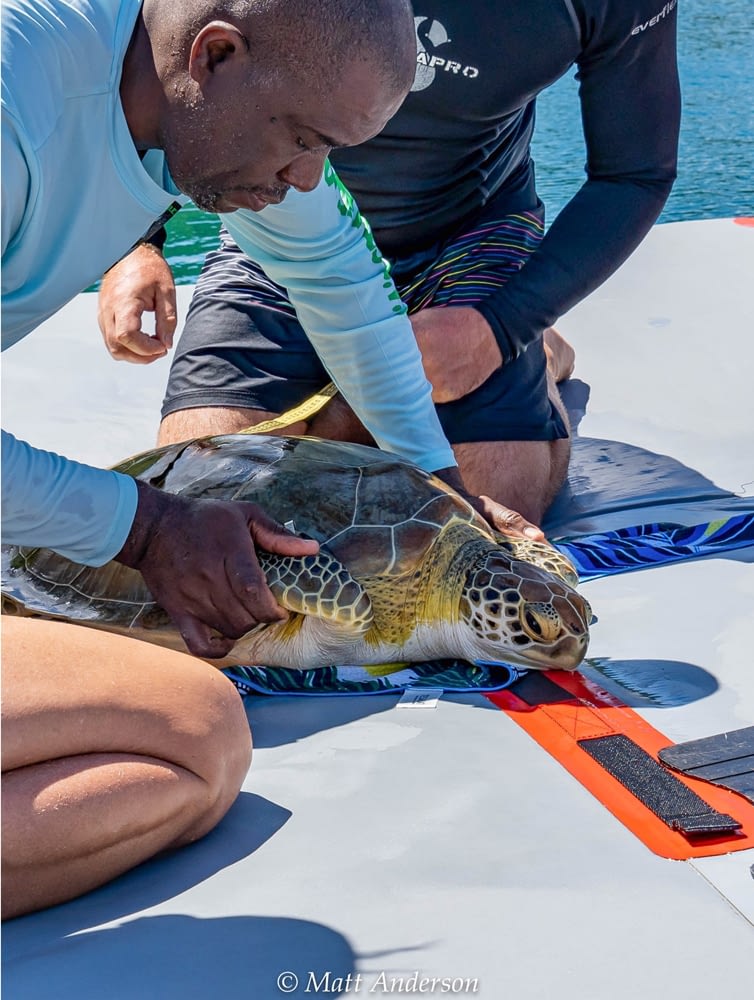 Although the TCOT project ended many years ago, in-water turtle tagging of foraging populations continued over the years. Now, with an extensive baseline of information and a growing need for changes in local sea turtle management, the BVI was awarded a Darwin Plus grant worth over US$300k from the UK's Overseas Territories Environment & Climate Fund in June 2020. This newly implemented STEEL Project (Sustainable turtles, environments, economies & livelihoods) is aimed to ramp up tagging efforts to better understand changes in the status of BVI turtles based on nearly 20 years of data collected. Additionally, foraging turtle habitats will be assessed on how to build resiliency in areas that were impacted by the 2017 hurricane events. An educational programme to provide the community with a better local understanding of turtle conservation will be implemented and, using the MCS Community Voice Method (CVM) of engagement, the project will engage BVI communities to develop new legislation recommendations and a conservation action plan to safeguard BVI's turtle populations for future generations.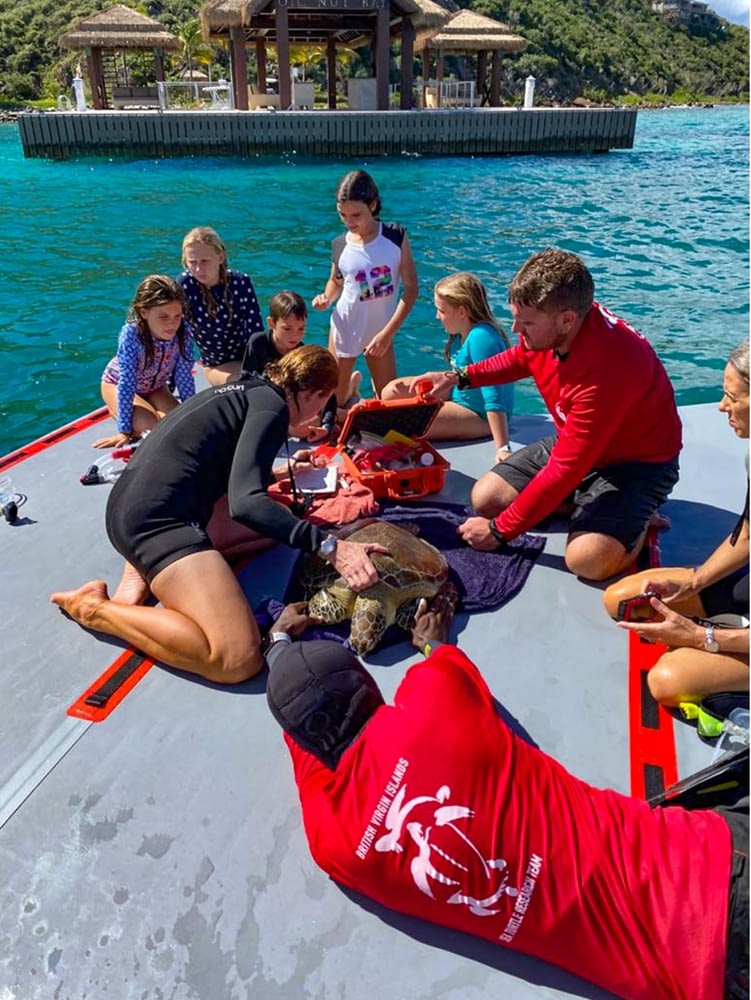 The STEEL Project is being led by the Marine Conservation Society UK alongside local organisation, the Association of Reef Keepers (ARK) and partnerships with the BVI Government's Department of Agriculture and Fisheries and the Ministry of Natural Resources, Labour and Immigration. Additionally, local dive and tour operators such as Sail Caribbean Divers are participating in the project by providing boats and assisting local turtle scientists in capturing, tagging and releasing of sea turtles.
For more information see www.bviark.org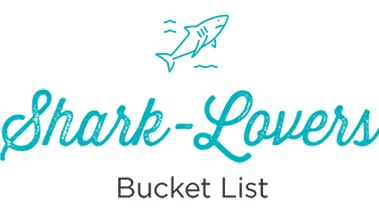 Get your fix in The Out Islands of The Bahamas!
A designated shark sanctuary since 2011, The Bahamas boasts some 40 species of sharks, and dozens of dive operators ready to help you live your own Shark Week adventure. Best of all, for US and Canadian citizens, when you book one of 35 participating Out Islands hotels, they'll treat you to free round-trip flights or ferry tickets from Nassau! For European residents, there is a similar offer up for grabs – click here to find out more!
Shark highlights include:
Andros
On just about every dive in Andros, you will see a shark. The puppy dog-like Caribbean Reef Shark is the most prominent.
Bimini
Just a half-mile off Bimini, you'll find endangered great Hammerhead Sharks and the occasional Bull Shark and Lemon Shark on shallow dives in Bimini's warm waters.
Cat Island
Discover the world's largest concentration of Oceanic Whitetip Sharks in the deep, protected waters around Cat Island.
The Exumas
Meet abundant (and mostly friendly) Nurse Sharks around the Exumas' colorful reefs or resting under a dock.
Long Island
Visit the world's first developed and still naturally unchanged Stella Maris Shark Reef. Dive and see the Bahama Grey Tip Reef Sharks (usually a dozen or more), an occasional Bull Shark, Nurse Shark, or Hammerheads.
For more information visit The Out Islands website by clicking here.
Sharks move to deeper water as they mature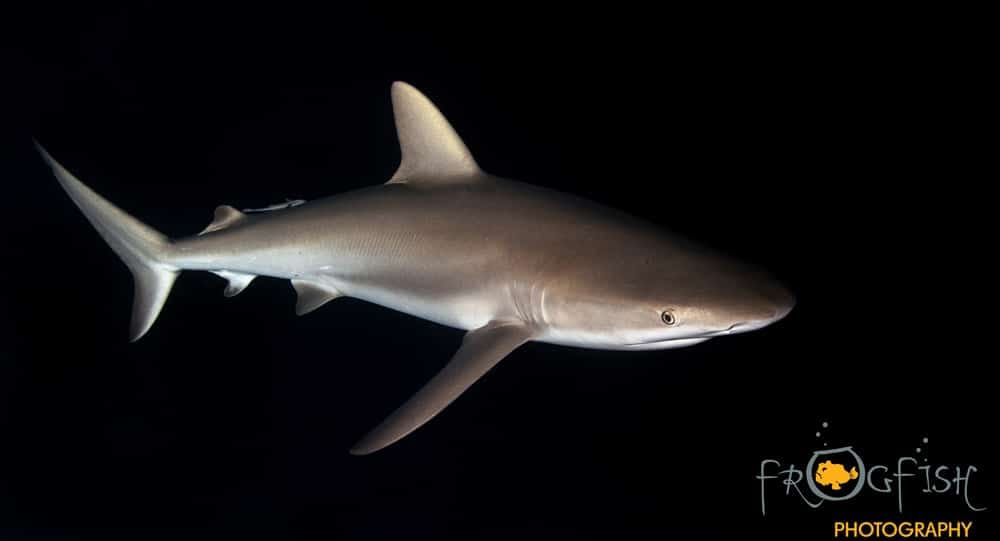 A new study from Wageningen University & Research (WUR) showed that reef sharks utilize different areas of the reef throughout their lifetime. Using baited video cameras, six different species of reef sharks were recorded around the northern Dutch Caribbean islands. These results will impact the design and implementation of shark conservation strategies for years to come.
Reef Sharks
Reef sharks play a critical role within the ocean. As a top predator, reef sharks help maintain the delicate balance within (coral) reef environments. In fact, research has found that reefs with healthy shark populations are more resilient and capable of withstanding the pressures of climate change, pollution, overfishing and diseases.
Juvenile Sharks
Understanding the dynamics of habitat use of local shark populations is critical when designing effective marine conservation strategies. This is exactly what the latest reef shark study from WUR hoped to achieve. Using baited remote underwater video cameras at 376 locations around the reefs of Saba, Saba Bank and St. Eustatius, fish ecologist Twan Stoffers and his colleagues recorded 126 different shark sightings.
Of the six different species recorded in this study, juvenile Caribbean reef sharks (Carcharhinus perezi) and nurse sharks (Ginglymostoma cirratum) were most commonly recorded. Overall, they observed young sharks in shallow, more complex areas of the reef, whereas the larger, more mature, sharks were observed further away from the reef in deeper habitats up to 65 meter depth. Larger nurse sharks were frequently recorded in seagrass beds. The researchers were surprised that hardly any adults were observed over the course of the entire study.
Implications
This knowledge could have an important impact on conservation strategies for reef sharks and other endangered shark species. Since reef sharks use a variety of different habitats (both shallow and deeper water areas), creating an interconnected conservation network is vital for ensuring full protection throughout their life cycle. Sanctuaries such as the Yarari Sanctuary (which includes the marine area around the Caribbean Netherlands) are an important step in creating a network of protected areas. In addition, efforts such as the Caribbean Shark Coalition are important as well, because they work to build capacity for shark and ray research, policy and conservation within the Wider Caribbean Region.
Report your sightings
You can help contribute to the overall understanding of sharks and other species by reporting your nature sightings on sightings and photos on DutchCaribbean.Observation.org or download the free apps (iPhone (iObs) & Android (ObsMapp)).
Species reports by local communities and tourists are invaluable for nature conservation efforts to help increase public awareness and overall species protection.
DCNA, Observation International and Naturalis Biodiversity Center are working together to develop on automated species identification app for your phone for all species on land and in sea. Your uploaded photos are of great value to make this possible. For questions, please contact research@DCNAnature.org