Caribbean Conservation in Action: Tagging Turtles in the BVI
For centuries, the Japanese artisans have used hawksbill turtle shells to make a variety of trinkets such as eyewear, combs and cigar boxes. By the 1800's, a fad had spread to the America's and Europe to obtain hawksbill shells and green turtle soup had become a delicacy around the world. It wasn't until the late 1970s when the Convention on International Trade in Endangered Species of Wild Fauna and Flora (CITES), the body that regulates cross-border trade in wildlife banned the international commercial trade of sea turtles and in 1978, the United States banned the intentional killing of all sea turtles under the Endangered Species Act.
However, In the late 1990s and early 2000s, Japan tried to lift restrictions under CITES to reopen the trade of hawksbill turtle shells with Cuba. Because sea turtles are a regionally shared resource due to their highly migratory range over an individual's lifetime, many Caribbean countries became concerned that Japan and Cuba's proposal would undermine some of the long-standing conservation efforts that had already been implemented. This prompted the United Kingdom to launch the Turtles of the UK Overseas Territories (TCOT) project in 2001 to address critical gaps in the knowledge of marine turtle populations found in all their Caribbean territories (Anguilla, Bermuda, British Virgin Islands, Cayman, Montserrat and Turks & Caicos Islands).
Although the BVI was already monitoring nesting leatherback sea turtles, this 3-year UK-funded project brought a new dimension to turtle monitoring to the BVI and other UK Territories. In-water turtle tagging of foraging populations commenced which identified healthy populations of juvenile to sub-adult (teenage) green and hawksbill turtles in the BVI. Through genetic sampling of those turtles tagged, green turtles were identified as coming from as far away as Ascension Island, Venezuela and Costa Rica with hawksbills coming from Brazil, Barbados, and Cuba. Subsequently, some of the tagged turtles have migrated from the BVI on to their adult foraging grounds and travelled as far as Nicaragua, Bonaire and Guadeloupe.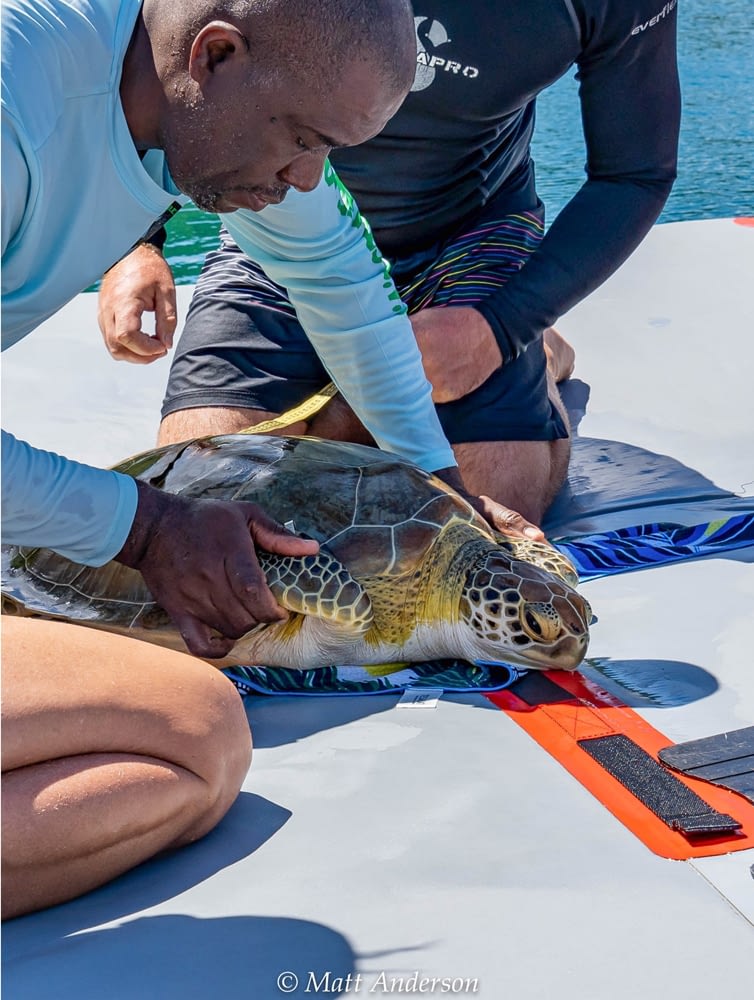 Although the TCOT project ended many years ago, in-water turtle tagging of foraging populations continued over the years. Now, with an extensive baseline of information and a growing need for changes in local sea turtle management, the BVI was awarded a Darwin Plus grant worth over US$300k from the UK's Overseas Territories Environment & Climate Fund in June 2020. This newly implemented STEEL Project (Sustainable turtles, environments, economies & livelihoods) is aimed to ramp up tagging efforts to better understand changes in the status of BVI turtles based on nearly 20 years of data collected. Additionally, foraging turtle habitats will be assessed on how to build resiliency in areas that were impacted by the 2017 hurricane events. An educational programme to provide the community with a better local understanding of turtle conservation will be implemented and, using the MCS Community Voice Method (CVM) of engagement, the project will engage BVI communities to develop new legislation recommendations and a conservation action plan to safeguard BVI's turtle populations for future generations.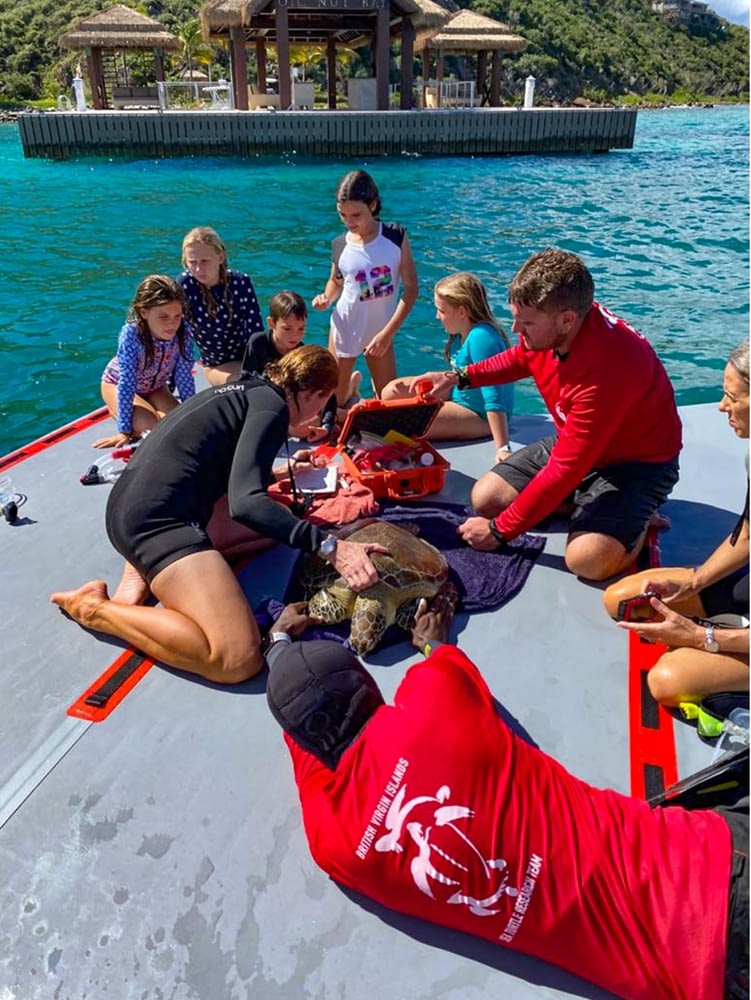 The STEEL Project is being led by the Marine Conservation Society UK alongside local organisation, the Association of Reef Keepers (ARK) and partnerships with the BVI Government's Department of Agriculture and Fisheries and the Ministry of Natural Resources, Labour and Immigration. Additionally, local dive and tour operators such as Sail Caribbean Divers are participating in the project by providing boats and assisting local turtle scientists in capturing, tagging and releasing of sea turtles.
For more information see www.bviark.org
News From Captain Don's Habitat, Bonaire – upward for the home of diving freedom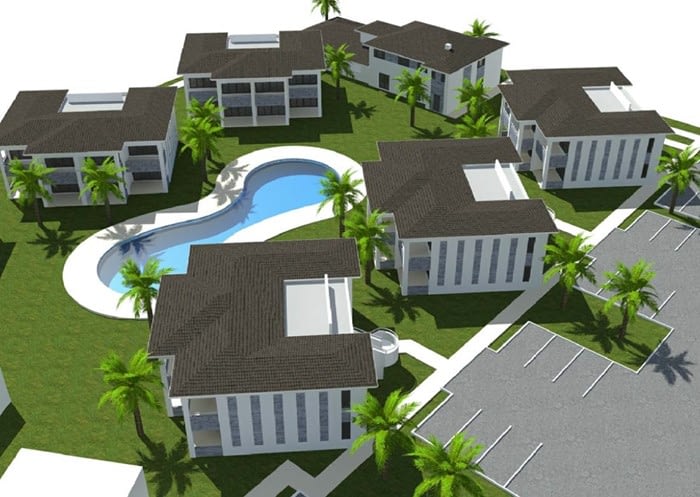 46 years ago, Captain Don Stewart created the first dive resort on Bonaire and infused the philosophy that every employee, past, present, and future of Habitat will always embrace. Habitat is a dive operation with accommodations. It is with this mandate guiding all their planning that they announce the expansion of Captain Don's Habitat.
Claire Sealy, Managing Director of Captain Don's Habitat stated, "Many of our guests have been visiting
Habitat and creating memories for years, some decades others new, so it was of the upmost importance to maintain the intimacy with belonging that we have delivered since 1976."
Habitat will say goodbye to eight cottages highlighted in the drawing within the red lines. They will not be saying goodbye to all entirely. It was decided to maintain a recently completed renovated cottage for those that want a touch of nostalgia. During the expansion, this unit will not be rented.
As shown below, Habitat will welcome six brand new luxurious accommodations consisting of 42 total units divided into rooms designed like our ocean view rooms, and including 1, 2 and 3-bedroom configurations. The new rooms will be within a beautiful garden, a true oasis of peace and relaxation, equipped with a luxurious swimming pool.
In keeping with their objective as the home of diving freedom, they will expand the heart and soul of
Habitat, the dive operations. Habitat will invest in two new high volume nitrox systems, a completely new fill station and an automated self-service drive through station to extend our concept of diving freedom. Habitat will also be adding new dive lockers and purchasing a new custom dive boat making it possible to offer even more boat dive packages including two-tank boat dives, which were recently introduced.
In recent years Habitat has made investments in the property. A completely renovated dock, bar and restaurant and all boats undergoing a complete retrofit. In memory of Captain Don's legacy of conservation which led to the creation of the Caribbean's first marine park and now the designation of Bonaire as the first Blue Destination, the team strives to create a resort that is environmentally friendly. Future plans will include expanding greater use of solar energy panels and ecologically friendly practices.
Demolition of the old Habitat Cottages will begin in early 2021 and construction will follow immediately. All work will be enclosed and done only during specific hours. Anyone booked in cottages will be reserved in similar or higher category accommodations.
Claire Sealy declared: "A BIG thank you, to all our guests and distributors who have trusted us and have become part of the Captain Don's Habitat family. We would not be able to do it without you!  Thank you for your endless support to the home of diving freedom."
---
Source: www.divenewswire.com
Neal Watson's Bimini Scuba Center offers ferry with Day Trips and Packages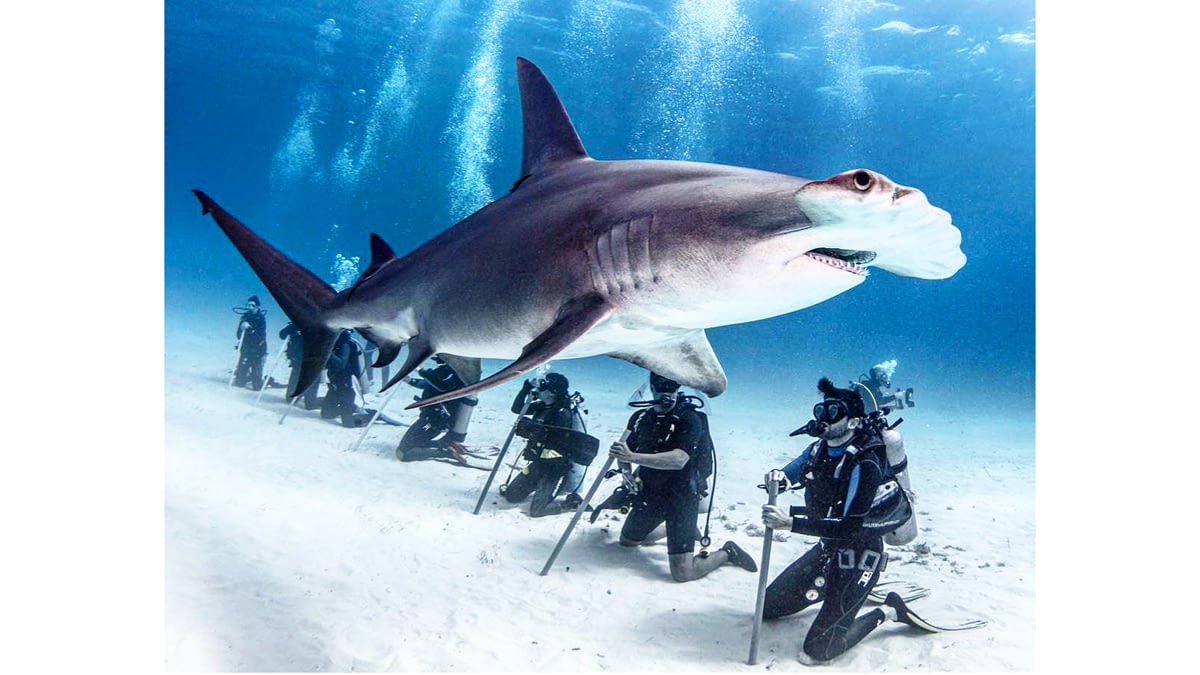 Bimini based Neal Watson's Bimini Scuba Center and South Florida based Baleària Caribbean Fast Ferry announced today that they will be partnering to offer Ferry Inclusive Day Trips and 2-Night, 4-Night and 5-Night Hotel Packages.
Baleària Caribbean will resume passenger services to Bimini on February 10th, 2021. The ferry will depart from Port Everglades (Fort Lauderdale) on Wednesdays, Fridays and Sundays at 9am. It will return from Bimini at 6.30pm.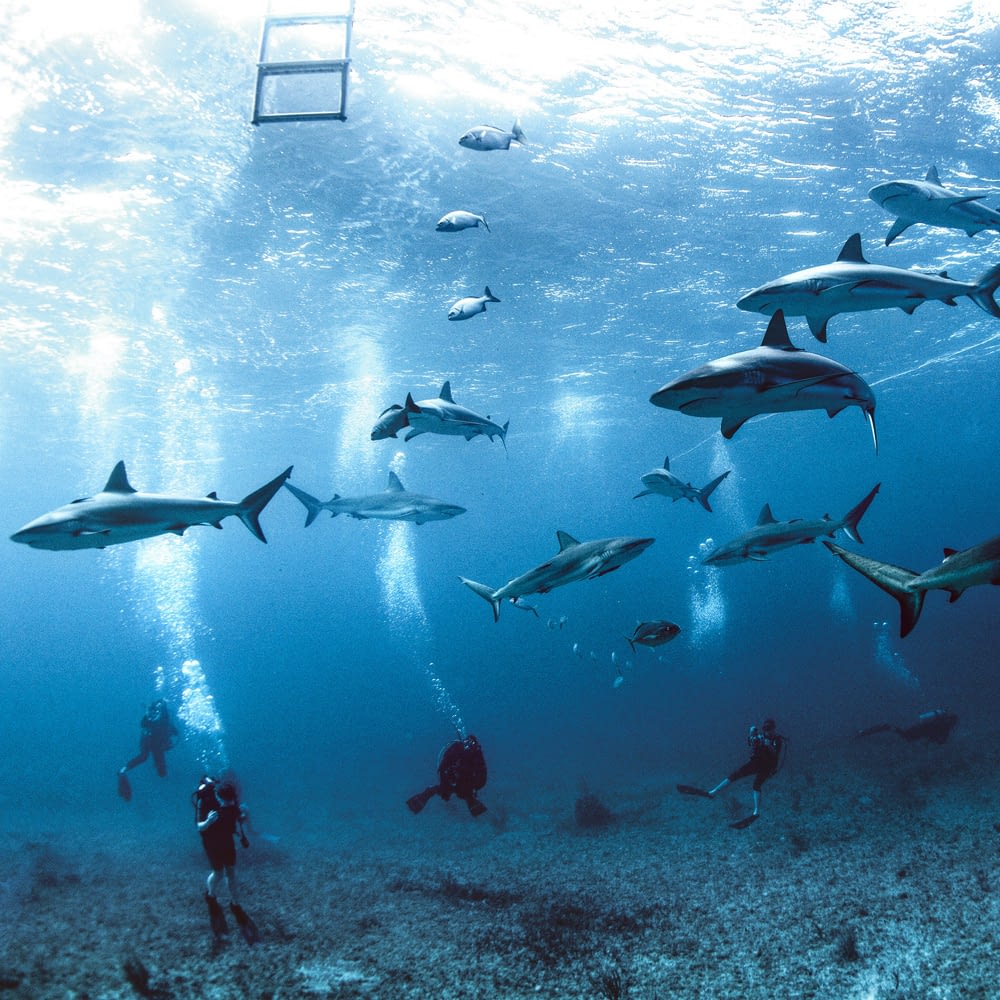 Ferry + Dive Inclusive Day Trips will be available every Wednesday, Friday and Sunday. Guests will have the choice between diving with Great Hammerhead Sharks or exploring the historic Sapona Shipwreck and diving with Reef Sharks. Both day trips will be available to scuba divers, snorkelers and freedivers.
In addition to Day Trips, Ferry Inclusive Hotel Packages will also be available. 2-Night, 4-Night and 5-Night options will showcase the best of Bimini diving — including (depending on the length of stay) NWBSC's exclusive Bull Shark Cage Dive, Great Hammerhead Safari, Sapona Shipwreck + Reef Shark Adventure and Stingray + Blacknose Shark Safari at Honeymoon Harbour. Hotel accommodations will be provided by Bimini Big Game Club Resort & Marina. For more information about BBGC, please visit: https://biggameclubbimini.com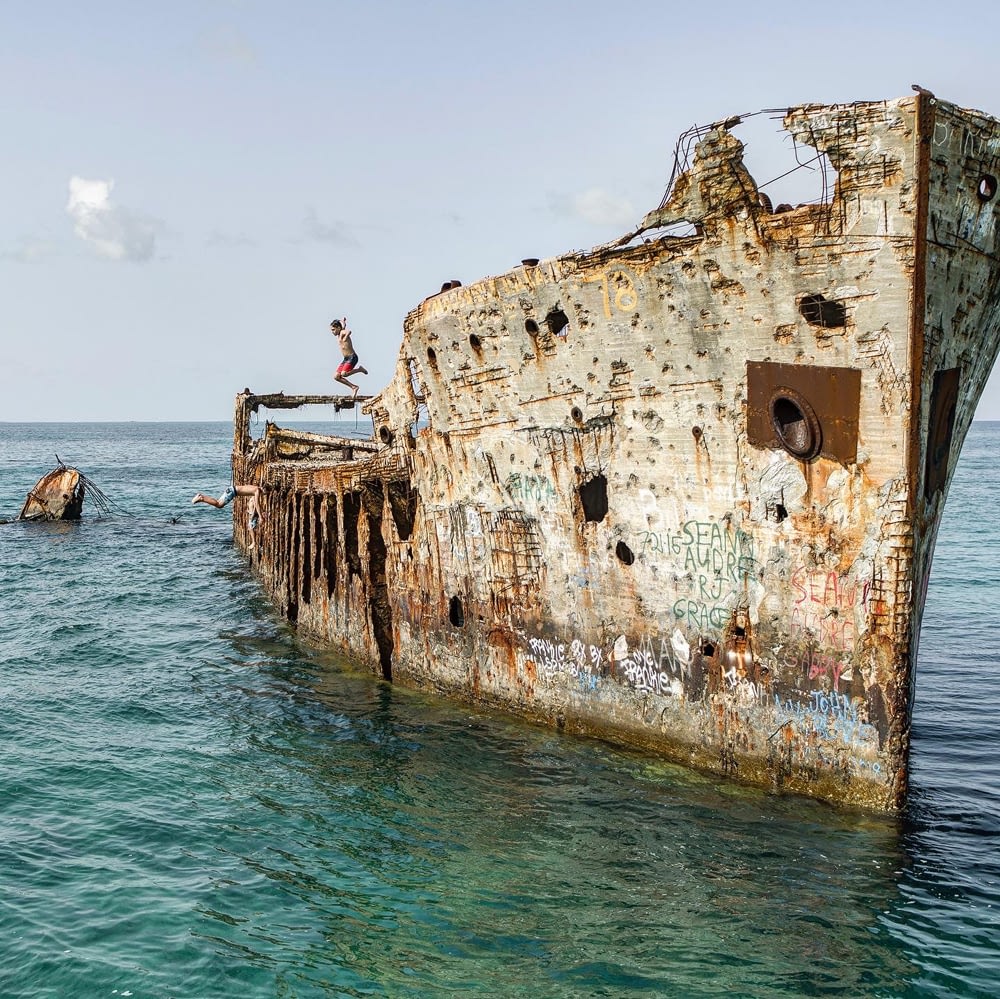 Regarding Baleària Caribbean Fast Ferry's resumed service, strict sanitation protocols have been put in place to ensure passenger health and safety. Most notably, Baleària is the first shipping company in operation to receive a Global Safe Site Covid-19 Certificate by Bureau Veritas. Other safety measures include:
Temperature scanning for each passenger prior to boarding.
Easy access to sanitizer dispensers in the terminals and aboard the vessel.
Mandatory face masks/coverings.
Reduced capacity of the vessel by forty percent.
Required social distancing.
Plexiglass dividers added on every seat and common areas.
Deep and extensive sanitation process (on ship and terminals) before, during, and after each sailing.
Neal Watson's Bimini Scuba Center and Baleària Caribbean will continue to work closely with the US and Bahamas government to follow all travel guidelines and sanitation protocols.
Guests are urged to verify travel requirements before making travel arrangements. For more information, please visit: http://www.bahamas.com/TravelUpdates and https://travel.state.gov
For more information about Neal Watson's Bimini Scuba visit their website by clicking here.